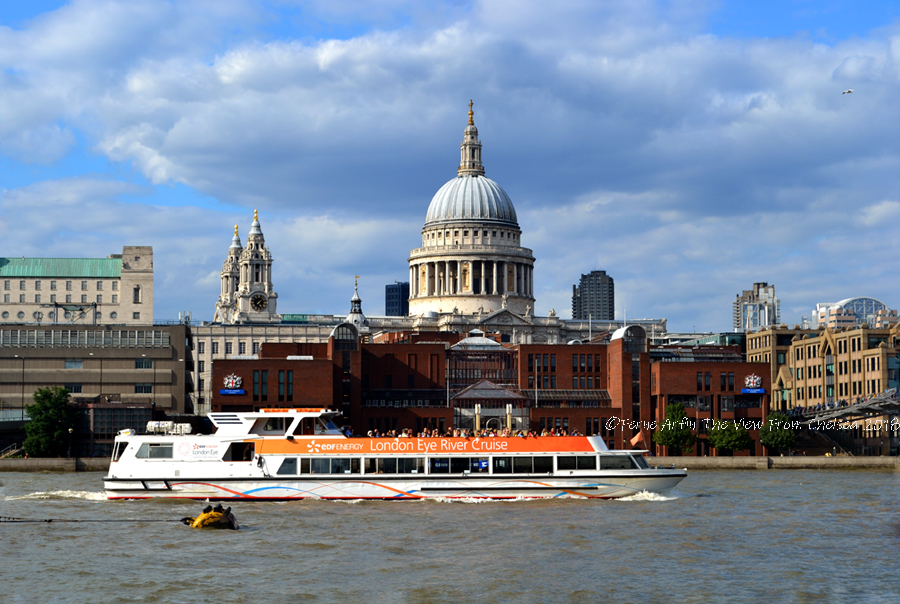 by Ferne Arfin 28 August 2020
How to visit London safely after lockdown
You've managed to get to London despite quarantines, social distancing, mask wearing and, frankly, nerves. Now what? Is London after lockdown actually open for visitors? And what can you do once you get there?
😷😷😷
Visitors are beginning to venture back into London after lockdown. Little by little, attractions are opening up and despite press reports of crowded pubs and illegal dance parties, it's really still pretty quiet in the capital.
If you've travelled in from elsewhere in the UK or navigated quarantine regulations to visit from Europe or further afield, what can you expect when you arrive, what can you see and do, and how can you visit safely after lockdown.
General overview of London after lockdown
There's plenty to do and see, places to dine, places to stay. But being realistic, some of the popular activities that draw visitors to London are still not back to normal.
One thing you'll notice right away if you are the kind of traveller who likes to wing it. Forget it. For the moment, spontaneity is not on the menu. Almost everything requires booking in advance. Even McDonald's and Starbucks are in click-and-collect mode. That said, you may not have to book more than a few hours in advance for some places.
Live theatre has not reopened.
Some live music venues have been permitted to open since 15 August, very few actually have. That's because few can rearrange their seating to allow for social distancing or operate economically with much-reduced audiences.
Most shops are open, though their hours may be limited and you may have to queue outside to enter. Some smaller shops, where social distancing is not possible, remain closed.
Masks or other face coverings are required in shops and other public indoor spaces.
Masks are also required on all public transportation.
Expect to queue for entry to most shops and museums as hours or days open are reduced in most places. And visitor numbers are being reduced by as much as a third of normal traffic.
Make sure you bring a credit or debit card that is accepted in the UK. Many businesses are not accepting cash payments at the moment.
If you're coming to London have a plan of things you want to do, with some alternative choices, and try to book as many as you can before you arrive. Bring a good supply of face coverings, ditto hand-sanitizer.
Getting around London after lockdown
Normally, I'd save this information for last, but under current conditions, this is something you'll probably need to know. My general recommendation is, try to stay within a short journey of the things you want to do to minimise travel on public transportation.
London Black Taxis: London's licensed and registered black cabs are my recommended first choice for getting around safely. There is a glass screen between the driver
and passengers. Contactless credit card payment is preferred and taxi's are frequently cleaned with hospital-grade disinfectant. When I'm not driving my own car, this is my preferred way of getting around.
Hire Cycles: Like most major cities these days, London has several cycle rental programs:
Santander Cycles is the main bicycle scheme operated by Transport for London. (They are named for their current sponsor and you may have heard of them as Barclay Bikes or Boris Bikes in the past.) They cost £2 for 30 minutes and are available at docking stations throughout London. The docking stations have touch screen terminals for registering and paying but they are often cranky. Use the downloadable app instead for finding, booking and paying for a bicycle.
LIME -E Electric Assist Bikes are pedal bikes with extra oomph provided by battery-powered motors that kick in when needed. As their name suggests, they are a bright lime green. You may also come across some red ones, labelled JUMP. These are leftovers from a failed Uber venture but are now operated by LIME-E as well. These are "dockless". You need a smartphone app to find, unlock and pay for using them. When you are finished with your ride, you park the bike safely wherever you happen to be, lock it with its built-in apparatus and simply walk away.  The bikes cost £1 to unlock and 15p per minute to ride. They're a good solution if you like cycling but you're not sure you'll have enough puff for long rides or hills. I haven't tried one yet but I've been told you need to be careful because they tend to take up sharpish when they start.
River Bus  Thames Clippers in a new partnership with Uber are operating UBERBoat, a scheduled water bus service that visits 25 piers, between Putney and Woolwich, operated by Transport for London up and down the Thames. These are commuter services but are a good way of getting within walking distance of many London sights. They're also a good way to sightsee on the cheap. As of this writing, they are operating a reduced schedule though running more boats on each trip to enable social distancing. As with all public transportation, masks are required. You can also go on deck to take advantage of public transportation in the fresh air.
Public Transportation: While London Underground and buses are running, people are being encouraged to use them only when absolutely necessary. That's to enable essential workers to travel safely in uncrowded conditions.
If you must use the Underground or buses, try to avoid morning and evening rush hours. Carry hand sanitizer and use it frequently. Face coverings that cover both nose and mouth are required on all London public transportation, for the entire length of your journey and including time inside stations. There are some exemptions and you can read about them here. 
What's open now
London's main museums and galleries
London's main museums are open to visitors, though you will find things a bit different. Masks are required indoors unless you are
exempt (as explained in the section on public transportation, above). Advance booking for time-specific entry is required everywhere and numbers are being kept down – usually one third to half usual traffic. Most museums are also operating reduced schedules – fewer open days per week, reduced hours or both. Don't leave booking to the last minute because tickets to the popular museums are selling out fast.
You'll find contactless hand sanitizers located at entrances and key points around the museums, lots of signs about social distancing and one-way systems in operation. There will also be fewer opportunities for eating and drinking with only limited catering available. Plan on travelling light as well – cloakrooms aren't open so you have to carry your coat and bags. On the upside, once you are inside, the museums aren't limiting the amount of time you can stay. That means you can enjoy leisurely, uncrowded access to some of the world's greatest treasures. Here's what to expect at London's key museums:
Other popular London attractions after lockdown
As with London's museums and galleries, all attractions that are open in London after lockdown require face coverings for most visitors, provide hand-sanitizing stations and are operating one-way systems. Advance booking, and limited opening hours are the norm.
The Tower is open Wednesday to Sunday. 10 a.m to 6 p.m. with last entry at 4:30 p.m. All outdoor areas are open as are most indoor areas, including the Crown Jewels, the Bloody Tower and the White Tower. Tickets must be booked online.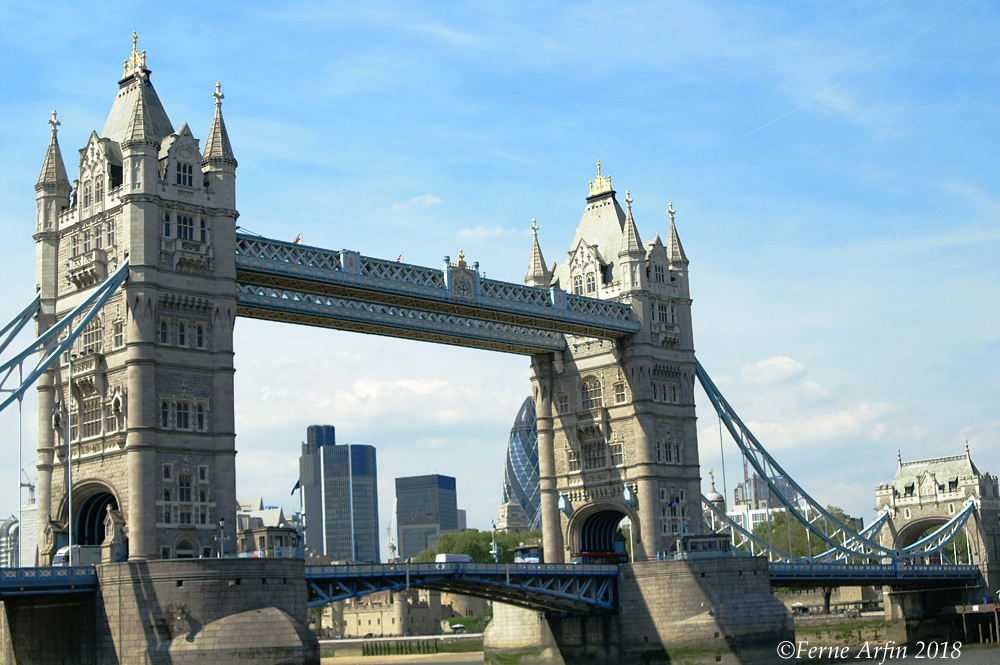 The Tower Bridge experience, including the glass walkways and the engine room, is open every day from 10:30 a.m to 7 p.m. with tickets prebooked, online. There is a one-way system in operation and visitors are asked to queue outside until admitted by staff. Masks are required throughout the attraction as is cashless payment, by card or contactless. And try not to drink too much tea before you arrive because there are only a few toilets and they are operating on a one in – one out basis. Read more about Tower Bridge's Glass Walkways. 
London's big observation wheel is open every day from 10 a.m. Closing times vary. Tickets must be booked in advance, online, and admission is limited to allow for social distancing. Contactless temperature checks are required on entry. Only card and contactless payments will be accepted.
The attraction is open daily, 10 a.m. to 4 p.m. Prebooking is essential and cashless cards are required for on-site payments. Contactless temperature checks are being conducted before admission for all visitors. In addition, the Aquarium advises all visitors to check their social pages – Facebook and Twitter – before leaving home for the latest information.
While there are no performances, newly formatted tours are on at least until 20 September. The tours provide first time access to the stage as well as a chance to learn about what goes on backstage and behind the scenes. The Swan Bar & Restaurant is also open. Find out about open days, hours and how to visit with their website's step-by-step guide. 
The view from the tallest building in Europe is, no doubt, impressive. How are they keeping visitors safe?  The attraction is open Wednesday through Sunday with variable opening hours.  All the usual precautions are in
place. Prebooked visits are scheduled in 15 minute time slots. Face coverings must be worn except when having drinks purchased from the attractions bars or on the open air  Sky Deck at Level 72. There's a dedicated COVID19 page on their website explaining everything.
Tickets to the Abbey must be booked on their website, with dates and times released for sale one month in advance. All the usual precautions are in place and reduced capacity is in place to keep numbers down – so if you have a specific date in mind, book as soon as tickets for that date become available. Some areas of the Abbey, in particular the side chapels, the Lady Chapel and the Queen's Diamond Jubilee Galleries, are closed because they don't meet social distancing guidelines. Check up-to-date visiting information before leaving home on the Abbey's dedicated COVID19 webpages.
The cathedral is open for time-specific prebooked visits with all the usual precautions. The whispering gallery is closed and queuing is required for access to the Dome, where visitor numbers are being limited. For full information check their safe visits webpage.
London's markets after lockdown
London's street markets are among the city's most popular attractions.  Known for the great variety of goods on offer, their market traders' banter and the colourful characters who populate them, they are usually heaving with shoppers and browsers. Many remain open and some are trying to practice social distancing or reduced access. Some, like Portobello Road, have reduced the number of stalls and are focusing on providing food and housewares for local residents.
Others, like Borough Market, have closed off areas, are not offering onsite dining, are limiting numbers of shoppers and delivering to local customers. And some are packed with visitors and shoppers once again. Whether you feel safe to visit a market in this age of COVID19 is largely a matter of personal choice. And since opening days and hours seem to change from one week to the next, the best way for you to decide is to check out the market websites shortly before you plan to go. These are some of the most popular markets:
Portobello Road  Only food stalls and household goods stalls are open to allow local residents to buy essentials. If you were hoping to rummage through antiques or second-hand clothing, not this visit I'm afraid. To limit footfall and allow for social distancing every stall will be separated by two stall widths from the next. Keep up to date with the latest London after lockdown at Portobello Road information here. 
Borough Market   All areas of the popular foodie market are open, with most restaurants and cafe operating on a limited basis and staff on hand to monitor social distancing. There's a list of precautions and rules that you should check before visiting. If you are staying in self-catering accommodation the area, it's worth noting that 65 market traders are offering click and collect and delivery of essentials within 4.4 miles through the market's online shop.
Camden Market  It's hard to imagine the chaotic Camden Market being a safe, socially distanced place to visit. But there are rules in place, a one-way system in operation, limited space for consuming food and mask requirements for all traders.  I guess it's up to you whether you are willing to risk visiting this popular tourist market.
Greenwich Market Most shops and stalls at this spacious and historic market (trading since 1787) have been open since 15 June. But, despite a rather confusing website that seems to indicate some businesses trading every day, in fact, the market is only open for limited hours, from 10 a.m. to 4:30 p.m., Thursday to Sunday.
Columbia Road Market  The colourful, East London flower market is open from 8 a.m. to 2 p.m. on Sundays. A one-way system is in operation, there are fewer stalls open and several of the surrounding streets have been closed to traffic to allow for more social distancing.
Brick Lane and Petticoat Lane  At the time of writing, these two markets in the Tower Hamlets area of London remain closed.
Spitalfields Market The covered market on the edge of the City of London is open every day but visitors will find it has a new look. There are fewer stalls on the Traders Market in the open centre of the market and they have perspex screens to protect traders and customers. A one-way system is in operation in parts of the market with the floors marked out to indicate social distancing. Hand sanitizing stations are located at key points and contactless payment is encouraged. Find out more about their reopening here. 
Eating and drinking in London after lockdown
Many restaurants are open though some smaller cafes that cannot provide adequate social distancing remain closed or are only open for takeaway and delivery.  Advanced booking or ordering ahead for click-and-collect is required even of the likes of McDonald's, Burger King, KFC and Starbucks. Because most restaurants opening in London after lockdown have reduced their number of available tables, thereby limiting the number of diners they can accommodate you may have to make your reservation further in advance than usual.
Where fast food outlets have indoor seating, it is very limited. I stopped into a Starbucks because I wanted to get in out of the rain and have a coffee. I had not ordered in advance but they were willing to pour me a coffee (paid by contactless card only). Though there were only four people seated at the indoor tables, the social distancing rules meant there was no room for me.
You may be surprised at the kinds of restaurants that are providing home or hotel deliveries. Even fine dining establishments have some home delivery options so, after you have checked your foodie guide to pick a restaurant, visit their website to see how far in advance you have to book and whether they are delivering.
Another option is pub dining. Forget the horror pictures you may have seen in the media of people packed like sardines outside of some of London's West End pubs. Lots of pubs that serve food have changed the way they operate and limited the numbers of people they serve to remain open during this health crisis. Typically, reservations are required, one-way systems are in place, hand sanitizers are located at key points  and restrooms are on a one-in/0ne-out basis. Table service is the norm indoors to present groups of drinkers clustering around the bar.
If the pub has a beer garden, that's even better. Because more people are choosing to eat outdoors, more pubs are installing protective canopies and outdoor heaters in at least part of their beer gardens. To find a good pub with a beer garden try checking the online reviews and listings of beer gardens in Time Out London, Design My Night, or Secret London.
The bottom line
For now, London is open for tourists and visitors. It's just different and a bit less spontaneous than it used to me.  That seems to be life in the new normal.
Like this post? Pin for future reference.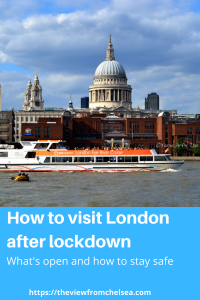 And one last COVID19 precaution
Before travelling to London – or anywhere else at this moment, autumn of 2020 – check the news reports on the latest spikes and outbreaks. Unfortunately, this is a continually changing situation. Get the facts and use good judgement.