by Ferne Arfin 10 May 2021
All that glitters in Birmingham
If you're looking for a bright-lights-big-city staycation, glittering Birmingham is full of surprises.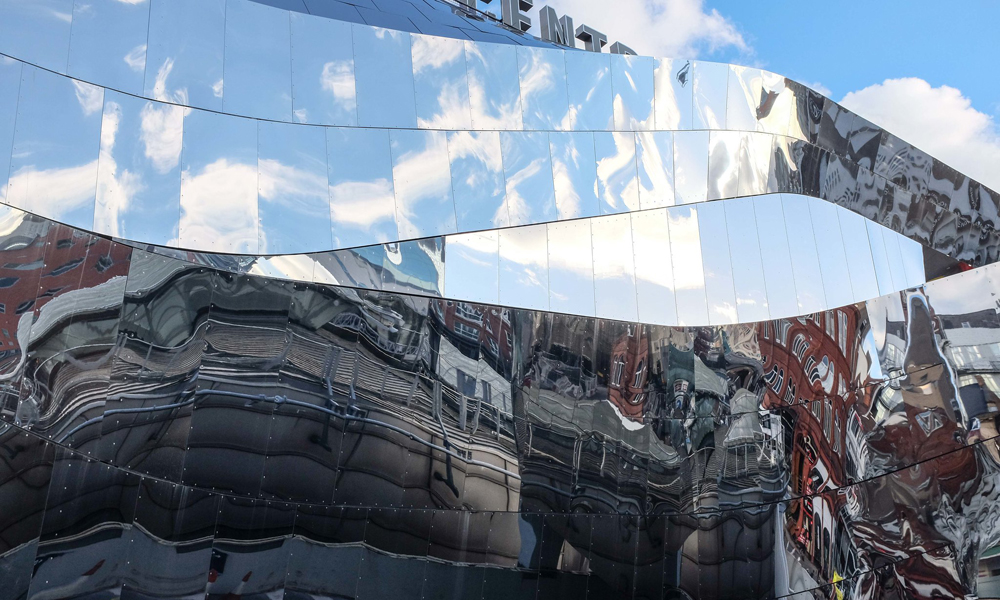 Photo by Peter Castleton, ccl
Glittering Birmingham – a phrase that's something of an oxymoron? If you haven't considered visiting Birmingham because of its industrial reputation, or if you just haven't been there for a while, you might be forgiven for thinking so.
But the BBC were in no doubt about Birmingham's credentials when they set their newest skills-based talent search, All That Glitters, in the Jewellery Quarter of Britain's second city. The jewellery challenge competition, fronted by comedian Katherine Ryan, is set in the beautiful galleries and workshops of Birmingham City University's historic School of Jewellery. And beyond the city's role as the jewellery-making capital of Britain, there is plenty that glitters in the capital of The Midlands.
A sparkling post-pandemic destination
Birmingham's post-millennial transformation has filled it with architectural riches and made it a hub for entertainment and dining – both Michelin-starred fine dining and exceptionally vibrant street food. There are some pretty starry museums and galleries worth a visit – though you'll have to wait until 2022 for the museum and gallery combo, BMAG (more below).
Birmingham also has a long-held position as a major shopping destination. The retail precincts and markets keep growing, now offering some of the best shopping in Europe. The city's position as a transport hub – for both rail and motorway connections – makes it a good base for exploring other regional highlights.
And of course, there's the glittering Jewellery Quarter.
Made in Birmingham
At least 40 per cent of the fine jewellery sold in Britain is designed and made in the few square blocks of the Jewellery Quarter. And they've been doing it for a very long time. Craftspeople have been working precious metals here for almost 350 years. From French shoe buckles and a die casting firm that minted coins in the 1660s, to the 19th century, when the world's first machine-made pen nibs were manufactured here, the area has been a magnet for craftspeople making jewellery in silver, gold, enamels and precious stones.
By the early 20th century, 30,000 people were employed in the city's jewellery trade. But because, historically, the Jewellery Quarter was a tight-knit community of artisans, craftspeople and manufacturers – with little retail activity – it was, until recently, Birmingham's secret.
Not anymore. Today it is a jewellery buyers' heaven. Of the more than 400 jewellery-related businesses in the area, 100 are retail shops. The area is rich in designer-makers who can create custom made items at remarkably reasonable prices. Much of the jewellery that is made and sold in the quarter is also sold on to stylish London jewellers (who sell it at much higher prices). The Birmingham assay office, where gold is tested and given its quality mark, is the busiest assay office in the world, hallmarking as many as 80,000 items a day.
The star jewellers of the future
The next generation of top flight jewellers is training right now at the Birmingham School of Jewellery, part of Birmingham City University and the largest jewellery school in Europe.
Time your visit right and you could get to visit the school's gallery, on Vittoria Street, where exhibitions of student work and graduate shows are usually open to the public.
You can also see, and commission, work by local designer-makers at the shop of The Museum of the Jewellery Quarter. The museum's exhibits present the history of jewellery manufacture in Birmingham. Visits can include live jewellery demonstrations and tours of an intact jewellery manufacturing workshop that is like a time capsule of working life in the Jewellery Quarter to the mid 20th century.
There are almost 500 jewellery business spread across the quarter. At least 100 are retail shops, lined up one after another on the streets radiating out from the Chamberlain Clock Tower.
And there's more to shopping in Birmingham than jewellery. Find out why Birmingham England is the shopping capital of the Midlands.
COVID-19 and the news at the time of posting

Not all of the attractions, venues and accommodations mentioned in this post are currently open and those that are may require advance booking for timed admissions. But England is gradually coming out of lockdown, with more and more reopenings throughout the spring to early summer. If you are planning a short break or staycation in Birmingham, check the websites listed in the post for the most up-to-date COVID-19 information
Also in the Jewellery Quarter
After being dazzled by precious metals and gems, chill out in St Paul's Square, a quiet public green around the Grade I listed St Paul's Church. It's the only Georgian Square in Birmingham and was once home to James Watt, inventor of the steam engine.  John Baskerville, printer, calligrapher and eponymous designer of the Baskerville font is buried in the churchyard. And Washington Irving wrote the Legend of Sleepy Hollow while staying with his sister here. It's said he wrote the story of Rip Van Winkle overnight, while there, and presented it to his sister and brother-in-law over the breakfast table.
JQ Essentials
Get here: Hop on the West Midland's Metro tram from Grand Central to Jewellery Quarter. It's a 15-minute ride for £1.50
Stay Here: St Paul's House is a reasonably priced hotel on St Paul's Square, facing the church. Rooms are simply decorated with Georgian style wainscotting and there's a comfortable bar and Thai-influenced, contemporary restaurant.
Shop Here: The Quarter is paved with jewellers, but if you are interested in seeing or commissioning the work of up and coming artisans and recent Jewellery School graduates, try Artful Expression, where handmade jewellery from 60 locally based designer-makers is offered.
Find out more about the Jewellery Quarter
More that glitters to see in 2022
Fans of metalwork, jewels and gold should probably put Birmingham on their agenda for a short break in 2022. That way they can also explore the fabulous Staffordshire Hoard in the Birmingham Museum and Art Gallery – economically referred to locally as BMAG.
BMAG, a free institution in the city centre, displays fine art, applied art, social history, archaeology and ethnography across 40 galleries of its Grade II* listed, late Victorian building. Among its popular treasures are the 3,000 objects of the world's most important collection of the work of the Pre-Raphaelites, including paintings, drawings, prints, sculpture, decorative objects and design.
BMAG is currently closed for what is being called "essential electrical upgrades" – in other words they're rewiring the place. When it reopens in early 2022, it will feature redesigned galleries, updated displays and state-of-the-art exhibitions.
But since we are on the subject of glittering Birmingham, plan a Brummie break in the New Year to visit BMAG's new displays of the Staffordshire Hoard, the largest hoard of Anglo-Saxon treasure ever discovered.
The Staffordshire Hoard
Haven't heard of the Staffordshire Hoard? Here's a quick overview that may just send you rushing out to buy a metal detector.
In 2009, Terry Herbert, a metal detector hobbyist of more than 18 year's standing, was exploring Fred Johnson's farm at a still undisclosed location in Staffordshire, when his device went mad. He'd found gold and a lot of it. The earth ultimately gave up 3,500 pieces of Anglo-Saxon gold and silver metalwork, enamels and semi-precious stones. Valued at nearly £4 million (ultimately shared between Herbert and Johnson) and dating from the 7th century, the find set off a bidding war among several big, British institutions. In the battle to keep and display it, that mega-institution, the British Museum, lost out to two Midlands museums, the BMAG, and the Potteries Museum in Stoke-on-Trent. So when BMAG reopens to the public, you can see the gold, and learn about its probable use, near where it was found in the Midlands.
Other glittering Birmingham museums and galleries open now or very soon
Ikon Gallery – Ikon, Birmingham's contemporary art exhibition space, opens to the public on Monday, 17 May 2021. The gallery features changing exhibitions of work by local, regional and international artists. It's non-profit and free though, in the current barely post-pandemic period, bookings through the website for timed entry are required. *** Ikon for Artists: Art Sale is the opening exhibition, running until 31 May. Planned to support local artists whose income was impacted by the pandemic, it is an uncurated art sale of work by Birmingham artists. Entries were solicited through an open call to artists who could demonstrate that they had been practising, part or full-time, in Birmingham. Work could be in any media up to a value of £1,000. All the proceeds of the art sale go directly to the artists. ***If you can't make it to Birmingham for the exhibition, you can still take part by viewing a list of the artworks and contacting the artists directly to buy something.  If you do visit Ikon, make sure to take a ride on the famous singing lift, a choral installation by Turner Prize-winner Martin Creed,
St Paul's Gallery – Music fans and collectors of album cover art should head for this gallery on Northwood Street on the edge of the Jewellery Quarter.  A leading retailer of signed, limited edition album cover fine art, St Paul's Gallery has the largest collection of licensed album cover art in the world. The gallery also exhibits and sells limited edition photographs, original and limited edition signed musician portraits and album art signed by the artist, the performer and often the bands. A genuine muso-geek feast. Check the website for more details.