by Ferne Arfin 17 May 2021
Artists lead as London wakes up
The signs are good that London may be waking up from its long pandemic nightmare.  And it's the arts community that is sounding reveille.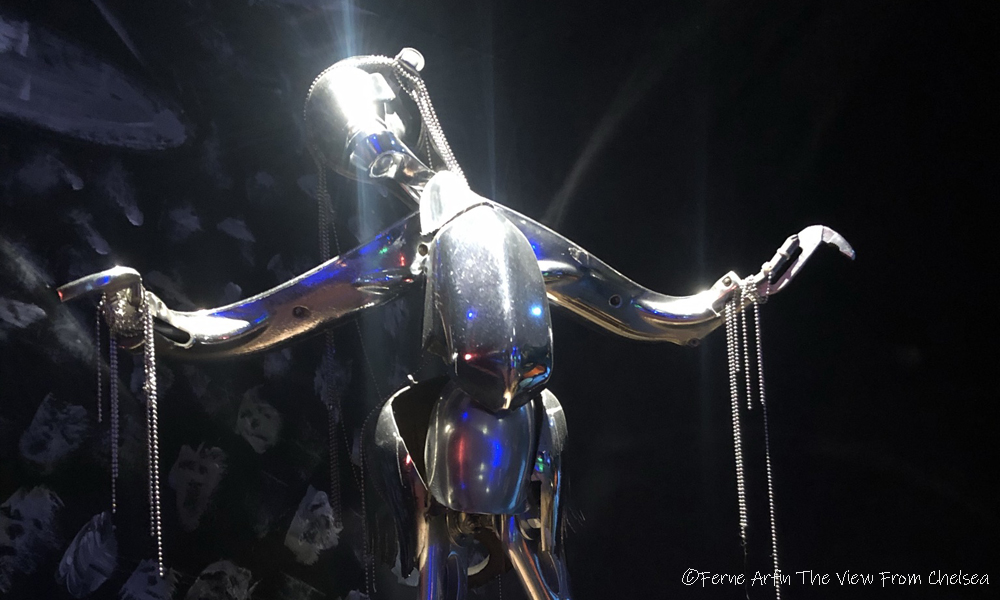 London is waking up from its long pandemic nightmare and the signs of life are most evident in the hard-hit creative world among London artists and performers.
There are live concerts with socially distanced audiences at the O2, the Albert Hall, the London Palladium, the Barbican Centre and all over town scheduled for the end of May. A few theatres are already offering limited live performances and more are getting ready for openings in June. And wherever you look, restaurants and pubs are dusting off their indoor tables and welcoming booked guests.
But for Londoners and visitors still a bit nervous about sitting with hundreds of others in a theatre or concert hall, the easiest way to dip your cultural toe in the waters is to visit an art exhibition, show or fair. And there are some terrific ones around. I like these three:
Art in the Age of Now
More than 100 London artists have filled every corner of the 51,000 Fulham Town Hall, a Grade II listed building that has lain derelict for more than a decade.  Art in the Age of Now, organised by London public art enterprise Art Below, in partnership with hotel operator Lamington Group and property developers Ziser London, is a free exhibition full of energy and variety. Besides the artwork, curated by Art Below founder Ben Moore, visitors between 20 May and 6 June can see some of the late Victorian features of the building – stained glass, ceramic tiles, several huge halls and the original council chamber. The building is then scheduled to become a hotel and entertainment venue.
BREAKING NEWS

By popular demand, this fun show has been extended until 20 June – so there's still time to book your free tickets.
Before then, the main rooms, project spaces, small individual offices and basement vaults are bursting with contemporary art, live music, talks, performance art and street art by some of the capital's best-known artists.
We loved Joe Rush's "Theatre of Waste" (see featured picture above and gallery below), Robert Gordon McHarg's startling life-sized wax figure of Charles Saatchi, Paul Robinson's (aka LUAP) Pink Bear and the humourous, slightly 3D lenticular prints of Patrick Boyd. There's a lot more to see and it's right across the street from Fulham Broadway Underground Station on the District Line.
The show opens to the public on Thursday 20 May. Free tickets for time-specific admission can be booked through Eventbrite. Plan on spending an hour or more exploring the show.
Click on gallery images below for full pictures
Electric City at Leadenhall Market
The Bracey family, London artists in neon, have raided their archives at Gods Own Junkyard in Walthamstow to produce Electric City in cooperation with the City of London's stunning Victorian arcade, Leadenhall Market. The free show, running from May 26 to the end of July, is described as an "immersive technicolour production" reflecting the work the group, led by founder, the late Dick Bracey, has produced on film sets. for more than 40 years.
Visitors can stroll through bright signage highlights from Stanley Kubrick's Eyes Wide Shut (for which Bracey recreated streets in Greenwich Village), Judge Dredd, Batman, Tomb Raider, Charlie and the Chocolate Factory and The Dark Knight. Besides the actual neon signs, in shopfronts throughout the market, film stills showing the pieces as they were used will put viewers in the picture, so to speak.
Bracey, who had been making neon signs in Soho, for cinemas, nightclubs and casinos, from the mid-1950s, did his first film work on Ridley Scott's landmark film, Blade Runner. 
While you're there:
An information hub will be staffed during the day and while the work on display is not for sale, a Shopify site has been created for sales of other examples from Gods Own Junkyard. When COVID19 restrictions loosen further, after 21 June, the show will include tours and talks.
Leadenhall Market is no stranger to cinema glamour. Visitors may recognize its glass and cast-iron facades as Diagon Alley in Harry Potter and the Philosopher's Stone, Tomb Raider, The Imaginarium of Doctor Parnassus and Tinker, Tailor, Soldier, Spy.
Leadenhall's boutique shops are now open and many of its restaurants and cafes are now offering inside dining so a visit to this dazzling show can be the anchor for a fine retail therapy and dining out escape.
Views of Electric City below. Click images for full view
The Art of Banksy
The elusive Banksy may not be a London artist but his (or is it her?) work is nevertheless an important part of the London art scene. So fans will want to make a beeline to this show, at 50 Earlham Street in Covent Garden. The show, not authorised or curated by Banksy, but featuring 70 authenticated Banksy works, opened 20 May and will run until 21 November 2021. It features prints, canvasses, screenprints and sculptures – the artists lesser known indoor works – as well as limited edition work dating from 1997 through 2008. It's the largest exhibition of privately-owned Banksy works ever shown.
Included are Girl and Balloon, Flower Thrower and Rude Copper alongside some of Banksy's lesser-known artworks. The COVID19 pandemic delayed the show's London opening by a year but it has already been seen by hundreds of thousands of people in Toronto, Melbourne, Sydney, Miami, Chicago, Tel Aviv and Auckland. Tickets can be purchased online and cost £21.50 with group and student discounts available.