Post-pandemic travel: Rediscover England's wonderful pubs
With the end of lockdowns almost in sight at last, why not plan on breaking the travel ice with a short break not too far from home but just far enough.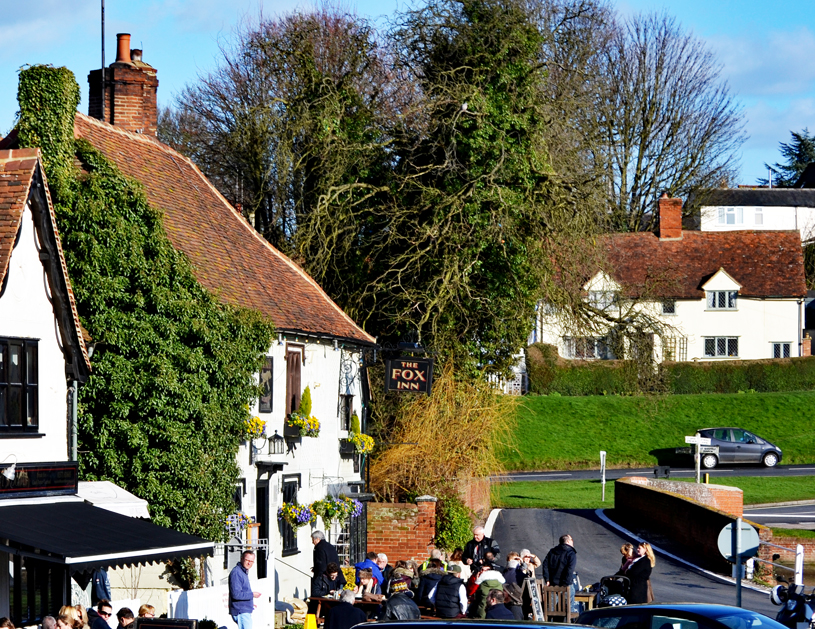 Have you considered staying in a pub? This may be the perfect time to start thinking about it. With new COVID19 vaccines becoming available every few weeks and more of us actually getting the "jab", thoughts of post-pandemic travel are beginning to look like more than pipe dreams. Still, after almost a year in anti-social isolation, thoughts of boarding a plane full of strangers to travel to faraway places may be, for many of us, too much too soon.
Why not break the ice by planning a short break in a comfortable inn not too far from home. In Britain, that could mean a cosy stay in a pub. Many of the most historic pubs started their days as coaching inns. Today, a lot of the best pubs are rediscovering that role and turning what used to be grubby digs for commercial travellers into luxury boutique accommodations at a fraction of hotel costs.
Planning in the pandemic
At the time of writing, the whole of the UK is in a high level of COVID19 lockdown status with pubs and hotels closed. But some optimistic pubs with rooms are showing reservation availability from mid-March and very generous, short notice cancellation policies. Short, local breaks by late spring and early summer are not out of the question. So consider these recommendations as suggestions and ideas for the not so distant future.
Why you should stay in a pub
When the French use the word auberge for a roadside inn with food it sounds full of Gallic glamour. Pubs began the same way. They originated as public houses – way-stations where travellers could find rest and refreshment.
Over time, they changed but today, with people drinking a lot less than they used to, enlightened British pub owners are taking advantage of their prime positions on travel routes. They're adding wings or refreshing existing rooms to offer conveniently located, uniquely British accommodations.
Rooms range from clean and basic to boutique hotel stylishness. If you need another reason to stay in a pub, think of your wallet. Staying in a pub can cost 30 to 50 per cent less than an equivalent quality hotel stay.
And the food is pretty respectable too. Most of the best pub hotels have ditched the microwaves and now employ chefs. There are even a handful of gastropubs that have Michelin stars.
Here are some we particularly like.
The Orange Tree in Richmond, London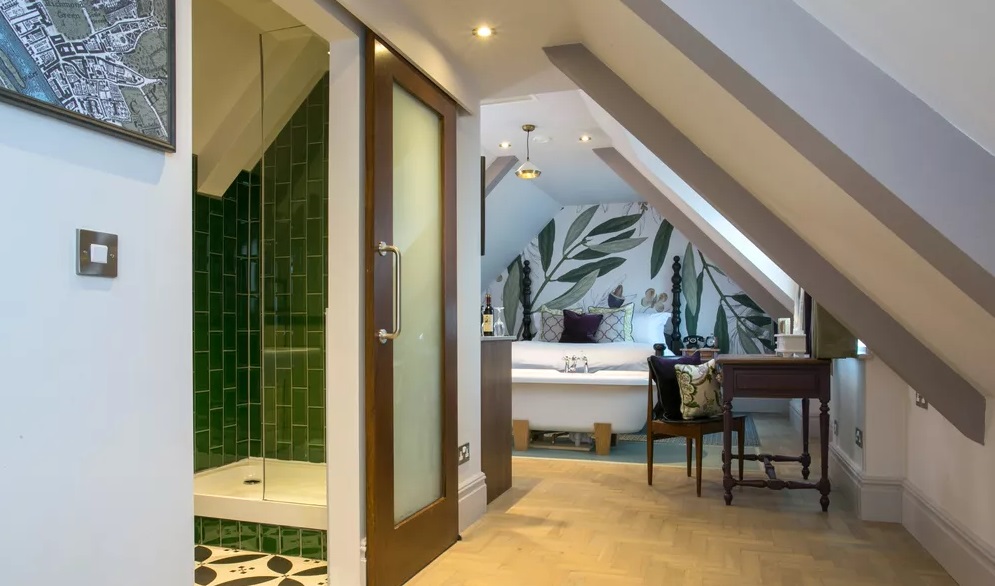 The Orange Tree, in the outer London borough of Richmond, has been a fixture on Kew Road since the late 18th-century. Its landmark Victorian brick and terracotta striped facade were added in the 1890s.
Richmond's famous Orange Tree Theatre was occupied and upstairs room between 1971 and 1991. Totally refurbished in 2014, the former theatre and rehearsal space is now a 13-room boutique hotel above the popular pub. A new Orange Tree Theatre is right next door, handy for a pre-curtain meal or interval drink.
Convenient location
Stay in this pub and you're within easy reach of Central London yet out of the hustle and bustle of the city. From Richmond Station, about 100 yards away, it's less than half an hour to London's West End on the London Underground District Line or 20 minutes to London Waterloo on mainline trains. It's within walking distance of Richmond Park and a short bus ride to the main entrance of Kew Gardens.
The hotel and pub are decorated with botanical artwork, reflecting the Orange Tree's location Richmond Park and Kew Gardens. The 13 designer rooms range from a smallish boutique double to stylish feature rooms. Some can be arranged for families or linked to adjoining rooms. Room features include cable television, free wi-fi, posh tea and coffee-making supplies, hairdryer, safe, fridge and so on.
The pub and garden room
The pub, on the ground floor, is traditional and classy. Bar "snacks" include wild boar and sage sausages and duck croquettes. Food is served throughout the day, from breakfast, through evening meals.
Inside the seating is divided into bar seating, table seating, booths, and a soft seating section. There's also a garden room suitable for parties. During Rugby matches, two large screens drop down and there's an outdoor BBQ with outdoor TV as well.
On the downside, you can hear daytime traffic in rooms overlooking Kew Road and although the rooms are well soundproofed, during matches, Rugby fans in the pub can be boisterous.
The Victoria in Sheen, West London
Sheen is a posh, tucked away residential corner of Richmond and the Victoria, run by a small London pub group, is so tucked away amid suburban villas that you'll need a car and a satnav to find it. It's worth the effort for a very different experience. This is a cosy local gastropub with seven tidy guest rooms, a dark and woody traditional pub, a sunny conservatory and a sheltered beer garden. Be warned, though, try to avoid the end of the school day. The pub is beside a school and when school's out and parents arrive with their kids for the child-friendly garden, the decibel level can be deafening.
The Victoria is easy to reach from Heathrow and a 15-minute walk along Fife Road to the Sheen Gate into Richmond Park.
Rooms in converted stables at the Victoria are simple but spotless, colourful and modern. They are all doubles but one can be made up into a twin room and some can be fitted out with an extra cot or camp bed for a small child. They're equipped with high-speed, fibre-optic wi-fi, coffee makers, and homemade cookies.
The emphasis at the Victoria is on gastronomy with a slightly Mediterranean style – celeriac and apple soup, radicchio and pear salad, pan-fried gnocchi, wild mushroom ravioli, rosemary roasted peach melba. The pub received a Michelin Plate and crossed forks in the 2020 Michelin Guide. It's also landed a diners choice award from Open Table. But it is still a pub after all and pub classics like a meaty burger with triple-cooked chips is also on the menu.
The Windmill on Clapham Common, London
You won't believe you're in London when you gaze out the windows of this historic pub and see grassy meadows, mature trees and, in good weather, sunbathers around a pond.
The Windmill is embedded in Clapham Common, a 220 acre south London park. Yet it's a 10-minute walk to either Clapham Common or Clapham South Underground Stations. From either station, it's less than 15 minutes on the Northern Line to London Bridge Station and the centre of town.
The Windmill's 17th-century facade camouflages a modern addition, which looks on first glance, like another Georgian building in the residential enclave of Windmill Drive. It's actually a modern, 42-room, 3-star hotel.
Stay in a pub with boutique hotel features
Stay in a pub here and experience feature rooms with freestanding, roll-top baths, free wi-fi, flat-screen satellite television, and a luxury tea and coffee making tray. For the best views, ask for a Common View room with lovely views into the surrounding park.
The pub itself is large with a good variety of beers on tap and a generous menu of traditional pub grub — burgers, gammon with egg and chips — as well as salads, lighter choices and vegetarian options. The pub serves breakfast, brunch, lunch and evening meals as well as bar snacks throughout the day. If you go for a classic burger with all the trimmings, don't miss their fabulous triple-cooked chips.
Spacious seating areas include the cool, dark, traditional pub interior, a soft seating area, a sunny conservatory with chandeliers and outdoor tables. Look for the glass panel on the floor next to the bar. It marks the original location of the windmill that gave the pub its name.
The Malt House, a London pub near Chelsea Football Club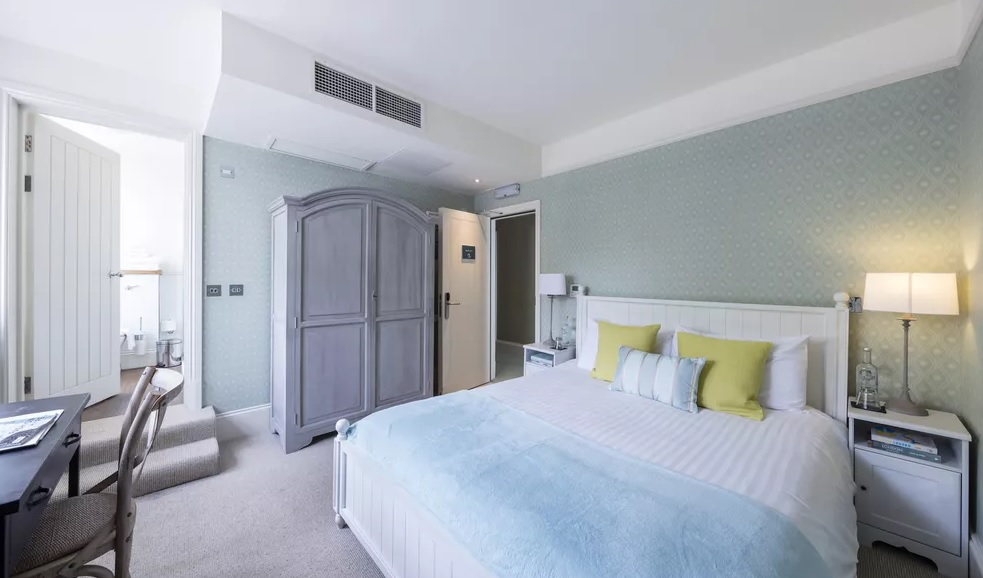 The Malt House is a spacious urban pub in West London less than half a mile from Chelsea Football Club at Stamford Bridge. It's busy, with rooms at a premium. when Chelsea plays at home. But most of the time, this is simply a lively, typically London place tucked into a hidden square five minutes from Fulham Broadway Underground Station.
Good connections to all of London
From the station, there are District Line connections to Wimbledon and, through the Earl's Court Station to just about everywhere else. Catch the Number 14 bus route outside the Underground Station and you are on one of the most useful bus routes for tourists in London, going past: the Victoria and Albert, The Natural History Museum and the Science Museum; Harrods; the West End Theater District and Chinatown; and the British Museum.
The pub looks Victorian, but it's actually much older, dating from the early 18th-century. Completely refurbished in 2013, it has a traditional bar and several large rooms with tables and chairs, sofas and bar stools, and windows overlooking a small, green square. There's a small outdoor area with picnic tables.
For all its size, the Malt House has only six guest rooms — each large, modern and well equipped with coffee machines, free wi-fi, homemade cookies, and flatscreen televisions. Cots and rollaway beds for children are available on request.
The Malt House was named the Casual Dining Pub of the Year 2017 in the Casual Dining Pub and Restaurant Awards.  They have several different menus, depending upon the time of day. Their a la carte menu features hearty dishes and traditional pub favourites.
Part of a real London neighbourhood
Stay in a pub here and you're within a few steps of a North End Market, a traditional London street market full of character, with stalls selling fruit, veg, hardware, novelties, clothing, meat and fish.
The Barrow House in Egerton, Kent
If a quiet stay in a country pub close to plenty of attractions is what you're after, the Barrow House, on The Street, in the tiny Kentish village of Egerton might be the place for you.
The white clapboard village pub dates from 1576, built from timbers used in sailing ships and cob and straw plaster. Once known as The George, the pub's current owners, ex-London chef Dane Allchorne and his wife Sarah, renamed it after a prehistoric barrow that you can hike across the Kent Weald to visit. It has been modernized inside but retains much traditional 17th-century oak timber framing and slate floors.
Handy for attractions and trains to Europe
Stay in a pub here and it's easy to tour  some of Kent's best attractions. Leeds Castle (known as the loveliest castle in England); Sissinghurst Castle & Gardens; Pluckley (reputed to be the most haunted village in England), and the Ashford International Station for Eurostar and other trains to Continental Europe are within 10 miles.
The pub offers three guest rooms — two doubles and a twin room — each named for a type of Neolithic barrow: the Bowl, the Bell, and The Disk. Rooms have large beds, modern bath or shower rooms and individual decor featuring British made fabrics and locally sourced art and photography. The views from all guest rooms, of the village and the valley, are glorious.
A restaurant with rooms
The Barrow House operates as a restaurant with rooms. The ground floor areas include a traditional pub and two light and spacious dining rooms. One corner of the pub has a large stone hearth covered with signatures of the Canadian airmen who were based nearby during World War II.
The seasonally changing menu includes small plates and sharing plates as well as sandwiches, starters, and mains. It combines pub classics – bangers and mash, liver and onions – with more sophisticated offerings such as asparagus & mint risotto balls, roast apricot & orange blossom fool.
The Fox&Anchor, in the heart of London
The Fox&Anchor, on Charterhouse Street, sits beside Smithfield Market on the northern border of The City of London. There's been a pub on this spot since the 14th century, serving the butchers and poulterers of the market. The pub has served early morning food and drink to market traders and customers throughout its history.
The latest incarnation was created in 1898, in the middle of England's Art Nouveau period. If the architectural ceramics look familiar, that's because were designed by William James Neatby, the same artist responsible for the tiles in Harrods Food Halls and The Royal Arcade in Norwich.
Theatrical and sexy
Unlike some of the other pubs featured here, The Fox&Anchor is more of a theatrical experience than a boutique hotel. Some of the rooms are decorated in dark, dramatic colours. One of the luxury bathrooms, with its copper-clad bath and twin basins, is straight out of very high-class Victorian bordello.  So are some of the tiny private dining rooms in the downstairs restaurant. The menu, as you might expect, is very meaty. The Fox&Anchor is, after all, beside the oldest wholesale meat and poultry market in England. There are a few vegetarian dishes on their menu but this is probably not the best place to go with your new vegan squeeze for Valentine's Day. Stop by the pub to bend your elbow in its unique bar, clad in a solid sheet of rolled pewter.