by Ferne Arfin 23 March 2021
Discovering the cross-border tastes of Catalonia
Call it Catalogne in France or Catalunya in Spain. Whatever you call it, Catalonia's complex shared history has produced flavours and traditions unique to this corner of Europe.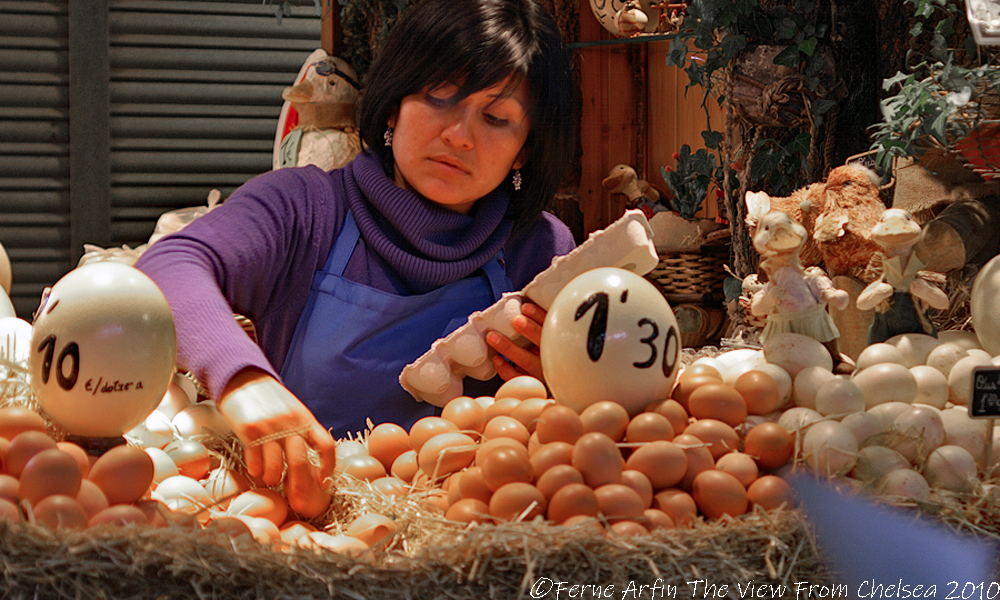 Discover the tastes of Catalonia and link across time to a cross-border region that history has tried and failed to rip apart.
French Catalonia, or Catalogne Nord, climbs from a small patch of coastal Roussillon, that includes Perpignan, up into the eastern Pyrénées. Though it's a fraction of the size of Catalunya in Spain, the two share foods and folk traditions that become most apparent as you head into the mountains and approach the Spanish border.
Local signs on the French side identify the regional capital in the Catalan language – Perpinyà la Catalana – but this is a recent innovation and somehow you just know their hearts aren't in it. Catalan was only recognised as a regional language in the region known as the Pyrénées Orientales in 2007. If you try the Catalan pronunciation for a place name or a menu item, Perpignan locals will usually still steer you back to conventional French.
Louis XIV's fortress villages
Click image below to discover Villefranche-de-Conflent
A mountain outlaw
A pair of fortified villages high in the mountains explains the cultural amnesia that, until its recent revival, turned French Catalan culture into a mountain outlaw. When the 17th-century Treaty of the Pyrénées put most of Catalonia in Spain, King Louis XIV banned public use of the Catalan language and drove it underground. His military architect, Sébastien Le Prestre de Vauban (whose works seem as common in France as pubs named the King's Arms in England), fortified two border outposts in the mountains to make sure that France stayed French. The Sun King's fortresses, Mont Louis and Villefranche-de-Conflent, near the base of Mount Canigou, are part of the Vauban Unesco World Heritage Site in the Pyrénées Regional Natural Park.
Mont Louis, at 96 acres and 5,250ft above sea level, is France's smallest commune and highest fortified town. Though parts of it can be visited year-round, its citadel is still an active military base where French commandos train.
Villefranche-de-Conflent is an unusually oblong-shaped walled town crammed into a narrow valley, between steep slopes and the River Tet. Though the fortifications had a Vauban makeover, most of the pink marble town and its walls date from the original 11th-century "enterprise zone".  The local Count of Cerdanya and Conflent built it as a freetown (the English translation of villefranche) in 1095 to control the valley and cut off his enemies' wine supplies in winter.
To attract a population of shopkeepers and craftsmen, he invited settlers to live tax-free for three years, after which they could pay taxes when and only as much as they wanted. Their stone shopfronts and tall, narrow houses line deeply shaded streets that open onto dazzling mountain views.
Several hundred feet higher, 17th-century Fort Liberia clings to an outcrop, protecting Villefranche from "aerial" attack. It was originally created by Louis XIV to house prisoners. Visitors can climb more than 700 steps of an underground staircase or take a shuttle bus from the parking area outside the town walls to ascend 180 metres higher. Either way, the reward is a view over three valleys Mont-Louis, Vernet-les-Bains, and Prades.
The tastes of Catalonia in the Pyrénées
As you climb into the Pyrénées and approach the Spanish border, the Catalan influence becomes much more apparent – in the language, in the rustic traditional foods and in the goods for sale in the market towns. The air of the enormous Saturday market in the border town of Ceret resounds with Catalan; the market stalls are laden with Catalan specialities – bunches of vegetables and jars of sauces rarely seen elsewhere in France.
After we browsed the market and visited Ceret's gem of a modern art museum (Picasso and Matisse, friends of the founder, helped create it), we stopped in a café on the edge of the market to try pain à la Catalana (pa amb tomàquet in Catalan ) and calçots with romesco sauce.
Both dishes seemed to be on every Catalan menu on both sides of the border. Make them at home and you can experience a taste of Catalonia at your own table.
Pa amb tomàquet
Catalan tomato bread is ubiquitous in Catalonian homes and cafés at breakfast, lunch and dinner. Where you might expect a basket of bread plonked down on a table elsewhere, here you are more likely to see the raw ingredients of pa amb tomàquet set out so you can make your own while you peruse the menu.
It's easy to make and you don't really need a recipe; you just have to assemble the ingredients:
good quality day-old bread (rustic loaves or baguettes are best)
extra virgin olive oil
coarse salt
fat cloves of garlic, cut in half
very ripe tomatoes.
Directions
Roughly slice the bread so that it has some surface texture. If the bread isn't a bit stale, toast it or dry it out for a few minutes in a slow oven. The aim is for each slice of bread to act a bit like a grater.
Rub the surface of the bread with the cut clove of garlic.
Cut the tomatoes in half or quarters and rub them into the cut bread so that they deposit their pulp and seeds, leaving only the skin in your hands. If you can't find large tomatoes that are that ripe, I find cherry tomatoes or mini plum tomatoes do the job.
Sprinkle with salt and drizzle with olive oil to taste.
That's it and it's a surprisingly more-ish starter or snack with drinks.
Calçots?
Calçots are a kind of sweet spring onion unique to Catalonia. In season from January to April, they are often served at raucous, messy festivals where they are grilled until they are blackened, peeled, rolled in romesco sauce – made of ground almonds, pine nuts, sweet peppers, garlic and tomatoes – and then lowered, pretty much whole into your hungry mouth. At least that's the way they are eaten in Catalunya (Spanish Catalonia).
We arrived in the region too late for these festivals and were first offered calçots at Restaurant La Chaumière in Font Romeu, a ski resort on the French side of the border. There they were eaten blackened outer layer and all. It looked a bit like charcoal but was actually sweetly delicious – in the same way that the blackened outside of a toasted marshmallow is sweet and edible. In another key difference, in France, they are often served on plates and eaten with cutlery. A lot less messy.
You may be able to find calçots in season in gourmet shops or markets that specialise in Spanish (not Hispanic) ingredients. Brindisa in London's Borough Market sometimes has them, along with the romesco sauce that's the required accompaniment.
This recipe, by Jenny Chandler on the Borough Market website, has everything you need to know about preparing and eating these unusual onions. You'll need some clean newspapers for the prep and bibs to consume them. And, one word of warning, don't bother trying if you can't find or grow your own real calçots. I thought they looked like very fat scallions or green onions – the ones London shops now call salad onions – so I tried to use those. Not even close.
Read more about this Catalonian delicacy here,  along with a very good recipe for the sauce and some pictures of the messy way it's eaten.
Trinxat
Before we crossed the border into Spain and Catalunya, we also sampled a hearty dish of trinxat at a Font Romeu bistro. This winter dish – perfect for skiers' carb-loading or warming up after the slopes – is a mixture of mashed potatoes and, well, stuff. Wherever potatoes are popular and winters are cold, you will find combinations of mash and leftovers. In Ireland they mix mashed potatoes with cooked cabbage or curly kale, spring onions and lots of butter
and call it Colcannon. The English make cakes of Bubble and Squeak from leftover cabbage or Brussels sprouts, streaky bacon, mashed potatoes and goose fat. My grandmother used to mash potatoes with finely chopped hard boiled eggs and chopped onions softened in chicken fat.
Trinxat (pronounced treen -CHAHT) is that kind of dish. What makes it a true taste of Catalonia is the liberal application of Spanish paprika.
Trinxat looks a bit like a frittata but is basically a mixture of potatoes, cabbage and bacon without eggs.   Just mix equal amounts of chopped cooked winter cabbage (savoy or kale is good) and potatoes, Mash them together with one or two crushed cloves of garlic, plenty of salt and pepper, a good dose of smoked Spanish paprika and chopped bacon or lardons.
The purists leave it at that but when we sampled the dish, it seemed as though the chef had thrown in everything but the kitchen sink. There were peas, some carrots and I'm sure I spotted a few green onions too. Whatever you include, fry the whole lot- as either one, large frying pan-sized pancake or smaller individual cakes – in olive oil or bacon fat. If you can get pork belly slices, fry them first and then cook the trinxat in the fat they render, serving the belly slices alongside.
On to Catalunya
The A9 motorway crosses into Spain near Perthus, flying over the high passes before descending to the plains of Girona,  one of the provinces which, with Barcelona, Tarragona and Lleida, make up Catalunya. Since 1978, Catalunya has been one of Spain's 17 autonomous communities. Its language, suppressed for four decades under Franco but now spoken by about half the population, has official status and is taught in schools.
This part of Spain feels like an empty quarter. The impeccably restored medieval villages of Pals and Peratallada are lovely but eerily quiet under the blazing Mediterranean sun of early spring.
Pals and Peratallada
Click image below for full gallery
Crossing the small provincial capital of Girona, we stopped for chocolate and soon discovered that almost every Catalan town and village had a chocolate shop or xocolateria to use the Catalan word.  All over the region, but particularly in Girona and Barcelona, you come across xocolateria that claim to be the oldest in Spain, or Europe.
Well maybe. Spanish explorers did, in fact, bring chocolate to Europe (carried beyond Spain by Jews expelled during the Spanish Inquisition), but the first places to drink and buy it were more likely in Andalusia. Nevermind. Chocolate is, without a doubt, a key taste of Catalonia. The Catalans have a way with chocolate unlike anywhere else.
In a shop in Girona, on the edge of the former Jewish quarter – now a stylish historic area to live – we ordered hot chocolate and were served tiny cups of a dark brew seriously thick enough to stand a spoon in. In Madrid, the hot chocolate that comes accompanied by churros is more like a hot dipping sauce than a drink. But now in Catalonia, the chocolate we spooned out of our cups had the texture of pudding or hot chocolate mousse.
To make it at home, choose the darkest, richest drinking chocolate you can find. In London, Charbonnel & Walker  (by appointment to Her Maj) sell tins of flaked chocolate that melt in milk into a deep, velvety drink. To turn it Catalonian, after the chocolate has melted in the milk, add a small amount of cornflour (cornstarch), dissolved in a few spoonfuls of cold milk and heat slowly until it thickens to spooning consistency.
The human towers of Catalunya
On the edge of Girona, we came across an athletic group of students outside the polytechnic faculty of the University taking part in a training session of the Colla Castellera dels Xoriguers. This peculiarly Catalan activity, known as castelling, is a feature of public holidays and feast days all over the region.
Castellers form human towers or castells. The castell is complete when the person at the top – often a child – raises one hand in a four-fingered salute. While we watched, the castellers reached three, four and finally five human storeys.
Did the Catalans invent the flash mob?
Later, in the Costa Brava town of Palamós, we watched hundreds of people along the seafront promenade join the Sardana, a Catalan circle dance. It seemed to happen spontaneously, like a flash mob. One minute people were milling about, eating ice creams and bunyetes (another taste of Catalonia, see recipe below). Some gathered around a platform where a small group of musicians played oddly harsh, traditional woodwind music.
Suddenly, seemingly all at once, family groups, elderly couples, teenagers and children put down their shopping, their handbags and toys, linked arms and began a lively, complicated dance. As more people arrived, they joined the dancing circles or formed their own new ones.
Within minutes, the entire seaside was alive with wheeling, laughing, and clapping circles of dancers.
Bunyetes – A taste of Catalonia to make at home
Boosters of this region make a lot of noise about huevos cabreados (angry eggs), but honestly, I'm not convinced. The dish of fried eggs broken up on shoestring potatoes reminds me of English egg and chips with hot sauce; something for football fans to consume late at night to absorb all that beer.
It is true that Spaniards eat more eggs for lunch and dinner than elsewhere, that is true all over Spain. A far more Catalonian use of eggs – in both France and Spain – is the crispy, sweet pastry known as bunyetes or oreillettes in French Catalonia.
You'll find them for sale at just about every market. Locals buy greasy bags of them to take home or simply munch them happily as they shop. They take a little effort to make but if you've been to this region they're worth the trouble because they will bring back vivid memories of sunshine and the tastes of Catalonia.
Ingredients
four cups (500 grams) plain flour
1/2 cup (125 grams) softened, unsalted butter
four large eggs
the zest of one large lemon
orange flower water to taste
two teaspoons neutral oil (sunflower, rapeseed or canola)
a pinch of salt and a pinch of sugar.
icing (powdered) sugar
neutral oil for frying
Method
Rub the softened butter into the flour as if you are making pie crust.
Add the lemon zest, oil, salt, sugar and orange flower water to taste.
Make a well in the centre of the dry ingredients and pour in four lightly beaten eggs
Mix to make a firm dough.
Mill the dough – this is a bit like kneading but the objective is to break up rather than build the gluten so that the dough is less elastic. Instead of kneading, smear bits of dough on the work surface and then scrape them back into the mass. Hard to explain but easy to do. Watch this video for a demonstration.
Wrap in plastic wrap and rest in a cool place for a few hours.
On a lightly floured board, with a floured rolling pin, roll walnut-sized chunks of dough as thinly as possible.
Heat oil in a deep, high-sided frying pan and fry the bunyetes one at a time until golden and bubbly.
Drain on paper towels and dredge in powdered sugar.