by Ferne Arfin 6 July 2022
Add the saucy taste of Tenerife to your home cooking
I searched for a genuine taste of Tenerife and what I finally found was…saucy!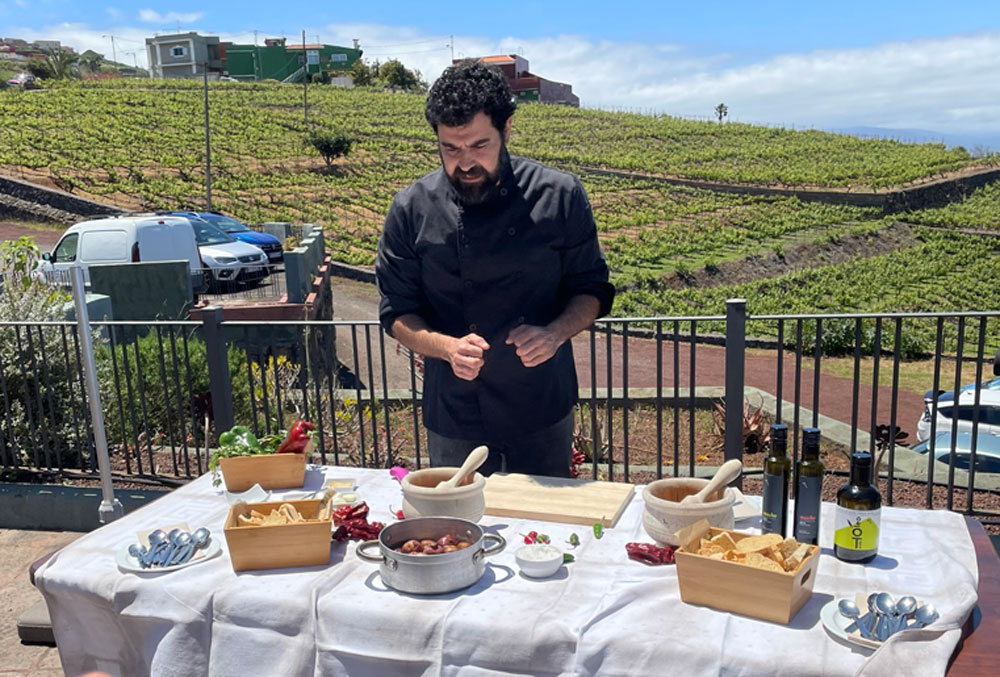 Photo by Ferne Arfin, The View from Chelsea
Whenever I travel, I try to discover the native tastes and the aromas of the local dishes to share with you. As most travellers know, they're usually powerful reminders of places and times. The taste of Tenerife, the largest of the Canary Islands, at first proved to be elusive. Because the island is such a popular holiday destination for Europeans  (especially British, Germans and Spanish tourists), it's easier for visitors to find a pizza or a burger than local dishes. And upmarket restaurants and cafés often serve modern European dishes, indistinguishable from what you might find in many other places.
Local ingredients and rustic cookery
But get away from the tourist centres and into the small villages and you'll discover a true taste of Tenerife. There, elements of rustic cookery influenced by local, West African and American ingredients – potatoes, maize and beans, for example – and the realities of agriculture on a volcanic island shape the cuisine. So not much beef – for lack of grass grazing land – but lots of seafood, goat and hard goat cheeses, plus the delicious pork from the local black pigs. The year-round temperate climate helps islanders produce a glut of fruits and vegetables. Tomatoes and the small Canarian bananas are the main crops but peppers, colourful salad ingredients, carrots and cabbage, courgettes and summer squash are part of any country-style spread.
When we visited Bodegas Monje, for a winery tour and cookery workshop, we were also treated to a rustic banquet. At the family-owned winery that has been producing wines since 1750, we dined on platters piled high with rough chunks of succulent pork and a simple salad dressed with thin strands of sweet, wilted onions, all washed down with one of the vineyard's mellow, fruity reds. What distinguished our lunch as uniquely Tenerifean were the accompaniments.
Try a winery tour and cookery workshop at Bodegas Monje to discover some of the true tastes of Tenerife
It's all about the special sauce
Almost every meal in Tenerife is accompanied by small bowls of red and green sauces known as mojos (pronounced mo-hoes).  Mildly seasoned and colourful, they make use of native peppers (fresh and dried), chillies (more or less depending on taste), garlic and fresh green herbs or Spanish paprika. The sauces are distinctive to these islands. Luckily, they are easy to make at home. Add one or two of them to a meal of meats and vegetables for memories of Tenerife will come rushing back.
At a mojo workshop at Bodegas Monje, Chef Gaspard Alvarez showed us how to make the sauces and described the variations. Every family seems to have its own favourite way of making mojo. Some like it hot; some like cilantro (leaf coriander); some can't stand the herb that first arrived here from North Africa via Morocco. For that reason, these inexact recipes can be easily adjusted to taste.
Every family and every cafe has its own approach to the characteristic mojos.
Mojo Verde
Ingredients
• 1 large clove garlic
• 1 green bell pepper, deseeded
• 1 green pepper with seeds
• 1 small green chilli, seeds removed (optional)
• 1 tsp sea salt or kosher salt
• half a bunch of fresh parsley, or fresh coriander, or a mixture of both
• 2 tsp of white wine vinegar
•  about 2 shot glasses of olive oil
Method
chop garlic clove, and both peppers and the optional chillies fine
add garlic, peppers and chillies to a mortar. Add sea salt and pound together until well combined.
chop herbs fine and add to other ingredients in mortar.
mix in wine vinegar
continue pounding the mixture while adding olive oil a few drops at a time. The oil should emulsify with the other ingredients until the sauce is creamy. Add more oil as needed to achieve the desired texture.
Mojo Rojo
The red mojo can be either a mild sauce made with bell peppers or a hot sauce flavoured with chillies, in which case it is called mojo picón
Ingredients
1 clove garlic
1 red bell pepper, deseeded ***
1 red bell pepper with seeds
small red chillies, sliced and deseeded, to taste (optional)
1 tsp sea salt or kosher salt
1 slice of stale or dry toasted rustic bread
1 tsp sweet paprika – if you can find it, smoked Spanish paprika adds a rich smokiness to the sauce
2 tsp red wine vinegar
2 shot glasses olive oil – more if needed
*** Dried, red peppers can be substituted for some of the bell peppers to add intensity of flavour without extra heat.
Method
The method is the same as for Mojo Verde. Add the dried bread and the sweet paprika before the oil and vinegar and incorporate them into the mix before adding the liquids.
Papas Arrugadas
The most important treasure the Spanish found in their American colonies wasn't gold. More than likely it was the simple potato. Today it's a staple food on tables all over the globe. But the closest you'll probably ever get to the original spuds brought back to Spain by the conquistadors are the small, black or purple-skinned, yellowish-fleshed varieties grown in the Canary Islands, once the Spanish gateway to the Americas.
In Tenerife, these little potatoes, boiled in very salty water, are served as snacks or as a part of a meal. You'll often find them as tapas with drinks. Because of the way they are made, the salt wrinkles the skin and penetrates the flesh – a cross between waxy and mealy – so that they are more flavourful than ordinary potatoes. They need very little extra to make them exceptionally more-ish, but they're also rather nice with either mojo verde or mojo rojo. They are known as papas arrugadas (pronounced ah-roo-ah-das) which literally translates to wrinkled potatoes.  
Here's how to make them:
Wash and clean (but do not peel) about a pound and a quarter of small, new potatoes. Put them in a wide pot, big enough to submerge them in a single layer. Add enough water to cover and at least two heaping tablespoons of sea salt or kosher salt. Bring to a boil and boil until all the water has boiled away – usually about 20 minutes. If the potatoes are still hard, add some boiling water and continue to boil until they are tender and all the water has boiled away. Lower the heat and cook until the potatoes are completely dry and the skin has wrinkled. That's it. They are good hot, with mojos but they are also delicious cold and plain.