Ferne Arfin       8 July 2018
Wild thyme and a wonderful drink scents the memory of an idyllic French lunch, with a recipe, first published in the US magazine Barbecue and Beverage.
The drink arrived in a gigantic stemmed glass shaped like a cross between a bell and an old-fashioned hurricane lamp. As pale gold as straw, yet with a slight greenish tinge, it was garnished with pink flowered stems and smelled of summer – Mediterranean summer.
The scene was a long time ago, but the memory is still fresh and green. In honour of my friend's birthday we had travelled, in early summer, to a famous restaurant overlooking a hazy valley in Provence, in the south of France.
We were seated at a table in the shade with just the right, artful amount of sunlight filtering down through the fingered leaves of a massive fig tree.  A small wedding party, chattering and laughing at a table for ten or twelve were the only other patrons. At an open grill in the corner, a chef turned a roast on a spit using a brush of rosemary branches to baste it with olive oil. The same breeze that ruffled the turquoise waters of the swimming pool carried the scent across to us.
What's in it?
In the spirit of celebration, we ordered the somewhat expensive  aperitif de la maison – the house cocktail – which was served to us in huge glasses.
"What's in it?" I asked the waiter.
"It's made of white wine, Madame," he said. But that didn't begin to describe the taste which brought to mind honey bees and wild flowers and the spikey scent of the garrigue – the sun baked scrub country on the western edge of the region.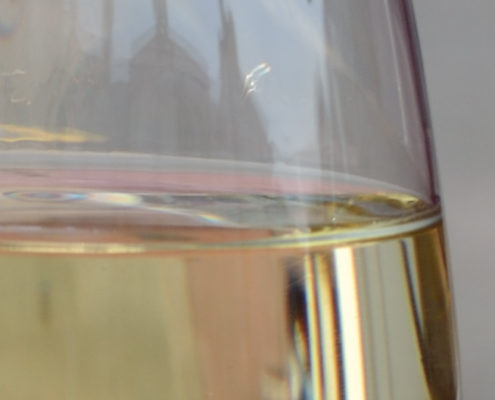 After the first sip, I tried to discover the mystery of its taste yet again. "What is it flavoured with? What makes it taste so vibrantly green?"
"Ah, Madame," the waiter replied, with great seriousness, "That is the secret of Monsieur le Patron."
When he left, a member of the wedding party leaned over. "You like?" she smiled. "It is, here, a most famous and traditional aperitif.  The secret is the serpolet."
"What is that…in English?"
The woman's brow creased as she struggled to find the perfect word. "So…you know it is like…lawn…yes, lawn."
She had mistranslated the French word herbe (which can in fact mean grass) and for years I thought this wonderful drink was made from grass. Much later, I discovered that serpolet is, in fact, wild mountain thyme.
Wild Mountain Thyme
Thyme, native to the western Mediterranean, grows in its wild (serpolet) and cultivated (thyme) forms throughout Provence.  Walking across a field you will crush it underfoot, releasing its evocative scent, a key element in the famous herbes de Provence. In addition to this refreshing  and unusually perfumed drink, local cooks use fresh thyme as a robust and versatile herb for the barbecue. Scattered on hot coals, the woody branches produce a smoke-scented flavour that is wonderful for grilled meat, fish or chicken.  A generous handful of branches stuffed into a bottle of quality olive oil makes an excellent base for a marinade or homemade mayonnaise.  New potatoes take on a continental dimension when roasted with thyme.
French thyme (thymus vulgaris), cultivated from wild Provencal thyme, is reputed to be the best of the approximately 100 varieties of the plant. It has larger leaves, more essential oils and a stronger, sweeter flavour  than English thyme.  In Provence, cooks pick a few sprigs from the garden as needed to preserve the strong, fresh taste until just before use.
Fortunately, it is relatively easy to grow in most temperate gardens. Seeds for French thyme can be ordered online from a wide range of suppliers.
We first tasted a version of this drink at the then Michelin 3-star L'Oustau de Baumanière under the ramparts of Les Baux-de-Provence. The late, legendary chef, Raymond Thuilier, who founded the restaurant and the hotel Le Baumanière still presided over the kitchen. This recipe, similar to the one we sampled, was given to me by a French traiteur who made it for her own catering shop.
Coupe Serpolet
Recipe
4-6 servings
1 liter of dry white wine

6-10 branches of fresh, pink-flowering thyme (preferably in bloom), washed but left on the branch.

3 tablespoons of honey (more or less to taste)

1 1/2 to 2 quart covered glass or ceramic container (don't use metal)
Spread the thyme branches in the base of a one-and-a-half to two-quart non-reactive container. Pour in all the white wine. Cover and soak for 15 days in a cool (but not refrigerated) spot.
Line a sieve with one layer of clean, dampened cheesecloth or muslin, Strain the wine through it and into a glass bowl, squeezing as much juice as possible out of the thyme branches. Discard the branches.
Wash and dry the container, making sure any soap residue is gone.
Warm honey until it reaches a thin consistency. Add the honey to the wine infusion; mix well and return to the container. Cover and allow to age for one month in a cool (but not refrigerated) place.
Serve straight or over ice in a roomy, bowl-shaped glass, garnished with a sprig of flowering thyme.