by Ferne Arfin, 24 May 2019
Foodie Charleston Recipe: Miss Virginia's Shrimp and Grits
Last month, I joined a group of travel writers crossing the Atlantic to help British Airways and Charleston, South Carolina, celebrate the launch of Charleston's first international flights – direct to London Heathrow.  It was my first visit to the historic city and while there I discovered that Charleston's rich heritage includes a distinctive, African influenced, Low Country cuisine. Naturally I sampled quite a bit of it – and brought back a traditional recipe to try as well. 
In foodie hot spot, Charleston, Miss Virginia's Shrimp and Grits are a standout. I've sampled this Southern classic a few times before and have never been taken with the dish. Too dry, too wet, too much like eating shrimp with tapioca. I had no idea what all the fuss was about until I tried it in Charleston, which lays claim to having invented it. Even here, there are probably as many versions as there are chefs and great home cooks.
I finally fell in love with the version I sampled at Virginia's on King. Plump, succulent shrimp with bell peppers and onions in a rich, spicy creole sauce and served on a bed of velvety smooth, creamy grits. What's not to love? Happily, Chef Kevin Bruntz who, together with Sous Chef Bill Georgitis, turns out a full menu of traditional South Carolina
specialties and Low Country dishes, was willing to share the recipe – in a manner of speaking. True to his calling, Chef Bruntz was a bit vague on exact measurements and timings, so the recipe that follows is a bit of an improv. But I think it's pretty close to the original.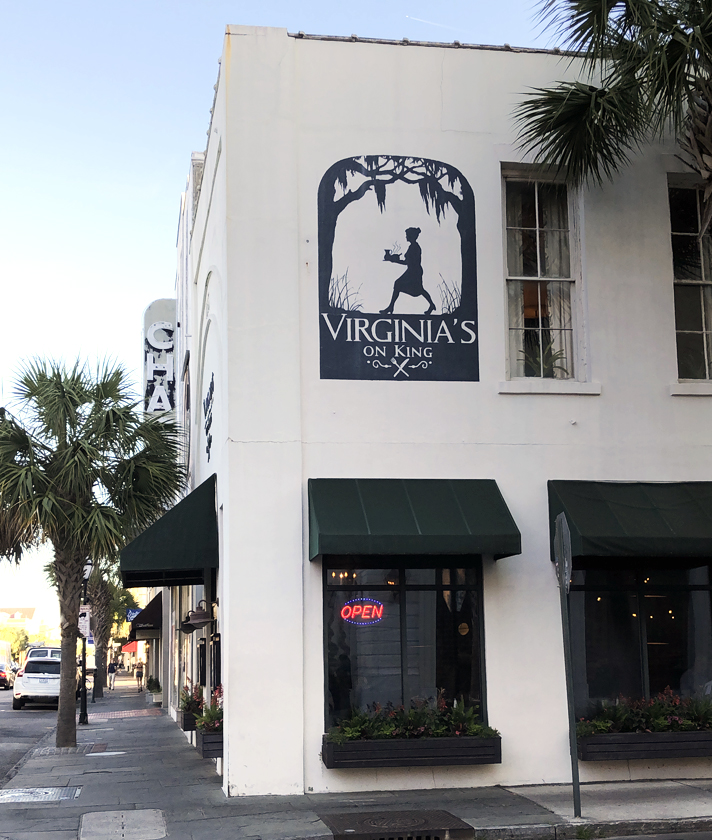 It turns out it's an old Bennett family recipe created by Virginia Bennett, matriarch of the family who own the restaurant and the luxurious Hotel Bennett, newly opened next door. There's even a painting of Miss Virginia serving the dish to her family in the elevator lobby of the hotel.
***
Miss Virginia's Low Country Shrimp and Grits
This recipe makes about two and a half pints of Creole Sauce or enough for about eight servings. Make up a big batch ahead of time and then freeze it in smaller portions for later use. It's versatile enough to use with rice, fish or chicken as well as shrimp and grits. Although the dish was once common for breakfast, these days it's eaten at any meal and makes a nice lunch or light, one dish supper. If you cannot source grits (and outside the American South, you may not be able to find them), a good quality Italian polenta makes an acceptable substitute.
Ingredients
For the Creole Sauce
1 each, red, yellow and green bell peppers, chopped
1 large yellow onion, roughly chopped
1 tablespoon of neutral vegetable oil (not olive or peanut oil)
2 14 oz. or 400 gram cans of chopped tomatoes, drained with the juices reserved
1 teaspoon of granulated sugar
1 rounded teaspoon of blackened seasoning. More to taste. (If you can't find blackened seasoning in the shops, it's easy to make with combination of smoked paprika, onion power, garlic powder, salt, black pepper, cayenne pepper, dried thyme and oregano. Chef Bruntz recommends Yummly.com, the cookery search engine, to find a recipe for it.)
For the Grits 
Grits are made of dried cracked corn, crushed in a grist mill. The finer they are milled, the smoother the final cooked texture. They are a very Southern ingredient but in some dishes, including this one, coarse polenta can be substituted.
stone ground grits  OR  Italian polenta 
salt
butter
ground black pepper
splash of cream (Chef Bruntz specified half and half but in the UK substitute single cream)
For the Shrimp
2 or 3 slices of streaky American-cure bacon (don't use British or European bacon as the curing method means they don't render up much fat. If you can't find real American bacon, use a few slices of Italian pancetta instead)
vegetable oil if needed
Andouille sausage, about 3oz or 100 grams per serving, sliced into "coins" about 1/4 inch thick. (Andouille is available in some UK shops that cater to French and French West Indian people. Any firm, garlicky smoked sausage, such as chorizo or Polish kielbasa can be substituted.)
Thinly sliced red, yellow and green bell peppers (for four servings, about half a pepper in each color)
1/2 large yellow onion, thinly sliced
4 to 6 raw, plump shrimp per person, thawed if previously frozen, peeled and deveined. Prawns are no substitute; in this dish you need real shrimp. Find them frozen in some supermarkets and in Chinese grocery stores.
A splash of dry white wine
A few tablespoons of half and half or single cream
1/2 to 3/4 cup of Creole Sauce per serving
Tabasco or hot sauce to taste
Method
Make the Creole Sauce
In a deep, heavy bottomed pan or Dutch oven, soften the chopped peppers and onions in a little oil.
Stir in the diced tomatoes.
Puree the onions, peppers and tomatoes. Return to the pan
Add some of the reserved tomato juices if sauce seems too thick.
Stir a rounded tsp of blackened seasoning and a little sugar to taste.
Simmer briefly (do not boil) to blend.
The sauce can be made well in advance and frozen in small batches for use as needed.
Prepare the Grits
Some types of coarsely ground, cracked corn grits require an overnight soak and about an hour of slow cooking. If you haven't the time for this, good quality polenta (which is what I used) is a good substitute. Some brands even carry a label that says "Also known as polenta." Allow at least 30 minutes to cook them.
Add to a heavy bottomed saucepan one part grits to four parts cold water or, if using polenta, slightly more polenta to slightly less water. 1/2 cup grits or 3/4 cup polenta will make about four portions.
Bring to the simmer – do not boil – then whisk, cover and remove from the heat. Let stand for about 15 minutes.
Return the grits to the simmer, stirring frequently to prevent lumps and to avoid catching and burning,
Cook, stirring frequently, for a minimum of 15 minutes and for up to half an hour if required.
When the grits are thickened to taste, remove from heat. Whisk in a lump of unsalted butter, a little cream or half and half, salt and pepper. Cover and keep warm.
Cook's Tip: If the grits become too thick, you can always whisk in more water or stock, but never add raw grits to the hot mixture. That will only produce uncooked lumps.
Prepare the Shrimp
In a large frying pan, fry the bacon or pancetta over moderate heat until crisp and its fat rendered. You will need about a tablespoon of fat. If there's not enough, add a small amount of neutral vegetable oil.
Add the sliced peppers and onions and quickly stir fry over moderate heat. Remove a few slices of pepper while they remain colorful and set aside.
Stir in the sliced andouille or, chorizo or kielbasa and cook until lightly browned on both sides.
Add the peeled, raw shrimp and cook for about a minute over moderate heat, just until the shrimp begin to curl.
Stir in a splash of white wine and the Creole sauce. Moderate the heat, as required to prevent the shrimp from overcooking. In all, the shrimp will take 4 to 5 minutes to cook.
Add a little cream to moderate the flavors and hot sauce to taste; the object is to create a spicy warmth rather than a fiery hot dish.
Assemble the Dish
For each serving, spread a thick layer of grits in plate or shallow bowl. Top with the shrimp and sauce. Arrange a few slices colorful bell peppers on each plate and serve.
Like this post? Please pin, share and, of course, try the recipe and let us know how it comes out in the comments, below.