By Ferne Arfin, 14 December 2020
Where to shop safer in London now
Shopping amid glittering Christmas lights helps create the festive spirit in London but, as the pandemic rages and London enters Tier 3, where can you go to shop and feel safe?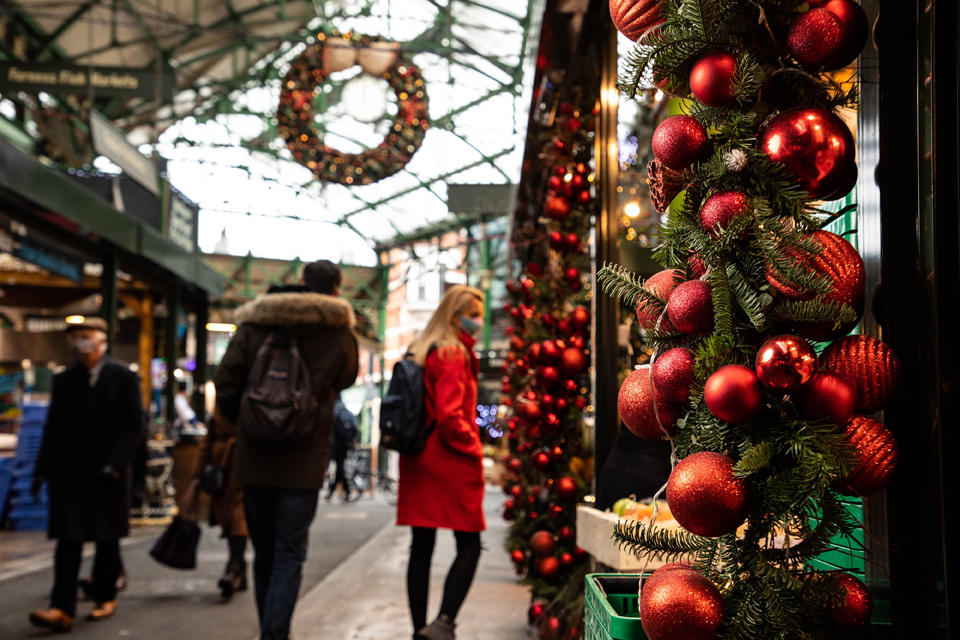 The Christmas season is upon us and, for most people, holiday shopping plays a big part in getting into the festive spirit. But during the COVID19 crisis, with social distancing, mask-wearing, restrictions on public transportation, that spirit can be pretty hard to find. Where can you shop safer in London now and still get out and about to enjoy the holiday decorations, the jingling bells, the holiday music?
Let's face it, there's a good reason why Londoners celebrate the holiday season for the whole month of December and beyond. Without all the jollity, the fantastic outdoor displays, the mince pies and mulled wine or hot chocolate offered for every conceivable excuse, December in London would be awfully grim. It's wet and cold and dark – mostly dark. Sunsets this week, at 3:51 p.m., are the earliest in the year. And sitting in front of your laptop ordering gifts for your nearest and dearest online can leave you feeling a bit flat.
Where can you safely pick up some holiday buzz?
Even though London is about to enter the strictest lockdown category on 16 December, the shops that are able to demand mask-wearing and encourage social distancing will be open to holiday shoppers. But if you've seen the pictures of the maskless hoards on Regent Street and Covent Garden this past weekend, or heard about police controlling crowds outside Harrods, you may not want to risk it. Maybe you suffer from an underlying condition that puts you in a high-risk group. Or you live with an elderly relative. Or you're elderly yourself.  Or maybe, after months of being very careful, you're just not ready to plunge into the mercantile melée. So where can you shop and soak up some holiday vibe in relative safety?
These, slightly off the West End, London shopping areas, are pulling out all the stops to ease you into the festive spirit while helping you to shop more safely in London.
It's snowing in Leadenhall Market
The Victorians covered Leadenhall Market with its flamboyant cast iron and glass arcades and galleries, but long before the Victorians, this market crossroads was the Roman heart of London. Modern market traders have congregated here since the 1300s when they sold poultry and cheese. In the 1400s retired Lord Mayor Dick Whittington, one of early London's most colourful and important characters, turned it into the place to buy meat, poultry, game, fish and vegetables. Eventually, wool, leather and cutlery were traded here too.
Today it's a bijou shopping centre that serves the City of London with classy boutiques and food and drink emporiums. Sadly, for now, food and drink is takeaway only. But the shops are open for business and, with many City workers working from home right now, socially distanced shopping is easier. To liven things up for the holiday, it's snowing in Leadenhall! Decorations include snowflake projections and real falling snow. Expect to experience the real thing from 14 to 18 and 21 to 23 December.
Shopping and gift possibilities include men's and women's moderately priced and luxury clothing, luxury scented candles, jewellery and watches, Cuban cigars, classic English outerwear and rainwear, cards and stationery, gourmet cheeses and sweet treats from one of our favourite London (via Northern France and Belgium) patisseries, Aux Merveilleux de Fred.
Comforting goodies at Borough Market
Borough Market, London's historic food market and 21st-century foodie haven, stayed open with COVID-19 precautions throughout most of London's lockdown. If you go, you must wear a mask and you'll find market traders shielding behind screens from close contact with you.  But the holiday lights are up, the carols are playing and the Christmas goodies are plentiful.
The market is open every day until Christmas Eve, with late night shopping Thursdays and Fridays until 9 p.m. And if, despite the precautions in place, you'd rather shop from home, they are set up for online shopping, telephone orders and click and collect. They even have personal shoppers who can help you put together your holiday feast for delivery or click and collect. Groceries are delivered throughout London by eco-friendly bicycle delivery carts.
Fashion, food and culture at Duke of York Square
When the former Duke of York Headquarters was converted from the Greater London headquarters of the Territorial Army to a Chelsea shopping and dining destination, a lot of locals were sceptical. After all, the area around Duke of York Square, at the top of the King's Road near Sloane Square, was already rich with boutiques and a popular department store. But since opening, in the early part of this century, the square has become a popular destination, with a clever mix of chic high street brands, independent boutiques, open spaces, water features, open-air drinking and dining and a weekend fine food and farmers' market.
With London currently in the strictest, Tier 3 Covid restrictions (from 16 December 2020), the hum of chatter of the outdoor diners is silenced for a while, but the shops are open and the Christmas decorations are festive. And there's a good selection for holiday shoppers – from the cheap and cheerful, fast fashion brand, Zara through moderate-priced UK and European branded clothing to very high-end designer clobber for men and women. Books, scented candles, shoes, accessories, jewellery, skincare and cosmetics, and food gifts are all waiting for a spot under someone's Christmas tree.
And a few more low-pressure shopping locations to think about
Eccleston Yards, near Victoria Station on the edge of Belgravia has a weekend Christmas market every Friday, Saturday and Sunday in December, selling luxury goods, handmade presents and original gifts. Nearby Motcomb Street in Belgravia is for shoppers with very deep pockets indeed, with established and up and coming designers, childrenswear, shoes and homewares. A highlight – even if your pockets aren't all that deep – is Ottolenghi at number 13. Besides takeaway baked goods delicatessen from the celebrity chef and cookbook author's repertoire, you can stock up on bottled condiments, sauces, spices and a selection of Yottam Ottolenghi's popular cookbooks.
While you are in the area, check out The Pantechnicon, behind its impressive neoclassical facade at number 19 Motcomb Street. Currently, a shop cum gallery selling an odd mix of Japanese and Norwegian designer stuff, it was originally a storage warehouse. In the 19th century, Belgravia's gentry stored their furniture and antiques there when they decamped the city for their country estates for the summer. The van that collected and delivered the furniture was called the pantechnicon van and that term is still, occasionally, used for furniture delivery trucks (or lorries) in the UK.