by Ferne Arfin, Updated 23 March 2020
London's 10 best cake and coffee shops – tasted and rated
Let's talk frankly about London's best cake and coffee shops.  The sharp-eyed among you will already have noticed that I didn't write "coffee and cake" but instead went for "cake and coffee".  There's a reason for that.  London's love affair with coffee shops has created a whole new generation of poseurs – (ahem) connoisseurs – who can now discuss coffee beans with as much passion as wine connoisseurs  talking vintages. This post isn't for them. It's for those among us with a sweet tooth who think that the real reason for stopping to have an afternoon coffee (or a tea) in a café is to sit at a table with a friend or two to indulge in some great cake.
I recently corralled a handful of like-minded cake- eating friends to accompany me around London in search of comfortable spots to sample really good cakes – washed down with a bit of coffee of course. We went on a cake safari, so to speak.
We tried to avoid those places that were more about style than substance;  you know the sort – flower-bedecked, ultra -instagrammable shopfronts and tiny, overpriced cupcakes, long on decoration and short on actual cake. We also tried a Parisian éclair emporium chain that is popping up in some fashionable parts of London that makes beautiful looking, very expensive but ultimately unsatisfying eclairs – soggy, with the circumference of your index finger and with hardly anything in them. These, we decided, were  for people who enjoy looking at food and photographing it more than actually eating it.
Having dispensed with those, these in reverse order are 10 tasted and rated London places where you can chat with friends in comfort (more or less) while enjoying cake and coffee.
With special thanks to my fellow cake safari trekkers Mary Anne Evans of Mary Anne's France, Courtney Traub of Paris Unlocked, classmate and ceramicist Julie Bull and her lovely daughter Mary.
If you've never imagined Japanese patisserie you might want to mosey along to this tiny Soho shop serving Japanese/French fusion pastries.  It's tucked along an alley connecting Dean and Wardour Streets. Low on comfort and serving cakes that are more interesting than delicious, we've included it here because of its novelty factor. If you are curious about Japanese  cakes, this is where to try them.
Specialties include Mille Crepes – basically stacks of crepes filled with flavoured creams,  roll cakes filled with the same sorts of creams and such specialty cakes as Matcha Tiramisu, a layered strawberry "shortcake" and Sea Salt Lava Cheese – essentially a sponge cake topped with salty mascarpone .  Matcha and Hojicha, two green tea variations, are used in several of the cakes. I sampled a Hojicha roll cake. The cake had a wet, almost steamed texture and the hojicha flavoured cream (made with rolled, dried, steamed and roasted green tea leaves, stems and twigs) reminded me of stale cigarettes. My companion reported that she was "not crazy about" the texture of the roulade cake or the taste of the matcha cream. The café only has a few counter stools, two small tables next to the window and one outside table. But, despite our reservations, it clearly has found a market among Japanese and Chinese visitors and expats because since our visit, a new branch has opened in Chinatown and another on Brompton Road in trendy South Kensington. Kova, Unit 5, 9-12 St Anne's Court, Soho, London W1F 0BB.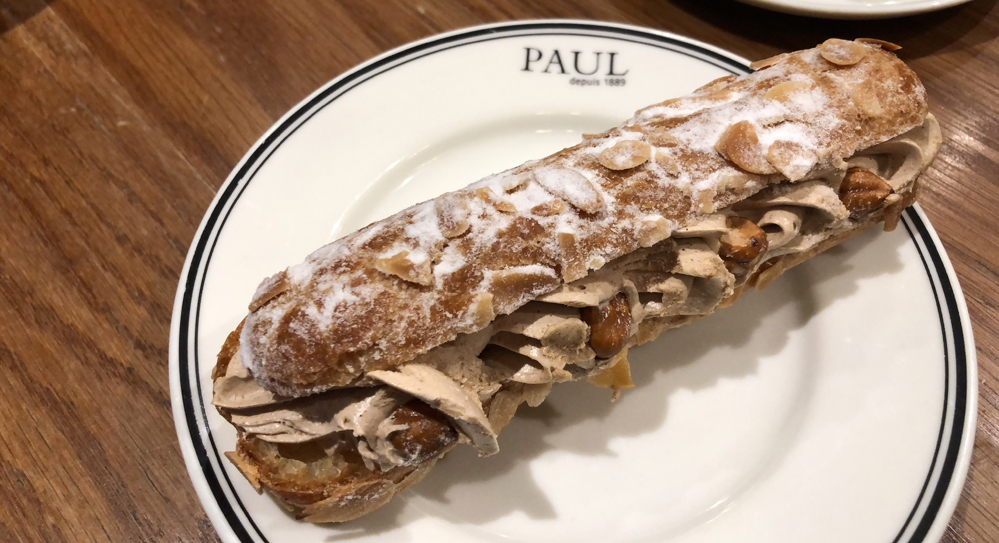 Eclair Paris Brest
I always thought of Paul as a bread bakery with a line in nice but not particularly special croissants and viennoiserie. One that opened not far from where I lived served baguettes at outdoor tables and in a cramped, narrow shop and closed within a few years. I never expected to put a shop from an international chain on a list like this.
Then one wintry afternoon, having survived my bi-annual visit to the dentist relatively unscathed, I staggered into the Paul on London's Marylebone High Street to reward myself with a little treat. What a surprise. And how things have changed since my last Paul experience, probably in a railway station somewhere.
In a response to the current COVID-19 situation, Paul is offering free coffee to NHS workers, takeaway service and contactless payment only and a "buy one get one free" loaf sharing option on their popular 400 and 800 grm loaves. Read more about it in a message from their CEO.
The éclair Paris Brest set in front of me was nothing short of magnificent – a shell of crispy choux pastry, filled with hazelnut praline cream and whole caramelized hazelnuts, then sprinkled with sliced almonds and sugar. This is a classic French pastry -though usually made in a ring shape – and I haven't had one this good outside of Paris, ever.
It has taught me not to automatically turn my nose up at chain offerings. A little digging revealed that the same family who founded the company, outside of Lille 130 years ago, still own it – now with hundreds of shops in 33 countries. And there's no one named Paul involved at all. The founders just kept the name that was over the door of their first shop. Paul, 115 Marylebone High Street, London W1U 4SB and all over London.
There is nothing even slightly fancy or instagrammable about The Brownie Box. The Earl's Court location on Old Brompton Road is right next to a bus stop and the tables outside are noisy and liberally fumigated with auto exhaust. The tables inside are old fashioned and formica topped, the floor linoleum. But if you've ever wanted a home made cake with the kind of naive deliciousness that your Granny used to make (or, in my case, my friends' grannies), this is the place. And if you love brownies and fancy being able to choose between four or five different kinds of brownies and blondies, there's always a good selection of very good brownies here (the clue is in the name). They also serve muffins, "bronuts" (their own invention and a cross between a brownie and a doughnut) and a full range of hot and cold drinks.
The Brownie Box is currently offering contactless delivery and telephone payment options for Earls Court and Putney area customers who are self-isolating.
This friendly local, founded by a pair of South African sisters, is handy if you are staying at one of the hotels, B&Bs and student houses in the Earl's Court area. They've since been joined by another sister and their parents so it is a real family enterprise. And despite the place's unpretentiousness they're clearly doing something right because they have held their own just two doors down from a Starbucks for about eight years and have recently opened a second shop (take-away only) in Putney. The Brownie Box, 247 Old Brompton Road, London SW5 9HP
How about tea with a side of jazz or a comedy showcase? By day, Tea Darling, way out west in the wilds of Acton Town (actually a London suburb easily reached on the Piccadilly and the District Line), is a really old fashioned tea shop with vintage china and a good assortment of home made cakes and tea sandwiches, including gluten free and vegan variations.  On selected evenings (check their website) they host jazz and comedy nights when you can stick to tea or coffee with cake or bring your own bottle (£5 corkage fee). If you arrive in your best 40s or 50s vintage outfit, all the better. And, if you are into the latest fad of tea and cake with knitting, drop in on their yarn group, every other Sunday.
But back to the cakes. We sampled a a raspberry loaf cake with real fresh fruit, a very rich gluten free chocolate cake and a cheese cake with our coffee and tea, all home made on the premises. The tea room seats 20 in a comfortable uncrowded way and there is something about drinking tea or coffee from the kind of china that makes you want to raise your pinkie that is just irresistible. There was a time when every village and every high street in England had a tea shop or two like this one. Now they are relatively rare. So it's worth a jaunt just a little bit off the beaten track – or a few extra stops on the London Underground, for this taste of yesteryear complete with fresh flowers, sugar tongs and doilies on the tables . Tea Darling, 114 Churchfield Road, Acton, London, W3 6BY, United Kingdom
Finding a delicious sweet treat for less than £2 anywhere in London is rare but finding something that will put your sweet tooth into a trance in South Kensington for £1.20 is some kind of miracle. At Aux Merveilleux de Fred, the mini versions of their namesake confections are so light – and inexpensive – that you can indulge without guilt. The pastry in question, the merveilleux, are light as a feather layers of thin meringue disks, filled and wrapped in flavoured whipped cream and then coated with crispy flakes – nuts, chocolate, coconut, praline or other sweet crumbs, depending on the variety you choose. The dessert also comes in a large size – about three times the size of the mini but equally well priced.
Frankly, one mini with a side of raspberry scented apple juice was more than enough of a treat on the hottest day in London recently, when the temperature reached nearly 100 degrees fahrenheit. Mercifully, since the cakes need refrigeration, the shop is always cool. They also serve a range of filled brioches (raisin, chocolate or sugar) that go by the Flemish name – cramiques, but the main reason to try this shop is Frenchman Frederic Vaucamps' reinvention of this decadent 18th century sweet. There are branches all over northern France and Belgium but only two in London. The South Kensington shop I tried has a small, uncrowded seating area where you can watch the chefs at work in their chilled kitchen behind a wall of glass. Aux Merveilleux de Fred, 88 Old Brompton Road, London SW7 3LQ.
Don't be put off by the Chelsea address, this cafe in a former pub is in the vague "nowhere land" between the tony boutiques of Brompton Cross and the mixed residential, retail and warehouse district off Sloane Avenue. Its neighbors on one side are neat rows of Chelsea townhouses and on the other a council estate and a school. And the clientele is as mixed as the neighborhood, making for a very relaxed place to settle over a large cup of coffee and a wedge of good cake. They also sell freshly baked breads and do a variety of breakfasts and lunches. So if one of you is in the mood for a tranche of layer cake while another wants a big healthy salad, no problem. If you're shopping in the area, find your way through the residential back streets to this place to de-stress and forget about all the money you've spent. And if you are visiting from abroad, Baker & Spice will give you a good idea of how real Chelsea locals relax (as opposed to the Made in Chelsea TV versions). Baker&Spice, 47 Denyer St, Chelsea, London SW3 2LX
Franzè & Evans, in Shoreditch, East London, anchors one end of trendy Redchurch Street just before it flows into Bethnal Green Road. They serve interesting breakfasts and modern Italian lunches, but it's also the best place I know for a breather after a day of hipster shopping. It's perfectly located, an oasis at the end of this street of expensive, avant garde boutiques and underground designer shops too cool for signs. You could be very grown up and have some wine or beer but why not succumb to their magnificent home made cakes. Banana and salted caramel loaf, pumpkin blueberry loaf, thickly frosted carrot pecan and walnut cake, chocolate cheesecake cupcakes. The selection is different all the time and always gorgeous. They first opened in this Shoreditch location in 2008 and now they have two more small East London locations and an outpost in Tokyo! But Redchurch Street still has the best cakes. Franzè & Evans, 101 Redchurch Street,London, E2 7DL.
If you gave a bunch of five year olds a box of crayons and told them to draw birthday cakes, you'd probably end up with something that looks quite a bit like the celebration cakes at this Soho bakery and café. That's not a bad thing.  Cakes with names like "Strawberry Eat-On Mess"*, "S'Mores", "Apple Pie" – as a cake, and "Popcorn Drip" are short on cake and very long on globs of frosting, fillings, toppings and childlike humor. Tucking into a slice at one of the tables in the back of the shop makes you feel a little silly and, in these health conscious times, rather naughty. But isn't that how eating a big wedge of cake every now and then should make you feel?
On their website, the two sisters behind the brand claim, "We are a bit health conscious and are not fans of overly fatty or sugar laden foods, so we always keep our fat and sugar content to 'just as much as needed to make something delicious'." Somehow, looking at their creations, this is, initially, a little hard to believe. But, surprisingly, their most extravagant cakes are not as sweet or as rich as you might expect.
That can work to their detriment sometimes. On the day that three of us visited, my pistachio and passionfruit cake was actually a little bland when a hit of passionfruit didn't make it onto the fork. We also sampled the S'mores cake  – very chocolatey and studded with light handmade marshmallows, less sugary than commercial varieties; and the Peanut Butter, Banana and Caramel cake – my companions loved it though I found the bananas overwhelmed all the other flavors.
They also specialize in "Biskies", small confections of creams, fruits and nuts sandwiched between a cross between a cake and a cookie. (The texture resembles the classic New York City black & white cookie.)
*a play on the popular English strawberry, cream and meringue dessert, Eton Mess.
These are wonderful and small enough to try more than one. I took home four to serve to a friend at lunch and we gave full thumbs up to the Rhubarb Custard Pearl, Blueberry Cheesecake, Chocolate Hazelnut Doughnut and Passionfruit Raspberry Bomb. They also do vegan cakes and novelties like cake bites on sticks but, oh go on, give in to your childhood fantasies and try a slab of one of their incredible looking cakes. Cutter & Squidge, 20 Brewer St, London W1F 0SJ
Cutter & Squidge will close their Bank branch for 4-weeks from March 18,2020. The Soho branch will close from Sunday March 22 and will accept online orders. Their delivery service remains unchanged. Read more about it here.
Any actor or performer who has pounded the pavements of Soho going from casting directors to auditions to rehearsals knows about Maison Bertaux. Ditto script writers, designers, musicians, art students and, more recently, small ad agency creatives. This Greek Street institution has been around forever – since 1871 as a matter of fact. Its customers have ranged from Karl Marx and Alexander McQueen to Derek Jarman, Steve McQueen and the local vicar. As befits its heritage, this is a friendly, old fashioned place, now owned by the woman who worked behind the counter in the 1970s. Everything is baked and prepared on the premises – croissants and viennoiseries in the morning, filled croissants, fancy pastries and cakes all day long.
This Soho institution has survived two world wars and the Depression. Now the Corona virus crisis has put its future in jeopardy. If you want to help, visit their Go Fund Me page and make a donation, small or large. Then, when we're next allowed into the shops and cafes, stop in to buy something and to wish the Wade sisters luck.
There's a small dining room on the ground floor beside the original shop and an upstairs dining room that doubles as an art gallery run by owner Michelle Wade and her sister Tania. The white painted wooden chairs and tables may be rickety and the stairs to the upstairs dining room narrow and steep, but the cheesecake, with its fresh fruit topping set in gelatin (and the gelatin-free vegetarian option), is the best in London. One quibble – my companion, an ex Parisienne would have preferred crème patissière rather than whipped cream in her éclair. À chacun son goût,  as they say. Maison Bertaux, 28 Greek Street, London W1D 5DQ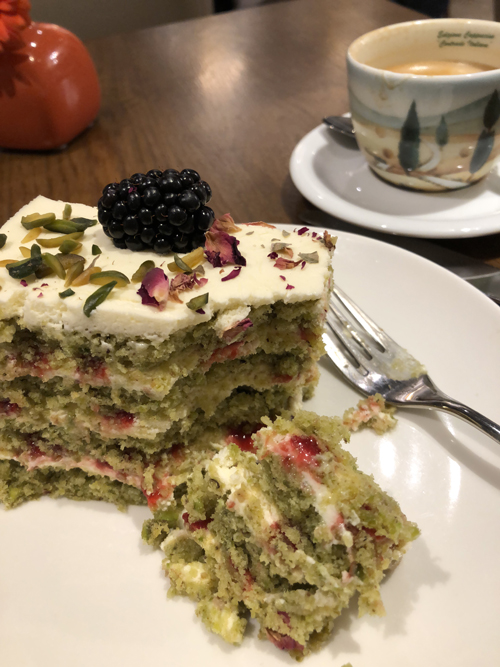 Deciding first place in this countdown of favorite cake and coffee spots was a close run thing between L'Eto and Maison Bertaux. But, in the end, it was while enjoying L'Eto's orgasmic Pistacho, Rosewater and Raspberry cake in their King's Road shop that I decided to write this post so it's only fair to give it top billing.
In my cake safari around London, nothing could really top that pistachio cake. Very thin, tender layers of light as a feather pistachio infused sponge cake are sandwiched together with rose flavored cheese cream and dollops of raspberry jam. The cake is topped with chopped pistachios, fresh raspberries (or blackberries in season) and a scattering of dried rose petals.
They also do Eastern Mediterranean inspired breakfasts, salads and cooked dishes, a range of unusual teas, juices and infusions as well as coffees. Cakes include a multi-layered honey cake (its fans report it is also feather light), a pistacho/dulce de leche tart, and a constantly changing assortment of cupcakes and pastries. Its treat filled window, pictured at the top of this post, draws a crowd all day long.
It's a busy place but the atmosphere in the King's Road branch is always relaxed and welcoming, a great place to finish an afternoon of shopping or a Chelsea Blue Plaque walk.   L'Eto, 149 King's Road, London, SW3 5TX
Have we missed your favorite?

Do you have a favorite cake and coffee place you think should be added to this list? If you are a customer and not an owner, write to us at info.theviewfromchelsea@gmail.com  and tell us why? Include a picture you've taken yourself or have permission to use as well.

Save this post to read later and to share