by Ferne Arfin  16 August 2019
Dundee getaway: A pick 'n mix itinerary
Dundee is just the right size for a weekend break. There are more things to see and do than you can fit into a couple of days but not so many that you feel you have to race around or you'll miss the best ones.  Use this mix and match selection to plan your Dundee getaway.
Plan your own getaway itinerary
You know those itineraries you read in the travel pages of magazines, see on videos or websites like this one – 24 hours in X, 36 hours in Y. We've all browsed through them from time to time, mentally planning our next escape. They're fun to read but have you ever actually followed one day by day, hour by hour?
Thought so.
So instead of trying to plan a weekend for you, minute by minute, I'm just going to throw a lot of choices on the table – a kind of pick 'n mix, mix and match approach to itinerary planning. The activities are organized by topics – arts, history, science, shopping, outdoors, etc – to help you steer your visit toward your own interests. After that, you're on your own.
Some practical information
Timings – Allow between one and two hours for each Dundee getaway activity or attraction – longer if you like to read every little sign, dawdle in gift shops or chat at length with onsite guides.
Transportation – Dundee is a small, walkable city and many of the attractions listed are close enough to the city centre to reach on foot or with a short taxi ride. There's also good local and regional bus transportation from the city's central bus station.
Tours
For a first time Dundee getaway, a guided tour can be a good way to get your bearings. Not all guided tours are equal of course and some are much better than others. I started my visit by sampling two very different tours and can happily recommend both:
These are small group tours (maximum eight passengers) in Henry, a vintage-style bus. Passengers sit in comfy tartan-upholstered sofas and chairs (some of which swivel) for a two-hour journey. There are several leg stretching stops. The driver, a fount of local knowledge, keeps up a stream of entertaining patter as he chauffeurs you all over Dundee and beyond. Some of the sights you might otherwise miss on a short visit include views from the Law, Dundee's highest point, and a stop at Broughty Ferry, the city's seaside suburb, for photos of Broughty Castle. Henry does private tours but there are bookable public tours most days as well.
Stewart and Louise of DD Tours do a variety of walking tours around the city center. Their Waterfront Tour takes in all the new developments along the central waterfront on the River Tay while revealing the shadows of Dundee's maritime past. They are only visible if you know where to look. The two offer a selection of other tours. They can take you underground to a spooky vaulted street dating from 1644 or lead you up Dundee's Old Steeple, built in 1490, for great city views. Along the way, you'll pick up enough historic trivia to make you a pub quiz champion. Their website also generously recommends several tours offered by other operators – street art, photo and running tours that you might want to try. Louise and Stewart are easy-going and friendly, their tour endlessly entertaining.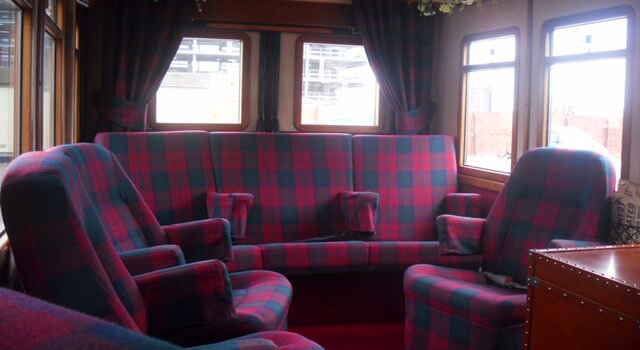 Historic Attractions
Dundee was once one of the world's whaling capitals. Its shipbuilders turned out the tough, strong-hulled vessels needed to chase whales across the southern oceans. So they were the natural choice to build Captain Robert Falcon Scott's Antarctic exploration vessel. The Dundee-built Royal Research Ship Discovery, a triple-hulled, barque-rigged auxiliary steamship, took Scott, and fellow officer Ernest Shackleton on their first voyage. They traveled further south than any human had ever ventured on a voyage that discovered and mapped the coastline of the Antarctic continent in 1902. Now, the RRS Discovery is permanently docked quayside at Discovery Point. Go aboard to see how the crew of scientists and explorers lived and worked.
But before boarding the ship, dawdle in the fascinating multi-media exhibition and imagine being part of the Heroic Age of Antarctic Exploration yourself. Models, artifacts, films and some chilly special effects set the scene before you venture onto the ship itself.
A cross section of the hull demonstrates its remarkable triple construction. The things they carried and wore fill case after case: their canvas waterproofs and windbreakers, fine china, silver cutlery and glassware. There's even a bellows organ, made in Meriden, Connecticut and given to the explorers during a stopover in New Zealand. A narrated silent film is accompanied by blasts of chilled air – very effective scene setting for the snowy scenes. After, you board the ship, admire the rigging and go below decks to see how life aboard was lived.
Verdant Works is the last of the Dundee jute mills. During the height of the British Raj, fiber grown in India was shipped to Dundee for the manufacture of jute. It's a rough textile that you may be more familiar with as burlap or hessian. At one time there were 100 jute mills in the city, employing 50,000 men, women and children. Their life was hard.  In 1865, the life expectancy of a Dundee jute worker was 33 years compared to the national average at the time of 60 years.
At Verdant Works learn the "warts-and-all" story of that industry which lasted well into the mid 20th century. The exhibition, in a refurbished mill building, takes you from the earliest stages of receiving and processing raw materials through the manufacture of the cloth. Stories of the workers in the factories, their jobs, their living conditions and the tragic mill accidents are brought vividly to life. Many of the volunteer guides on site, like weaver Lily Thomson, pictured below, worked in the industry and share their personal stories. They also turn on some of the machines so that you can see their operation and hear their deafening clatter.
Art and Design
Since it opened in September 2018, The V&A Dundee, has drawn visitors to Dundee's waterfront. The museum, a startling and controversial building by Japanese star architect Kengo Kuma, is a definitely must see. Nevertheless, it's only a newcomer in a lively art and design scene that deserves to be better known.
Check out my review and a gallery of pictures in Discover the V&A Dundee.
The McManus (or "the mcmanus" as it has recently been styling itself) started life as an "Albert Memorial" gifted to the city by Queen Victoria after the death of Prince Albert. It is, in some ways, typical of municipal museums in small cities. It has been around since the mid-19th century and it has a bit of everything. There's some local natural history, some international cultural anthropology. But here the similarities with provincial museums ends. From its design by one of the most distinguished architects of the Victorian period to its exceptional art collections, it is a world-class institution and another must-see for art-loving visitors. There are two art gallery suites. One is a Victorian-style exhibition of Scottish artists and old masters. The other gallery is a group of bare, white rooms in which a changing selection of contemporary works from the museum's collection is shown.
Find out more about the McManus in my review Two Auld Wifies at the McManus Dundee.
Dundee Contemporary Arts on Nethergate in the city center is a widely respected showcase for Scottish, UK and international contemporary art. It has two large gallery spaces that house temporary exhibitions. It's also equipped with a cinema and a print workshop (where even on a short visit you can book in to learn the latest printmaking technologies). Meanwhile, in a dedicated area known as Create Space, visitors of all ages can respond to the challenging exhibitions with work of their own.
Exhibitions and some workshops are free while the £6 cinema admission includes tea or coffee and a biscuit.
Science and Technology
When Dundee was named UNESCO City of Design in 2015, among the reasons were the city's achievements in computer game design (Grand Theft Auto), comic book design (The Beano) and medical research (a Dundee doctor discovered the active ingredient in willow bark that led to the invention of aspirin. Dundee researchers pioneered keyhole surgery techniques). Unfortunately, other than a few displays in the Scottish design galleries of the new V&A, you won't find much about these achievements that you can see as a visitor. There are, however, other places to check out the cities technological achievements.
A family-oriented attraction with changing exhibitions, multi-media and hands-on science experiences. Located in the city center, near the Greenmarket roundabout and just behind Dundee 's railway station, it is easy to reach on foot – but do watch the traffic that whips along Greenmarket at motorway speeds.
Climb up to explore the universe through the telescope at the the Mills Observatory in Balgay Park. It's the UK's first purpose-built public astronomical observatory and holds regular open sessions and special events. It was given to the people of Dundee in 1935 by a local linen and twine manufacturer who also happened to be an enthusiastic amateur astronomer. There are several telescopes, including a solar telescope that allows safe viewing of the sun and a computerized telescope that can find 30,000 deep space objects. Several older telescopes are also on display. The observatory is on the wooded summit of Balgay Hill. Take bus route No 22 or the number 17 Xplore Dundee service from the city center to get there.
As transport museums go, this one is pretty basic. If you are crazy about old cars you've no doubt already seen better. But it does have one standout exhibit – an accurate model of an aircraft the museum claims flew before the Wright Brothers historic 1903 flight at Kitty Hawk. You need to take this claim with a thimbleful of salt. It was made in the 1950s by the brother of Preston Watson, a Dundee aviation pioneer who died in 1915. Because of the time elapsed and the lack of witnesses still alive, the claim is dubious at best. But the model, built from Watson's plans by a local model aircraft club, is impressive and does give you a sense of the sorts of flimsy contraptions the early would-be pilots risked their lives in. Xplore Dundee buses 5, 9 or 10 all stop nearby.
Outdoor activities
Just because you're visiting a city doesn't mean you can't walk your 10,000 steps, do a bit of urban climbing or have a bit of a splash.
Law is the Scots Gaelic word for hill and at 572 feet above sea level, the Law, an extinct volcano, is the highest hill for miles around. The views over the city and the River Tay are spectacular. If its a clear day, you can see all the way to the castle at Broughty Ferry near the mouth of the river and the North Sea coast. There are good views of the sinuous Tay Rail Bridge and of the dry docks where North Sea oil platforms are brought for repairs and decommissioning. The war memorial on top of the Law is visible from pretty much anywhere in Dundee. A one-mile walk using quiet roads, footpaths and steps is signposted from City Square in the city center. It takes about 40 minutes at a moderate pace.
The Tay Road Bridge, at 1.4 miles, is one of the longest bridges in Europe. A shared cycle and pedestrian path, in the central reservation, crosses it from Dundee to North Fife, where it joins the Fife Coastal Path. The river here is about 4.5 times wider than the Mississippi at St. Louis. The views of Dundee, Fife and river traffic are impressive. Don't try climbing onto it via the traffic ramps though. There's a special access path, using steps and a lift, under the bridge. Find a map, directions and interesting trivia in the Tay Road Bridge Access leaflet. 
Foxlake Adventures, Dundee, is a water activity park in the unused Victoria Dock, just east of the Tay Road Bridge. It offers families and groups stand-up paddleboarding, wakeboarding, and ringo rides – six people on an inflatable ring get pulled along the water at speed by an overhead cable. The challenge appears to be to stay on. The day we watched, most participants (dressed in wet suits, safety vests and helmets) seemed to end up in the drink. There's also a large, inflated obstacle course with water slides, trampolines and lots of bouncy stuff. Children 8 years and older can take part as long as they can confidently swim 25 meters. It's located in an unused dock area, east of the Tay Road Bridge.
Shows and Concerts
Dundee has a strong performing arts tradition. Its concert halls and theaters have launched several illustrious careers. While you're in town, check what's on at:
Stay
I stayed at the Hotel Indigo Dundee, a stylishly converted jute mill on a hill just outside the city center. With its luxury touches and views across the rooftops of the city all the way to the Tay, my room punched well above the "weight" of its price – less than £100 per night. Throughout the hotel, clever design elements remind you of the building's industrial past – from the vaulted brick ceiling and polished wood floors of the guestrooms to the entertaining, museum-like displays in the lobby.
The very late arrival of my flight from London meant that I was unable to sample Daisy Tasker, the hotel's restaurant and bar except for breakfast which was, sad to say, unimpressive.
Read a full review of the Hotel Indigo Dundee and book this hotel on Tripadvisor
Dine
Living up to its growing reputation as a foodie destination, Dundee can claim three sets of "crossed forks" for a high standard of cooking in the  2019 Michelin Guide. Castlehill ,near the city center and the Tay Road Bridge, has its fans and a menu studded with currently trendy ingredients – animal cheeks, goat curd, beetroot. The Tayberry, in the Dundee's seaside suburb, Broughty Ferry, has a short, prescriptive menu (the à la carte menu has fewer choices than the chef's six and eight course tasting menus). The menu apparently changes seasonally so enquire before you go to see if you'll actually enjoy what's on. Collinsons Restaurant, also in Broughty Ferry, has an equally ambitious menu though focused on somewhat more conventional ingredients.
If you are looking for a more lively, less formal, night out, the Jute Café Bar, inside Dundee Contemporary Arts is open for dinner. The seasonal menu has plenty of choice – including a good selection for vegetarians – and the atmosphere of the café and bar is relaxed and buzzy.

Drink
Try after dinner drinks at Draffens, a speakeasy-style cocktail bar on Couttie's Wynd or Abandon Ship, a combination clothing shop, bar and restaurant with a giant mural of a ship by Australian street artist Steen Jones covering an entire wall. The bar is a Scottish take on an American dive bar and the vibe – they call it "art based lifestyle"  – seems to be a sort of post millennial, wearable street art.
Like this post? Please Pin and Share