by Ferne Arfin 28 August 2019
Review: Hotel Indigo Dundee
The Scottish city's industrial heritage shines through at the Hotel Indigo Dundee, an impressive and affordable luxury boutique hotel. 
The Indigo Dundee belongs to a group that turns interesting or unusual urban buildings into boutique hotels that, reflecting and tellingdistr the stories of their districts.  The year-old Hotel Indigo Dundee, in a 200-year-old former textile mill, is a handsome example. Baxter's Mill, built in 1822, once employed more than 4,000 people as one of the largest linen mills in the world. Its Italianate, pepper-pot bell tower, is still visible from almost anywhere in central Dundee. Eventually, like most of the city's mills, it produced jute (burlap), operating as a mill into the 1970s. The massive, high-ceiled halls, that once rang with the din of industrial looms and spinning machines, now house six floors of guest rooms, a bar and a restaurant.
Location of the Indigo Dundee
Dundee is on the River Tay, in Northeast Scotland, about an hour and 20 minutes by car from Edinburgh. Walk 10-minutes and you're in either the center of Dundee or at waterfront and Discovery Quay, home of the RSS Discovery and the new V&A design museum. The airport is a three mile sprint and you can walk to the intercity bus station in five minutes  ( handy if you're heading to St Andrews for golf). A wide divided highway, traveled by sparse but fast-moving traffic and a massive roundabout are unfortunate obstacles between the hotel and the city center. The pedestrian crossings are not  far but they are also not obvious. Before you leave the hotel for a stroll downtown or to the waterfront, ask hotel staff to tell you where to cross this "barrier".
Find this hotel at: Hotel Indigo Dundee, Lower Dens Mill, Constable Street, Dundee DD4 6AD, UK.
Design and Decor
The design incorporates reminders of Dundee's industrial past. Public areas have hard polished floors, theatrical lighting, exposed pipes and beams, and deep blue walls with orange details. The museum-like main lobby and reception is not one you should rush through. Its dramatically lit and well-presented exhibition of Dundee's "Three Js – Jam, Jute and Journalism," is worth taking a few minutes to explore.
Rooms at the Indigo Dundee
The Hotel Indigo Dundee has 102 rooms, including 17 suites ( large rooms with a seating area). The minimalist design is moderated by soft upholstered furnishings, woven wool flooring and locally made wool draperies. Some of the rooms have bare brick walls or vaulted, bare brick ceilings. Because the hotel is in one of the city's high points, there are great city and waterfront views from the large windows. The rooms have all the features you'd expect from a modern hotel – in-room safe, coffee and tea-making equipment, good quality hairdryer, free Wi-Fi. But in addition, careful thought has been put into features that are sometimes missing from other, more expensive hotels:
Electrical outlets, including USB sockets, are above the bedside table and above the work/dressing table area. So no crawling around on hands and knees to plug in your chargers
A large tabletop mirror is conveniently positioned near an electrical outlet for the hairdryer
bright focused reading lights are attached to both sides of the double beds
the wardrobes, wonder of wonders, have real wooden hangars that you can remove from the closet rails.
The large bathrooms are stocked with lots of fluffy white towels, terry robes and slippers. Enormous walk-in showers have both rain and hand shower heads. You don't need an engineering degree to operate them – or the in- room controls of the air conditioning.
And just for fun, a copy of The Beano, DC Thomson's famous children's comic (published in Dundee) is there for you to take away.
All in all, this was an exceptionally comfortable, convenient room, especially when you consider that a suite like this can be had for less than £100 per night (in some cases, considerably less).
Services
A small fitness centre with a few machines is available from noon to midnight for those who can't live without their treadmills and exercise bicycles.  There's wi-fi internet throughout the Indigo, power adaptors and power converters available on request and a meeting room for small groups of up to 40 people.
Desk staff are helpful and professional and in one instance – when I did a double gainer on some cracked pavement (not on the hotel property and through no fault of the hotel) and asked for some ice, a trained first aid staffer was on the scene almost at once. ( I hasten to add, she was not actually needed, but it was refreshing to see that level of concern).
Food and Drink
I liked this hotel so much that I hate to have to say anything at all negative, but I'm afraid they let themselves down on some food and drink basics. Because of the late arrival of my flight, I was unable, in the time allotted, to sample the hotel restaurant, the Daisy Tasker, so I cannot comment on it, except to say it has had some good reviews.
Again, because of my late arrival, I ordered room service. No one expects much from room service, anywhere, but they should be able to deliver a reasonable burger instead of the dense, overcooked one that was delivered to me.
Next morning I went down for a breakfast of toast, coffee and scrambled eggs and waited so long for a cafetière of coffee and some rather watery eggs that I was late for my first appointment of the day. On day two of my stay, I showed up for breakfast a whole hour earlier. After 40 minutes, my coffee had still not been served and the breakfast buffet (though in the middle of service, not the end of it) was messy and pretty much demolished. I was late again.
Because of the hotel's location, it's not that easy to pop out to a local coffee shop or café for breakfast. But handily, there is an M&S across the road where you can buy some light breakfast things to stow in the room fridge for your morning. That's what I did on my third morning. That and the in-room espresso maker were perfectly adequate. The breakfast chef had had some kind of accident, I was told. But checking reviews on a few consumer websites, it appears the long wait for morning coffee has been a recurring theme. Something they need to work on.
To end on a positive note, on my last day I had tea with an enormous scone, jam and cream in the beautiful hotel entrance lobby and it was gorgeous to look at and delicious.
The Bottom Line
This is witty and pleasant hotel represents good value for money. It's comfortable, stylish, cleverly designed, conveniently located and manned by helpful, competent staff. They do, however, need to sharpen up their breakfast basics.
Know someone who'd like this post? Please Pin and share it.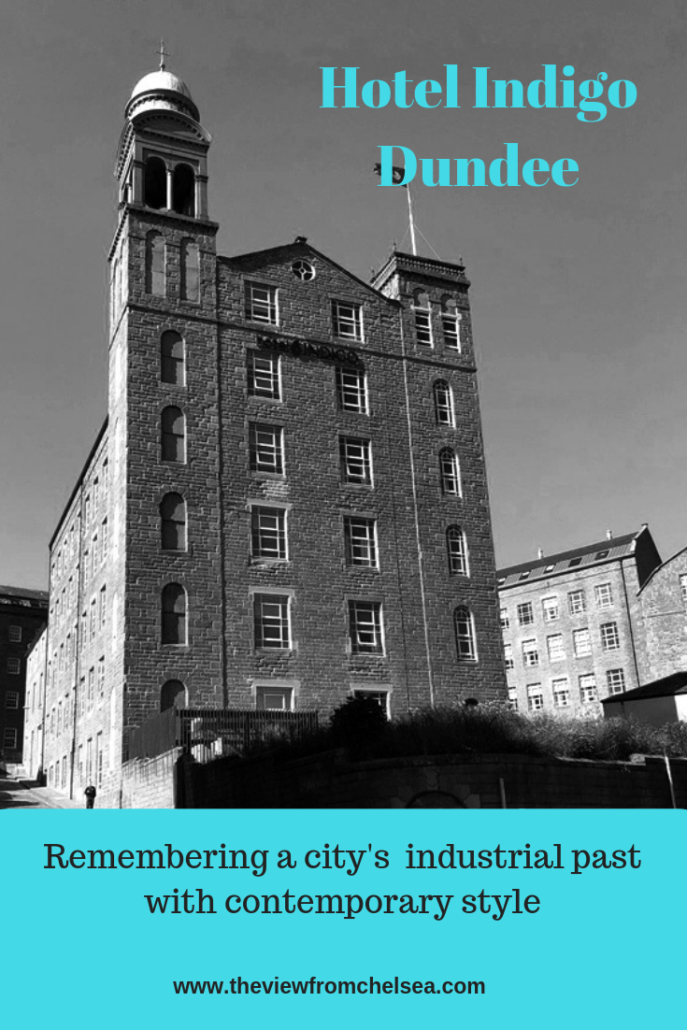 As is common in the travel industry, I was the guest of this hotel while in Dundee, however it has not influenced my review.