by Ferne Arfin 31 May 2021
Birmingham – Shopping capital of the Midlands
If your idea of travel heaven is plenty of retail therapy – some of it rather exotic – Birmingham shopping could be right up your alley.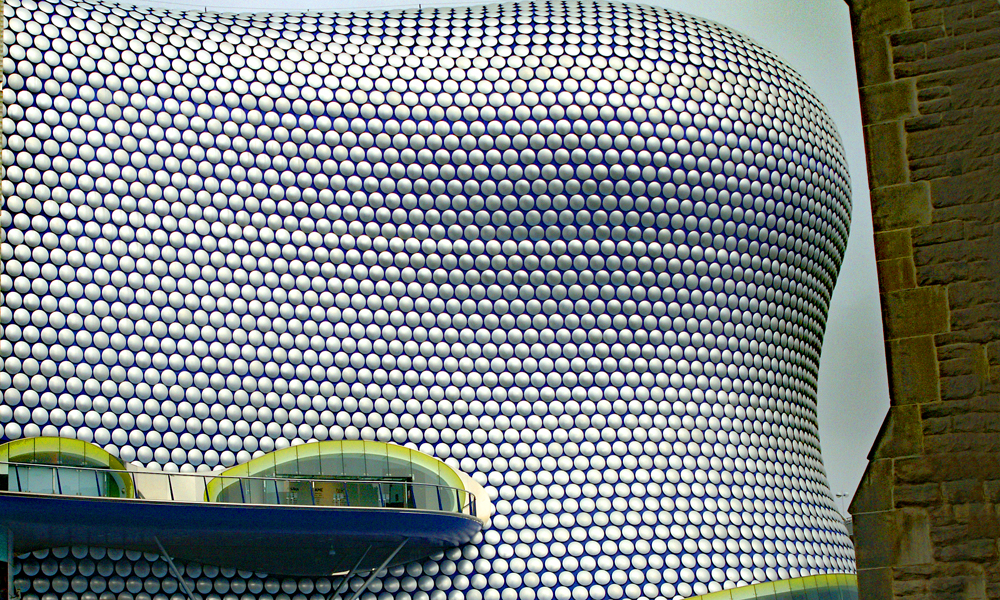 Birmingham shopping is one of the great holiday/staycation pastimes of England's Midlands. The city has been an important market centre since the middle ages. But its 21st century retailing explosion often surprises visitors. When Selfridges planted its £60 million alien creature of a department store (above) on Birmingham's famous Bullring, in 2003, it was one of the first to drag this historic market city into the very modern age. The building, a landmark of the architectural style known as blobitecture (really), is covered with 15,000 anodised aluminium disks against a blue background and looks like a cross between a robot amoeba and a spaceship.
Later, in 2015, London's Absolutely Fabulous department store, Harvey Nichols, put its luxury stamp on Birmingham's canalside shopping and entertainment centre, The Mailbox, firmly establishing the city as a serious player in the high stakes, high priced fashion game.
That's only part of the story. As any serious shopaholic soon discovers, there is a good deal more to retail binging in Birmingham than department stores and big malls.
Origins of Birmingham shopping
In 1154, King Henry II gave the Norman Lord of the Manor, Peter de Birmingham, a charter for a weekly market on a sandstone ledge in the highest part of the town. It's likely the spot was a common area of trade even before the Normans took over the Anglo Saxon town. It was a gathering place on overland drovers routes between Wales and west central England and was near an important crossing of the River Rea, where the city was founded. Over time, a market area developed in a triangle of land north of St Martin's Church (the original of which was built in the 1200s).
Just when it became known as the Bullring and why is a matter of some debate. It's first mentioned in documents in 1552. Some say the name comes from the cattle trading that took place there; others for the iron ring in which cattle waiting for sale were kept. What is more likely is that the cruel Medieval practice of bull-baiting – tormenting the animals with specially bred dogs before slaughter and butchering -took place here (just in case you harbour sentimental, faux nostalgia for the Middle Ages).
However it got its name, the Bullring became Birmingham's mercantile heart. Central and well connected to other parts of the UK by traditional overland routes and waterways, later canals and ultimately as the major intercity motorway and railroad hub it remains today, Birmingham has been drawing traders, markets, shops and shoppers to itself for more than 850 years.
Fast forward to the 20th century
Visitors to Birmingham, from the 1960s through the early 21st century, probably remember the Bullring as a concrete nightmare. It was a confusing mess of ring roads surrounding the UK's first city-centre indoor shopping mall, a multi-story car park, and a spider web of pedestrian staircases and escalators. The Brutalist structures had been quick solutions to the WWII destruction the city had suffered but they never really worked. The Bull Ring then was neither pedestrian nor vehicle-friendly, an eyesore and an inconvenience to everyone.  Plans for its destruction and the recreation of the city centre began in the 1980s and reached fulfilment with the completion of Birmingham New Street Station and the associated Grand Central shopping precinct in 2015.
The Bullring and Grand Central
What is there to say about the Bullring and Grand Central shopping centres today? If you are a dyed-in-the-wool teenage mall rat you will love this huge, enclosed swathe of Birmingham city centre. Almost all the fashion and homeware stores that pave shopping malls all over the UK and Europe are here. And there are a lot of them – at least 200 shops and nearly 40 eateries under glass. The pandemic (and possibly Brexit) has put paid to two big anchor department stores including the architecturally show-stopping Birmingham branch of John Lewis. But with Birmingham's New Street Station feeding rail passengers right into the centre from all over the Midlands, the West Midlands and the Northwest it's only a matter of time before the spaces are gobbled up by new retail "experiences."
But even the most dedicated shophounds don't go on vacation to visit the same stores they can find at home. What makes Birmingham special, what it excels in, are the pockets of commerce –  markets, arcades, authentic ethnic shops and canalside precincts all over the place. These are some you shouldn't miss.
The Bullring Markets
The traditional Bullring Markets are south of Edgbaston Street and downhill from Selfridges and the modern, glass-roofed shopping centres that have co-opted their name. Three enormous traditional markets, side by side, have traded in the same area for hundreds of years.
The biggest of the three is the Rag Market, if you sew, knit, crochet or craft in fabrics this is a Birmingham must; if you design clothing, interiors, toys; if you embroider, weave or are simply a rabid fan of the Great British Sewing Bee, this incredible market should be on your radar. Here you'll find every kind of fabric, trimming and yarn from all over the world. There are patterns, haberdashery, lace, ribbon, sewing and craft tools, vintage and second-hand clothing, buttons and bows of every description. Theatrical costume designers, fashion students, keen home sewers, bridal wear makers and Asian wedding tailors prowl the aisles of this huge indoor market.
The Indoor Market fills an area west of the Rag Market. It's one of the biggest fresh fish and shellfish markets in the UK. It's also the place where many locals shop for meat and poultry, eggs, household textiles, exotic fruit and vegetables and the kinds of assorted, random goods that make exploring markets so entertaining. If you are just visiting, you probably won't be stocking up on your groceries here but bring your camera. This is raw commerce on a grand scale and the sights and smells of this particular kind of Birmingham shopping may not be for everyone. But the photo opportunities are endless.
Most of what's available in the Indoor Market (except for meat, fish and poultry) is also for sale at the Open Market, to the east of the Rag Market. Lots of lovely fruit, vegetables and exotic spices; cheeses, household textiles, pots and pans, cosmetics, children's clothing, gadgets and seasonal goods are spread across 130 stalls, arranged along accessible wide aisles.
The Arcades
Each of Birmingham centre's arcades developed for a different reason, each has a different claim to fame and each offers the urban shophound a different Birmingham shopping experience.
The arcade was built in 1875 over a line cutting for the Great Western Railway. It runs between Colmore Row and Temple Row with its original, ornate Victorian entrance at the Temple Row end. Designed in the style of its elaborate counterparts in Milan, the arcade once had a dome and semi-circular, barrel vault glass roof. These fell victim to World War II bombs. Much of the original interior plasterwork above the Victorian shopfronts remained and the arcade was extensively restored in the 1980s.
Today it is lined on both sides with smaller independent retailers, food shops and cafes. Grab a different kind of sandwich at GupShup, served up on a sweet Japanese-style bread known as Shokupan. And listen out for the clock that strikes the quarter hours on a set of five, exposed bells.
Most people who visit spend their time looking up at the fabulous trompe l'oeil ceiling murals.
Shoppers head here for the scenic route between Stephenson Street and New Street – a pedestrian shopping street that is the nearest Birmingham has to a traditional high street. The arcade began life as a silent movie show house in 1910. It was converted to a shopping arcade in 1926 but if you look carefully at the slanted floor you can discover where the original screen and seats were. Most people who visit spend their time looking up at the fabulous trompe l'oeil ceiling murals.
They were painted in 1989 by artist Paul Maxfield. Entitled "A Life in the Year of the Chinchillas" (no idea why), they feature all sorts of characters going about various activities and often looking down at the shoppers. One panel includes a parachute coming in for a landing that is so vivid it makes some visitors flinch. The shops, with their period facades, are mostly small boutiques and include jewellers, opticians, beauty supplies, local services, food and drink.
Formerly known as Burlington Passage, this small area in front of the Burlington Hotel connects New Street and Stephenson Street. It became an arcade when it was glassed over and given Victorian style. It houses high end fashion and shoe shops and a trendy hairdresser.
But history buffs who dig a bit deeper can discover a shocking bit of the past here. The Burlington Hotel, currently a 4-star city centre luxury hotel, was formerly The Midland Hotel. The sign for the Midland is still visible at one end of the arcade. It was in front of the Midland that the racist politician Enoch Powell delivered his infamous rivers of blood speech in 1968.
Birmingham Shopping at The Mailbox
The Mailbox is Birmingham city centre's high end, luxury shopping development. The building was once the city's main postal sorting office. Its shape and bright red brick colour are meant to mirror the red pillar boxes that are British mailboxes.
These days it's home to the BBC's West Midland's studios, a luxury Malmaison hotel and a recently expanded branch of the London fashion store Harvey Nichols. It also houses a handful of designer boutiques – Hugo Boss, Calvin Klein, Paul Smith – exclusive hairdressers, restaurants, bars and a boutique cinema; about 40 businesses in all.
Walk along the public passage to the far end of The Mailbox and, eventually, you arrive at the Gas Street Basin, the heart of the Birmingham canal system. Here the Birmingham and Worcester Canal meets the Birmingham Navigation Company (BCN) Canal.  The sides of the basin are lined with cafes, bars and converted red brick canal warehouses. Walk a bit further along the canal path to Brindley Place for a visit to IKON, Birmingham's contemporary art gallery, more restaurants and bars and a place to catch canal boat tours.
Ladypool Road
About two miles from the Bullring shopping, Ladypool Road in the Sparkbrook suburb caters to Birmingham's Pakistani and Bangladeshi population, to Asian shoppers from all over the UK and Europe and to anyone else in search of:
custom-tailored wedding and celebration clothes
traditional shoes
colourful spices and special ingredients
specialist cookware especially balti bowls for the Balti style of cooking invented here
Indian and Pakistani baked goods and sweets.
Ladypool Road is on the edge of what's known as The Balti Triangle, Birmingham's centre of Indian and Balti restaurants. Shopping this street and dipping in and out of its specialist stores is a bit like visiting an Asian bazaar. It's great fun for adventurous shoppers. If you are uncertain about visiting such an ethnically diverse area in a strange city on your own, stop at the Tourist Information Center in the stunning new Library of Birmingham in Centenary Square. Or hail a taxi with a driver who knows the area for an impromptu tour.
Birmingham shopping in the Jewellery Quarter
More than 40 per cent of the fine jewellery sold in Britain is designed and made in a few square blocks of Birmingham. Here you can discover designer-makers trained in the city's jewellery schools or have a piece custom made to your own design by one of the many artisans whose shops line the streets of this historic district. You may be surprised to discover all that glitters in Birmingham.