Ferne Arfin 2 May 2010 updated September 2021
Secret Greenwich: The Fan Museum
Greenwich in southeast London has so many headline attractions, it's easy to overlook this little museum full of treasures. Don't.
The Fan Museum, Greenwich, is a hidden oasis of calm in a southeast London "village" otherwise bursting with flamboyant attractions (more about those next month). The museum, tucked away in a side street just off the busy historic center of Greenwich, displays its treasures across two handsome early 18th century townhouses.
And what treasures they are. Among them:
an unmounted fan "leaf" painted, signed and dated by Paul Gauguin
several jeweled fans like the one pictured above. Attributed to Swiss born jeweler Friedrich Köchli, the late 19th century fans were hand painted in France and assembled in St Petersburg, Russia, for ladies of the Imperial Court. The fans combine precious metals, enameling, precious and semi precious stones. They were so heavy that they couldn't actually be used and pictures from the period show them being held closed with only their jeweled end guards showing.
a very rare Elizabethan fan made of embroidered silk and metallic threads mounted on ivory sticks, circa 1550, when folding fans were a new fashion. A similar fan is featured in the Ditchley portrait of Queen Elizabeth I, the fan attached to waist of the Queen's dress with a ribbon.
a large, circular fan like the one below, made of separate sticks of pierced ivory linked together with ribbon. A fan just like it was auctioned at Christies in 2013 and sold for £27,500.
In all, the museum has more than 5,000 fans, fan leaves and other related items some from as early as the 11th century. To preserve these small, pieces of history and fashion, only a fraction of the collection is shown at any one time. The exhibits change three times a year and guest exhibits are also featured, showcasing highlights of other collections. Throughout this summer, from 4 June to 29 September 2019, the museum will host an exhibition of 80 fans from the collection of the late Gérard Lévy, dubbed "the man with the carnation" by Le Figaro. Levy, a renowned Parisian dealer and connoisseur of Asian art and antique photography, collected fans for pleasure and this is the first time his collection will be seen in London.
A world first
The Fan Museum is independent and privately owned by a trust. It was created by Hélène Alexander, MBE,  and her businessman husband in the mid 1980s. Alexander had long been a passionate and knowledgeable collector of fans when, as she explain in an interview published in Apollo in 2013, a windfall enabled the couple to create the museum. At the time, around 1985, it was the only one in the world.  Alexander remains an active director. While the fans, curated by Jacob Moss, are beautiful to look at in themselves, the museum's stated purpose is "celebrating the history of fans and the art of fan making." It focuses on the development of fans, their manufacture and their social role. Who knew there was so much to learn about these objects of flirtation and communication? You'll even come away from the museum with a whole new vocabulary of fan terminology; you might be tempted to attend one of their workshops, talks and events to learn more or even to make a fan yourself.  And, for shophounds, there's a really tempting shop.
Fan Museum Essentials
Where: The Fan Museum, 12 Crooms Hill, Greenwich, London SE10 8ER
Contact: Telephone +44 (0)20 8305 1441 or email  info@thefanmuseum.org.uk
Hours: Tuesday to Saturday 11a.m. to 5p.m., Sundays from noon and Bank Holiday Mondays. The museum is occasionally closed for private events so its a good idea to check the website. 
Admission: Adults £5, Concessions and children 7 to 16 £3, Children younger than 7 are admitted free. National Trust Members receive a 50% discount.
Getting There: Crooms Hill begins at the southwest corner of Greenwich Park. The museum is less than a 10 minute walk from the Cutty Sark for Maritime Greenwich DLR Station. Follow signs for the Cutty Sark and then turn right and head uphill on King William Walk. Turn right again on Nevada Street, facing the entrance to the park, then left on Crooms Hill. The museum is a pair of dark red brown bright houses, diagonally across the street from Greenwich Theatre.
Tea at the Fan Museum
If the Fan Museum is part of secret Greenwich, it's sweet little tearoom is even more secret. The Orangery, a room lined with hand painted murals, faces a fan shaped Japanese style garden visible through airy Palladian windows. Admission is by entrance ticket to the museum, so only those in the know find their way to one of London's best-value afternoon teas.
The full whammy – two cakes, scones with jam and clotted cream, a pot of tea or a cafetiere of coffee – will set you back £9. You can opt for a simple cream tea – very nice scones with tea or coffee, for just £4.50, or you can order cakes and drinks a la carte starting at about £2 each.
A visit to the UNESCO World Heritage site of Greenwich with all its diversions – the covered market, the museums and galleries, the Cutty Sark, the Royal Observatory and the Prime Meridian, can make for a rather head spinning day. Take a time out with a peaceful hour exploring this small but perfectly formed museum followed by an awfully, awfully English cream tea in its Orangery.
Like this post? Please pin and share it, thanks.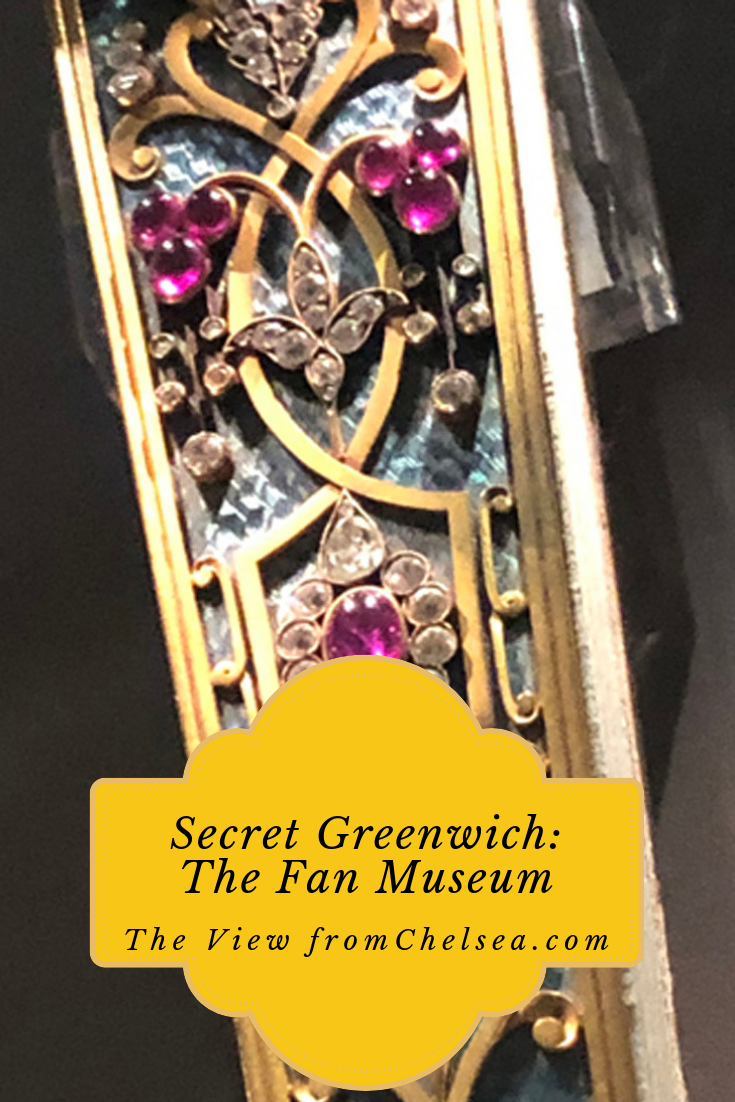 Considering a longer stay in London? You might want to check out the new Holiday Lettings UK from TripAdvisor for a London rental apartment, a money saver if you are traveling with family or a group of friends.