by Ferne Arfin  11 August 2021
The Wallace Collection in London – An eye-opening visit to a quiet treasure
Or how I found a feast of great paintings, decorative art and furniture in an almost hidden London Square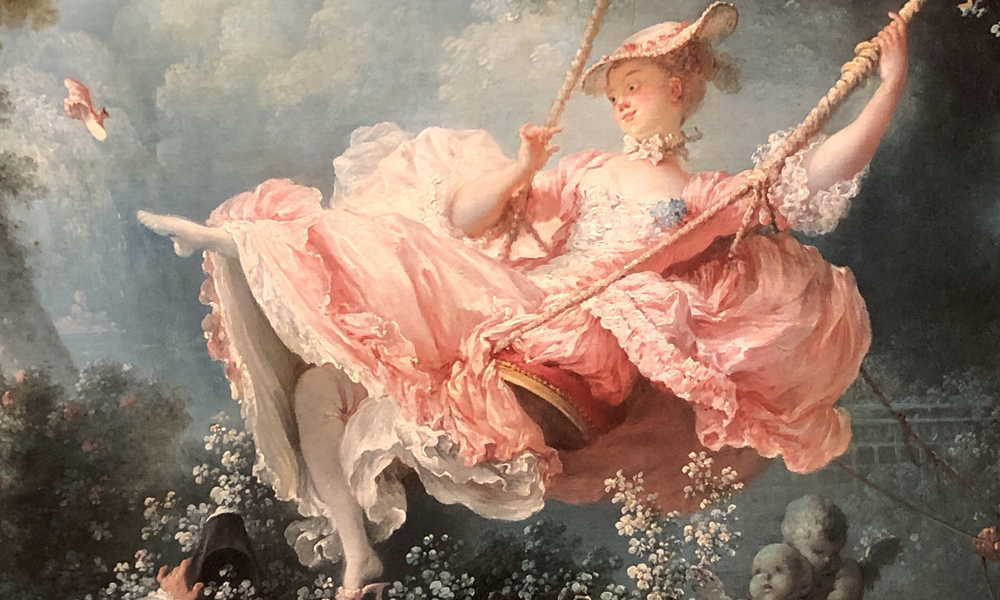 The Wallace Collection in London is one of the world's great art galleries. Yet because of its slightly off-the-beaten-track location, in Manchester Square a few streets behind Selfridges, it's one that visitors often overlook. For years I've been telling myself I should make the effort to go there. But if not for the happy accident of arriving in Central London four hours too early for a dentist appointment, I would have missed it yet again.
Instead, I revelled in a feast of breathtaking paintings not to mention rooms full of antiques, porcelains, sculpture and artwork. A feast of another sort followed in a sun-filled courtyard café, miles away in spirit from the busy streets just outside. And speaking of happy accidents, the original title of The Swing by Jean-Honoré Fragonard, featured above,  is  Les Hasards Heureux de l'Escarpolette –  or, in English, Happy Accidents of the Swing. But more about that later.
About The Wallace Collection
The widow of Sir Richard Wallace left his collection to the nation in 1897. Wallace was the probable illegitimate son of the 4th Marquess of Hertford. The 4th Marquess, one of the great collectors of the 19th century, acquired most of the collection now housed in the museum at Hertford House, the Marquesses' principal London residence.
Sir Richard spent most of his life in Paris. He lived first with his mother, whose maiden name he took, and later with his (perhaps)grandmother and benefactress the Dowager Marchioness of Hertford. She took him in when he was six years old. Though the 4th Marquess never acknowledged him as his son, Wallace worked for him as his personal secretary. When the 4th Marquess died without a legitimate heir, he left Wallace his art collection, properties in Paris, estates in England and Ireland and a considerable fortune. Hertford House in Manchester Square was his London base. Only the title went to a distant cousin.
Not like father like son
The 4th Marquess had a nasty reputation as a cruel dude (with apologies to The Eagles). In the Goncourt Journals, a collaborative diary of Parisian literary and artistic life and characters, the Goncourt brothers called the 4th Marquess "a complete, absolute, unashamed monster", who apparently bragged that in his life he never helped anyone.
Wallace was not at all like him. In fact, he was so generous that he was awarded the French Legion d'Honneur and Queen Victoria made him a baronet for his services during the Siege of Paris. He established field hospitals for wounded French combatants and destitute Britons and contributed the modern equivalent of millions of pounds to help the besieged.
A move to Britain
After the formation of the Paris Commune (the violent aftermath of the siege) Wallace decided that to protect his collection, he had to leave. He spirited out his collection, thousands of items, bit-by-bit to England. Once in Britain, he divided his time between his estates and London.  In Ireland, he visited his estates in Lisburn, County Down, endowed a school, gave property for a park and was elected Conservative MP. In Suffolk, he even won a bronze medal for producing a prize-winning pig. He used the house in Manchester Square as his London base.
Wallace's story –  how a boy of dubious parentage whose mother may or may not have been a descendent of Sir William Wallace (aka Braveheart) and whose father may have been an aristocrat, inherited a fabulous collection and a huge fortune is fascinating. It's told in great detail in an address given for the 100th anniversary of Wallace High School in 1980 and published by the Lisburn Historical Society here.
Exploring the Wallace Collection in London
The Wallace Collection is so big that, despite the late 19th-century expansion of Hertford House to hold it, not all of it can be displayed at the same time. That makes visiting often full of surprises, a changing spectacle. Added to that, special exhibitions are shown in a recently added lower ground floor space. Three factors make visits here so eye-opening:
It's possible to get very close to the works. Study the distinctive brushwork of a painting; find the pinhole mark in a 16th century Dutch painting to understand how the artist measured perspective; examine the embroidery on the vamp of a 15th century English gentlewoman's shoe.
The collection is carefully curated and displayed so that instead of simply admiring the "top of the pops" of European painting (and paintings like The Laughing Cavalier, The Swing, The Portrait of Rembrandt's Son – all definitely top of the pops) or ogling the Sèvres, displays are arrange to expose you to a variety of things, some familiar and some delightful surprises.
The excellent curation extends to interesting, readable descriptions and explanations that are offered on a free App available through Bloomberg Connects. They don't interfere with the flow of the galleries but are easily available for anyone interested.
Ground floor galleries at the Wallace Collection in London
The ground floor galleries are a mix of 16th to 18th-century paintings, sculpture, Renaissance decorative objects, ceramics and furniture, arranged across several galleries and smaller rooms. Some of the galleries were closed on the day I visited so I never saw the armouries which are said to be fascinating.
The Back Stateroom is dedicated to early 18th-century work produced for King Louis XV and his mistress, Madame Pompadour. It holds some of the museum's best examples of Rococo furniture, a fabulous collection of Sevres porcelain and royal and court portraits. Elsewhere on the ground floor, the collection becomes more eclectic.
Eye-opening displays
What I found eye-opening about these galleries is the way objects are grouped and shown. Small objects aren't crowded together in an overwhelming glut of riches. Instead, vitrines are shallow or narrow enough to allow visitors to see them up-close, in great detail, a few at a time.
Craftsmanship display is from England, France, Italy, Germany and further afield. Iznik pottery from Turkey, a pair of early cloisonné enamelled incense burners from 18th century China, 16th century enamelled plaques from Limoges and, from Goa or Sri Lanka, an astonishing jewelled, rock crystal figure of Christ the Good Shepherd.
Dazzling oak and ebony furniture by André Charles Boulle is covered in rich marquetry of gilt brass and bronze, enamel, paint, steel, glass and turtle shell; rooms are full of Venetian glass, bronze and marble sculpture.
And the walls are adorned with the works of Joshua Reynolds, Antoine Watteau, Edwin Landseer, Thomas Lawrence, a wonderful picture of a young Queen Victoria by Thomas Sully.
You could easily spend an entire day just admiring the collections on the ground floor.
Highlights of the ground floor galleries.
Click on photos below to learn more and for sharper images
First floor galleries at the Wallace Collection in London
The first floor of the Wallace Collection is devoted to paintings. While a changing selection of sculpture and furniture is exhibited, the main impact of this series of galleries, leading to an impressive Great Gallery, is in the 17th and early 18th century paintings. And what a collection it is.
Dutch genre painters share wall space with Spaniards like Murillo and Velazquez. There's a handful of Canaletto's big sky paintings of Venice and about a dozen Rembrandts, including a lovely portrait of his son, Titus. Still lifes, portraits, domestic scenes, religious paintings all vie for your attention. Two of the paintings in the Great Gallery, The Laughing Cavalier and The Swing are practically trademarks of this museum and have their own interesting stories to tell.
The Cabinet Painting
If you like paintings, leave yourself plenty of time for these galleries because there is plenty to see and lots of eye-opening surprises. If you look closely at The Swing, by Fragonard you'll see a gentleman on the ground looking up the pretty woman's skirt as she swings past, tossing one of her shoes into the air. In its day, this was such a naughty image, that another artist, Gabriel-François Doyen, actually turned down the commission to protect his reputation.
Doyen was offered the commission by an "unnamed gentleman of the court" to paint his mistress. At the time, he was building a reputation as a history and religious history painter and declined the offer to create an erotic image for a private gentleman's enjoyment. He suggested Fragonard, whose career as a history painter was flagging.  Fragonard's subsequent success remade his career.
The Laughing Cavalier by Frans Hals
Frans Hals was a nearly forgotten early 17th-century portrait painter when Richard Wallace's patron and purported father bought it in the mid-nineteenth century.  Perhaps Hals was ahead of his time. The bold, painterly brushwork could easily be by a late 19th-century impressionist or post-impressionist such as Edouard Manet or James McNeill Whistler. It certainly caused a stir in the auction rooms of the 1860s, with the 4th Marquess of Hertford competing with a Rothschild to buy it. And, more than 200 years after it was painted, it posthumously revitalized Hals reputation.
From 22 September 2021 to 30 January 2022, Hals's famous portrait, The Laughing Cavalier, will anchor an exhibition of other portraits of men by Hals. It will mark the first time this painting has been exhibited alongside other work by the artist. Some of Hals best portraits of men have been gathered from all over Europe and North America for this special exhibition.
More discoveries
I don't ever recall discovering so much while looking at paintings – the delicacy of the 17th-century domestic scenes painted by Pieter de Hooch or the humour in a classic work by Jan Steen. The transcendent light in Bartolomé-Esteban Murillo's Adoration of the Shepherds stopped me in my tracks.
I'd always thought of Rubens as a painter of naked ladies who were, well for want of a better word, Rubenesque.  But in his retirement, he painted large landscapes, full of animated, loving detail. When I visited, his View of Het Steen in the Early Morning and The Rainbow Landscape, originally painted as a pair for himself, were united for the first time in 200 years for a temporary exhibition. By the time you read this, The View of Het Steen will be back in its usual place at the National Gallery but you can still see The Rainbow Landscape at the Wallace Collection in London.
Highlights of the first floor galleries
Click on images for more information and to discover why The Wallace Collection is a gallery to return to again and again.
Visiting the Wallace Collection in London
Where: Hertford House, Manchester Square, London W1U 3BN
When: Daily, 10 a.m. to 5 p.m.
Admission: Free though donations are appreciated, especially following COVID19 closures. There is a fee for some exhibitions.
Facilities: A restaurant and a more casual cafe are both located in the glass-roofed, light-bathed courtyard pictured left.  There is also a very well-stocked gift shop on the ground floor
COVID19 Safety: Admission is by free, timed tickets. Booking in advance is recommended though tickets can usually be booked on arrival. The cloakrooms are closed and visitors can only bring in small bags and handbags. Staff are wearing masks. Hand sanitiser is available.
Getting there: The Museum is a 10 to 15-minute walk from Bond Street, Baker Street and Oxford Circus Tube stations as well as Marylebone Rail Station. Quite a few London buses have nearby stops including numbers 2, 10, 12, 13, 30, 74, 82, 94, 113, 137 and 274. Driving is not recommended as metered (pay-by-phone) parking is expensive and limited and the museum is within the London Congestion Charge zone.