by Ferne Arfin 19 August 2021
Burghley and Stamford – Plan a short break
After you visit Burghley, the home of Elizabeth I's spymaster, linger in Stamford, one of England's best market towns and its oldest conservation area.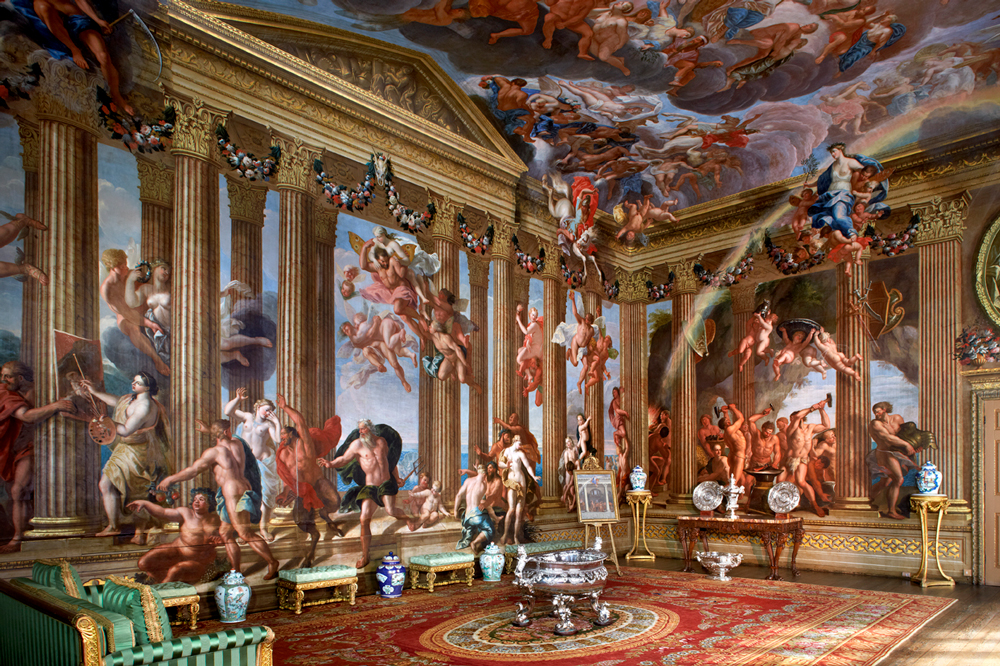 The mythological gods, nymphs and cherubs cavorting within (and – via trompe-l'oeil – without) Antonio Verrio's great murals in the "Heaven Room" of Burghley House in Stamford, look more like they're having an orgy than engaging in heavenly pursuits. Maybe they are just celebrating the Tudor success of the Cecil family whose descendants still own the house through a preservation trust.
If you are looking for a short break destination, Burghley and the lovely stone-built town of Stamford are both excellent reasons for travelling to the Midlands or planning a staycation.
Burghley House is one of only a few remaining prodigy houses in England (so-called because of their vast size and extravagance). William Cecil, Lord Burghley, built it. A cunning survivor of Tudor court intrigues during the short reigns of Henry VIII's children Edward VI and Mary Tudor, he became a powerful favourite of Queen Elizabeth I.
Founder of a dynasty
Elizabeth I rewarded William Burghley for his loyalty and protection by making him her Principal Secretary when she ascended the throne. Later she added Lord Treasurer and Chief Minister to his titles. Burghley created England's first secret intelligence service and, for that reason, he is often referred to as Elizabeth I's "spymaster".
Burghley spent more than 30 years building his great palatial mansion. According to some scholars, Lord Burghley, a Renaissance man in more than name, may have designed the house himself with some help from an Antwerp mason.
The dynasty he founded continues to this day in Burghley and Stamford. Cecil's oldest son was made Earl of Exeter. Eventually, the heirs to the title became Marquesses – a title the Cecil family still hold. Over the years, the Cecils didn't follow their great ancestor into intrigue and power politics. Instead as art collectors, travellers and sportsmen they contributed to, changed and improved the house and gardens.
One of the Cecils, David, 6th Marquess of Exeter, was an Olympic Gold Medal hurdler. Nigel Havers played him in the film Chariots of Fire about the 1924 Olympics. The current occupant and caretaker of the house is his granddaughter and her family.
Today, the current and 8th Marquess lives in the United States. A family trust manages the house and estate.
Shaping a landmark
If you have even a slight interest in Britain's stately homes, you've probably heard of Lancelot 'Capability' Brown. He was every 18th-century aristocrat's go-to man for parks and landscape gardens. Brown created the "English landscape" style – meadows and parklands, artfully arranged woodlands and lakes. According to the National Trust, he made more than 250 gardens and landscapes for most of the members of the House of Lords. In William Cecil's descendent, Brownlow, 9th Earl of Exeter, Capability Brown met a man with ambitions to suit his talents. Together, they set about, restoring the grandeur of Burghley.
It was Brown's longest commission, stretching from 1756 to about 1780. He is reported to have described it as "twenty-five years pleasure in restoring the monument of a great minister to a great Queen".  You can see his work in Burghley's naturalistic parkland, a deer park, a 28-acre lake and the Lion Bridge across the lake. Some of the best views of the house are from this bridge. Brown was a talented structural architect as well. He raised the roofline of the South Front to create an even skyline, built a stable courtyard and an orangery with gothic windows and a battlemented roof to match the stables. He even oversaw the removal of part of the North West wing to open up the view. He advised about interior decoration too. Visitors today can raise a cup of tea in Brown's Orangery.
Views of Burghley House grounds and gardens
Click for more and larger images
Things to see in Burghley House
Sixteen generations of Cecils gathered the artworks and furnishings of Burghley House over more than 400 years.
Entering through the Old Kitchen, you'll see an impressive array of Georgian and Victorian cooking utensils.  An early automated "appliance" – a spit powered by the hot air circulating in the chimney – turns quietly in the corner.
The self-guided tour covers 18 ground and first floor rooms. At least 400 paintings – by Italian and Dutch masters, by Gainsborough and Lawrence line the walls. The impressive chapel and ante-chapel are bigger than many village churches.   The lofty Bow Room is so-called for the large bow windows at one end. Dizzying murals by Louis Laguerre – a godson of Louis XIV – cover the walls and ceiling.
The elaborate decoration of the Bow Room, above, veers from scenes of mythological characters to the drama of Anthony and Cleopatra. The room, originally intended as a dining room, was on the north side of the house – which probably made for some chilly evenings. Perhaps the murals were talking points to distract guests from the cold.
A highlight for me was the Marquetry Room with its linen press covered in intricate panels of Dutch walnut marquetry and its fascinating painting, "Rent Day"  by Pieter Breughel the Younger.
One of the rooms, called Queen Elizabeth's bedroom, like many rooms prepared in readiness for royal visits in stately homes, was never occupied by the monarch. In fact, this lovely green room with its 17th-century bed and chairs was only so named about 15o years ago.  Queen Elizabeth I did visit William Cecil at several of his homes, but apparently, an outbreak of smallpox among the staff prevented her from staying here.
Highlights of Burghley House interiors
Click for more and larger images
How to Visit Burghley House and Gardens
When: Burghley House is open from 10:30 a.m. to 5 p.m., Wednesday to Sunday, year-round. The gardens are open every day.
Where: Burghley House, Stamford, Lincolnshire PE9 3JY
Admission: Adult, child and family tickets for the house and gardens or the gardens on their own can be booked online. Tickets are valid for 365 days, so on a short break to Stamford, you can visit the house one morning and spend a few hours in the gardens and park on another day. Tickets must be booked in advance for time admissions. However, once admitted at your chosen entry time, you can explore for as long as you like up to closing time. Visit the website for current prices and booking information.
Facilities: Parking is free. Several restaurants, cafes and takeaway outlets are open to the public whether or not they are ticket holders. The Orangery Restaurant is in a building designed in the 18th century by "Capability" Brown. Visitors can shop in the large Courtyard Shop and Garden Shop without purchasing a ticket to either the house or gardens. We were very tempted by the original merchandise in the Courtyard Shop in particular.
Accessibility: Stannah Chair Lifts are available for access to the first floor staterooms. Mobility scooters are not permitted in the house but some wheelchairs are available. Find full information about accessibility services and features here.
Getting Here:

By car – Burghley is located one mile from Stamford and 20 minutes north of Peterborough on the A1. Free parking is ample.
By train – The nearest train station is Stamford, a cross country link from the London to Edinburgh via Peterborough mainline service. Find train times and prices with the National Rail Enquiries Journey Planner.
By bus – 201 and 202 Peterborough – Stamford-Bourne service, run by Delaine Buses, stops regularly at the Burghley House visitor entrance. Check their timetables and prices here.
If Burghley is the anchor to a Burghley and Stamford getaway, plan on staying at the Bull&Swan, part of the Burghley estate on edge of the town. Rumour has it that a secret tunnel stretches from Burghley House to the pub. The tunnel has never been found and the story has never been proven but it does add romantic frisson to a stay at the pub. Read a review of the Bull and Swan here.
Next explore Stamford
Stamford's boosters will tell you that it's the finest stone town in England. Not being an expert in stone towns, I can't vouch for that. But I can tell you that it sure is mighty pretty. After you've thoroughly explored Burghley House and gardens, don't leave this area without spending at least a day exploring the medieval market town of Stamford.
One of the first things you'll see as you drive into this busy market town is a gallows stretching from the historic George Hotel all the way across the main road. Locals will tell you that it is real and once discouraged highwaymen with a display of the mortal remains of criminals. Don't you believe it. It's true it was erected as a warning to miscreants, on what was then the main North Road, that robbers would be severely dealt with. But it probably never had the grisly displays of local stories.
In fact, the people in this lovely town are very welcoming. Stamford's well-preserved ambience, its narrow and winding lanes and its market squares have been protected since the 1960s when it became England's first designated conservation area. Today it has 600 listed historic properties.
Shopping in Stamford
Well it is a market town after all:
Market day is Friday when about 90 traders fill Broad Street and Ironmonger Street between 8:30 a.m. and 4 p.m. This is a traditional English market offering everything from meat, fish, poultry and game; vegetables and fruits; cheese, eggs and dairy; baked goods, housewares, clothing and shoes, leather goods, jewellery, hats, bedding, plants and flowers, even furniture – plus plenty of market banter. If you're in town on Saturday, there's a smaller market on Red Lion Square and High Street. And every other Friday, there's a farmers' market on Stamford High Street.
If shops are more your style, there are plenty of them- lots of independents as well as national brands. Just wander in and out of the narrow passages and lanes to find the most interesting ones.
Go antiquing in Stamford's quirky little – and not so little – antique shops and markets.
Mess about along the river on a visit to Burghley and Stamford
The River Welland meanders through the centre of town, its banks lined with meadows where you can picnic and stroll. Look for the historic limestone Town Bridge and the cast iron bridge. Chat with fishermen trying their luck. Near the limestone bridge, you may come across a team of locals in hip boots cleaning up a waterway that branches off the river. That's the ancient Stamford Mill Stream mentioned in the Domesday Book. At the moment it's the focus of a community restoration project. If you're lucky you may spot voles and other wildlife returning to the restored stream.