By Ferne Arfin 28 August 2021
Where to stay in England: The Bull&Swan at Burghley
A historic pub in a lovely town near one of the great Elizabethan houses in England – and a comfy modern room too.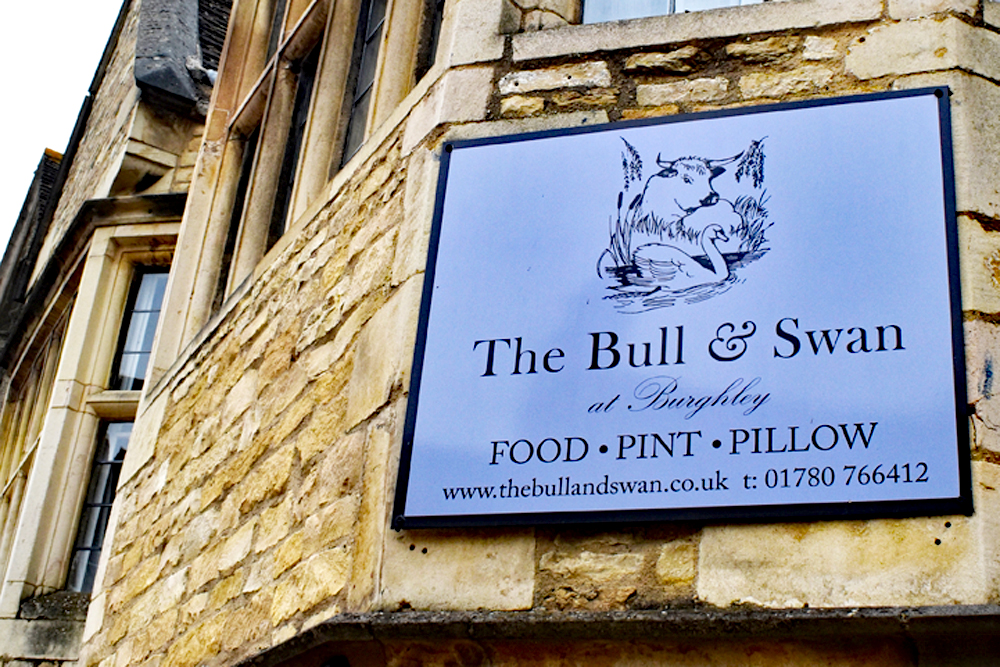 The promise offered by The Bull&Swan at Burghley is simplicity itself – "Food – Pint – Pillow". If you're trying to choose where to stay in England on a touring holiday or short break this historic little pub has a lot going for it:
Location for one thing. It's right on the main London road into Stamford, a golden stone medieval and market town often called the best stone town in England. And virtually around the corner (well okay, it's about two miles to the main entrance) is Burghley House. Built by William Cecil, chief advisor, Lord Privy Seal and Lord High Treasurer to Queen Elizabeth I, Burghley is one of a handful of great Elizabethan prodigy houses.  Cecil founded Elizabeth's secret spy network. Legend has it that a crypt under the The Bull&Swan at Burghley is connected by a tunnel to Burghley House itself (though no one really knows where that is).
History for another They've been feeding and watering travellers in The Bull&Swan at Burghley since the 17th century. The town has actually grown up around the pub. If you sit at one of the window tables in the front, the street is actually at about your shoulder height. The pub was also the meeting place of a gentlemen's drinking and dining club known and the Honourable Society of Little Bedlam – a sort of 17th century Bullingdon Club. Members protected their identities behind animal nicknames – a fact attested to by signs in the Old Pub. Isaac Newton was known to be a member.
Rooms at the Bull& Swan at Burghley
When I'm choosing where to stay in England The Bull&Swan at Burghley has everything I usually look for. I try to avoid the same-same vibe of international budget chain hotels. At the same time, I really don't want to blow my travel budget on a classy, expensive room (not too often, anyway). Especially when you're touring, nice quality, reasonably priced rooms that have plenty of local character really add to your experience.
Rooms at the Bull&Swan at Burghley fit the bill. They are usually moderately priced.  Do check what's on at Burghley House when you're planning to go though. Special events at Burghley can b00st local prices.
Nine bed&breakfast guest rooms, in three classes – Luxury, Chic and Classic  – bear the nicknames of the members of the Little Bedlam Club. So you could stay in Porcupine or Ram instead of Room 1 or 2. An exception is the Isaac Newton Room, below. Perhaps they didn't know what pseudonym he drank under.
All the rooms, along with the pub itself, were sensitively refurbished by the owners, the Burghley Estate, before leasing the building to the current operators, a hospitality company. They're beautifully done with dark wood furnishings, big and comfortable beds and shiny, well-maintained glass and tile shower rooms. A few also have luxury roll-top baths., his and her bathroom basins, exposed stone walls and ancient stone hearths filled with woodburning stoves.
All are equipped with wide-screen televisions, free Wi-Fi, luxury toiletries, ironing equipment, salon-quality hairdryers, iPod docking stations, quality tea and coffee making trays. Some can be arranged for families and some are dog-friendly. One Classic room is available as a single.
Food and Drink at the Bull&Swan at Burghley
Food is served in several pub rooms; at simple tables around the Old Bar and in comfortable booths and larger tables in a newer room. The menu features modern English food. It's a mixture of well-prepared pub classics and recent innovations such as halloumi fritters, monkfish, parmesan and rosemary fries. Vegans can choose from a special menu with a good choice of dishes. The manager recommended the daily pie – a changing speciality. It was tender lamb and rosemary pie under a pillow of puff pastry and it was smashing. The accompanying green vegetables were special enough to be worthy of mention – just perfectly cooked. That may be because of their freshness. The Bull&Swan at Burghley has a large kitchen garden that produces an abundance of fresh vegetables, fruits and herbs.
Guests can usually eat outdoors too, overlooking the kitchen garden and the greenhouse. A roaring outdoor oven produced wood-fired pizzas to order. Movie nights in the "potting shed", an outdoor terrace under a trellis, are locally popular but were temporarily suspended when I visited.
Drinks
The drinks menu is more eclectic than your usual English market town pub. The bar serves a good variety of European, New World and Antipodean wines at quite reasonable prices  – by the bottle or in 125ml, 175ml and 250ml glasses. Beers on tap are a changing selection of local real ales as well as Suffolk cider, Guinness and two Czech pilsners.