By FerneArfin  5 September 2021
Top 10 signs that your holiday accommodation is dog friendly
Some places say they're dog-friendly when they're barely dog-tolerant. How to find rooms that really welcome your pet.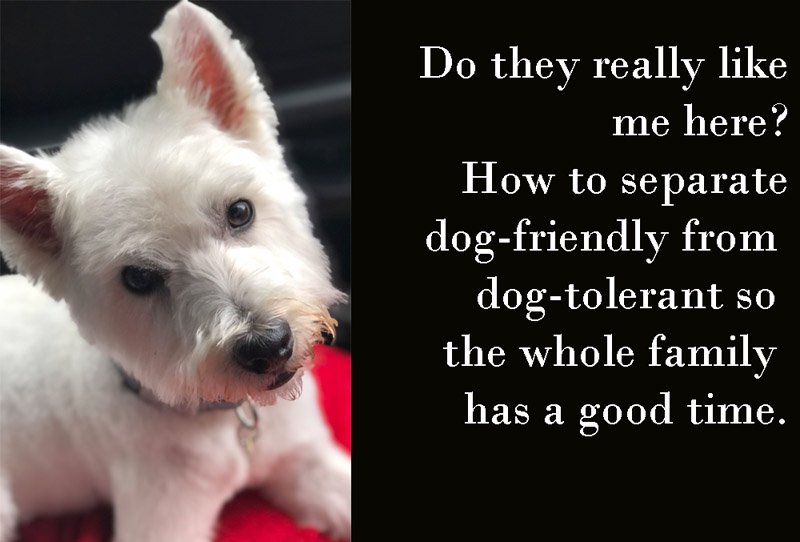 Are you thinking about a dog-friendly vacation, holiday or short break? Chances are you probably are if, like lots of people, you've acquired a pet since the start of the pandemic.
Pet ownership rose dramatically in 2020 with pandemic lockdowns and travel bans keeping most people close to home. The National Pet Owners Survey by the American Pet Products Association found that pet ownership in the USA rose to a historic high of 70 per cent of US households. And in the UK, the Pet Food Manufacturers Association reported that 3.2 million UK households welcomed a pet into the family in 2020 – an increase of 18 per cent.
The pandemic-led boom in staycations and short breaks close home is accelerating what was already a growing trend – the dog-friendly holiday.
Is your hotel, guest house or holiday cottage really dog-friendly or merely dog-tolerant?
Over the years I've travelled with several doggy friends – most recently Lulu the Westie, pictured above. We've discovered that quite a few so-called dog-friendly hotels and self-catering cottages turn out to be disappointingly unwelcoming to four-legged guests. Being made to feel just about tolerated does not make for a pleasant getaway. So what do Lulu and I look for in truly dog-friendly digs.
Ten clues that you and Rover are both really welcome
Rooms are equal to other guest quarters – There's a lot of reasons why hotels might have special, pet-friendly rooms. But those rooms should be equivalent in quality to other guestrooms. There's nothing quite so depressing as arriving in a highly recommended hotel only to be ushered into a small, grim room with soiled carpets, dented furniture and an underlying smell of the laundry or the rubbish bins. Yet hoteliers often save their worst rooms for guests with pets. The excuse is usually that other guests may be allergic or don't like the noise and fuss of pets. Tewkesbury Park in Gloucestershire gets around that issue by having a wing of lovely dog-friendly rooms. They're comfy and modern, equipped with nice dog beds and even have a door to the outdoors for walkies.
 Canine access to hotel areas – It's easy to understand why hotels don't want Fido to join you in their best, formal restaurant, their pool or their spa. But pleasant lounge and dining areas where your pet can join you are a good sign of a pet-friendly hotel. We once stayed at a luxurious country house hotel on an island off Oban in Scotland that called itself pet friendly. Wallace was only allowed in the room when I was there and not allowed in any other public areas of the hotel. That meant that when I went down for dinner, on a hot summer night, I was supposed to leave my travelling companion locked up in the car. I was only there two nights and I ignored the prohibition. But I also called out the hotel, in print, for its exaggerated dog-friendly claim. On the other hand at the wonderful Cary Arms on Babbacombe Bay in Devon, Wallace the Westie was able to join me for dinner in their casual, pub-style restaurant. Later, when I read a book in the private, marine-themed lounge, reserved for guests, Wallace was allowed to wander the room, off his lead and curl up near the fireplace. On another night, after an exhausting day running up and down hills and frolicking in the surf, he stayed in the room on his own.
Welcome treats – Even a well-travelled dog can find the long train journey or car trip to a hotel confusing and unsettling. Hotels often leave sweets or cookies on the tea and coffee-making tray for you. Really dog-friendly supply homemade dog biscuits or locally made dog treats to help your pup settle in. At Burley Manor in the New Forest, we found locally baked, gourmet dog biscuits so nice that I sought out the maker to buy some to take home.
Doggy comforts – We understand that hotels and cottage owners don't want your pets lounging all over their beds and chairs. But what with their dog beds, blankets, towels and toys, travelling with a dog can be heavy going – especially if you are taking the train. So it's nice to find a clean and appealing dog bed and, perhaps, some special towels for muddy paws. When we stayed in the Governor's Suite at the Malmaison Oxford Castle, the brand-new fleece dog bed was on the mezzanine level of the duplex room. I left Wallace the Westie up there, watching television, when I left for dinner. When I returned I discovered that he had taken the bed downstairs himself to enjoy the dark and quiet. Uncarpeted floors are also thoughtful.
Someplace safe and clean to play – Whether it's the hotel or cottage grounds or advice about nearby dog-friendly parks and walks, it's good to have someplace to let your pet run around in the open air. It might be as simple as a garden with a secure fence or as much fun as a dog-friendly beach. Safe clean places to play make for a stress-free vacation. We once stayed at a glorious self-catering house near Harlech in Wales. The views from the floor to ceiling windows in the conservatory were glorious – stretching across Cardigan Bay and the Lleyn Peninsula. And we were told the house was dog-safe. But it was in the middle of a sheep farm. The fence separating the garden from the animals was flimsy. From the evidence scattered around our garden, it was clear the fence didn't stop the sheep from visiting and it surely wasn't enough to stop two determined little dogs bent on learning shepherding. The sheep congregated outside our big windows, driving the dogs mad with frustrated desire. And even when they grazed elsewhere, they left disgusting reminders that they'd been around – the sort that dogs can be particularly disgusting about.
Dogs' Dinners – Not an essential, but a nice extra touch, is a menu of meal options for your dog. At Tewkesbury Park, the catering manager personally delivered Lulu's supper of freshly cooked chicken and rice. And we noticed that the Bull & Swan in Stamford, where we recently visited, had a doggy room service menu for its dog-friendly rooms.
Thoughtfully placed bins – These days, most dog owners are considerate about picking up after their dogs. But then, they need a place to dispose of the telltale bags. I for, one, don't want to discard poo bags in my hotel room rubbish bin or carry them home in my car. I also don't like to go in search of the smelly hotel refuse area to discard the bags. But it's surprising how many otherwise lovely, dog-friendly hotels forget about this necessity.
Providing for emergencies – Dogs who stick their noses into everything occasionally pick up a tummy bug. So a list of nearby veterinarians is useful. A kitchen willing to put together a bland meal for a pup who has had too much excitement is helpful too. When Wallace the Westie was a bit under the weather in Birmingham, kitchen staff at the Malmaison Birmingham Mailbox prepared some plain noodles and delivered them, via room service, under a silvery cloche.
Dog on board door tags – Hotel room housekeeping staff are notorious for ignoring "Do not Disturb" door tags. If you are planning on leaving your pet alone in your room, even for a short while, something that alerts staff to that fact is important. Once, when travelling in Provence during a heatwave, we left Wallace the Westie in the room because it was simply too hot outdoors for him. When we returned, we discovered that a maid had opened the room door and left it open while changing the sheets and towels. The door opened directly to the outdoors and Wallace made a run for it. Fortunately, he very quickly decided that the cool, airconditioned room was a much nicer place to be and returned on his own.
Dog walking and dog minding services – As much as you love your little friend and consider him a member of your family, there are probably a few places you want to visit on your holiday where he is not welcome – dinner at a Michelin-starred restaurant perhaps, a visit to a petting zoo or a night at an open-air theatre. On those occasions, it's helpful if a hotel has dog-minding or dog walking services available. It may be a dog-loving member of staff or a local dog-minder on call. You'll no doubt have to pay extra for this but having the option is always good.