by Ferne Arfin, updated 12 October 2018
Bachelors and Spendthrifts – The History of Attingham Park
The best English country houses to visit are those with complicated social and political histories. Attingham Park in Shropshire is an 18th century English country house set in a ravishingly beautiful Humphrey Repton landscape. The family who owned it could have populated a 19th century novel with generations of dysfunctional characters. That's why visiting it is so entertaining.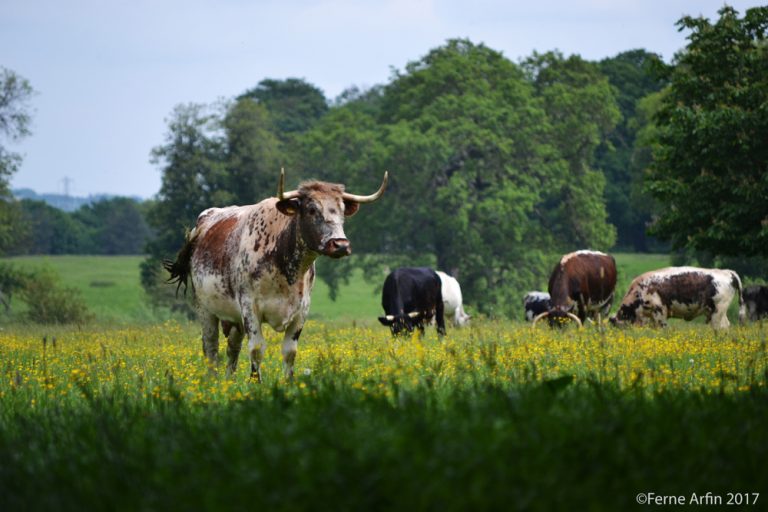 Rare breed cattle at Attingham Park includes this English longhorn
Jane Austen's Pride and Prejudice begins with the oft quoted line, "It is a truth universally acknowledged, that a single man in possession of a good fortune must be in want of a wife." Perhaps if a few more heirs of the Hill family, Lords of Berwick, who built and owned Attingham Park had paid attention to this truth, there might still be some of them occupying the grand country house today.
Almost from its start, this was a family of lifelong bachelors, spendthrifts and sowers of wild oats. While it remained in the family it often passed from brother to brother, or uncle to nephew so that in the 165 years they owned it, only five generations of Berwicks – and hardly any children – actually lived in this fabulous house.
The Family Man
Noel Hill, the first Baron Berwick, married for love against his parents' wishes. They must have relented though, because they gave him the estate upon which he built Attingham Park as a wedding present. Noel grew rich through politics and investments and, in 1782 commissioned a Georgian mansion and stables. He and Anne had six children, three boys and three girls. They were the last children to ever live in the house.
The Spendthrift Bride
Thomas, Noel's oldest son and 2nd Lord Berwick, inherited Attingham when he was 19. He remained a bachelor until he was 41, when he met and married Sophia Dubochet, a 17 year old courtesan. Thomas had already demonstrated extravagant tastes – commissioning Regency darling John Nash (Architect of the Brighton Pavilion) to design a picture gallery and library with a fabulous (and almost instantly leaky) glass roof. But when he and Sophia married, they began running through his vast fortune at a rate of knots. Two bankruptcy auctions were needed to pay off debts and virtually emptied the house of many of its best paintings and furniture. The couple were forced to decamp to Italy, where living was cheaper and where Thomas died, childless.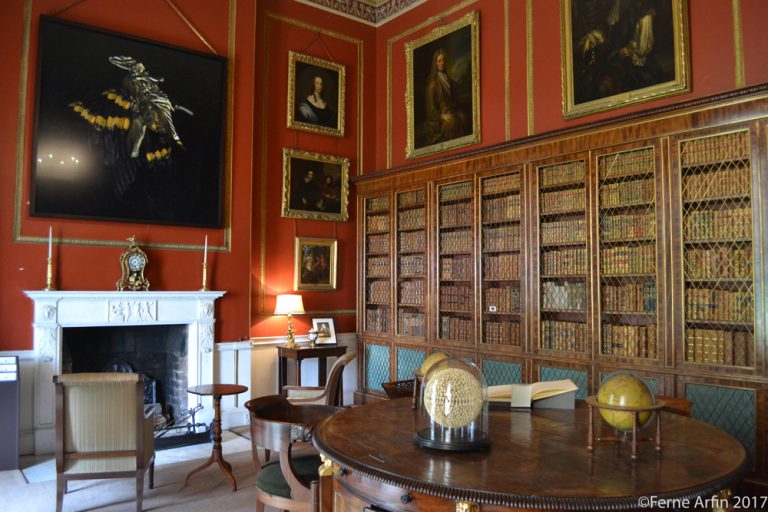 Gentleman's Library at Attingham Park
The Diplomat
William, Thomas's younger brother and ambassador to Italy, inherited the house and became the 3rd Lord Berwick. He had rushed home for the bankruptcy auctions to buy back as much of the furniture and family paintings as he could. Until he inherited, he leased the house and filled it with 18th century Italian furniture, some of which came from the home of Caroline Murat, Napoleon's sister and the Queen of Naples. His attitude toward money may have been more responsible than his brother's but his taste in women possibly was not. While he had several illegitimate children with his Italian mistress, they never married so the children could not inherit.
The Parson
Richard, the 4th Lord Berwick, was William's youngest brother and a clergyman. He never expected to inherit the estate but enjoyed the life of a country gentleman – and running through lots of money – when he did. He was, apparently, particular fond of a drop or two and made a rather large dent in the estate cellars. He was also prolific in the fatherhood department, providing enough long-lived sons to keep the family titles passing along through several generations of bachelors.
Interestingly, the family motto was "Let wealth be his who knows its use."
By the way, while her three sons were running through their inheritances and basically allowing their fabulous house to fall into ruin, their mother Anne was forced to live in Italy because she could not afford to maintain a separate household in England. Her three daughters, who accompanied her to Italy, don't seem to merit even a footnote in the family story.
The Bachelors
The "Parson" had a passel of offspring. Two of his sons became, in turn, the fifth and sixth Lords of the estate. Richard, the 5th Lord, restored the estate's balance sheet, created a model farm and established a nationally famous herd of Hereford cattle. He must have been too busy being a gentleman farmer to marry or have any offspring of his own. He passed the estate on to his brother, at 60 years of age, a lifelong – yup childless again – bachelor who was a serving military man. Neither brother lived in the house.
The Yachtsman
By the time the estate was ready to pass on to the next generation – the 7th Lord Berwick – there were no direct offspring left. But the tippling "Parson" (remember him – the 4th Lord?) had been a busy man. He'd had another son who'd had twins and one of them (a nephew of the 6th Lord – keep up now), inherited. He was a professional soldier driven out of the army because of debts. His marriage, to a Swedish woman, was cause for some late Victorian gossip. They liked to sail and spent most of their time sailing the Mediterranean and spending money. They rarely lived in the house and, what a surprise, they too had no children.
The Last of the Berwicks
Thomas, the last of his family to inherit Attingham (as 8th Lord), was nephew of the 7th Lord Berwick through a younger brother. He was sent to Paris as a diplomat before WWI and developed a taste for French art and furnishings. He mortgaged parts of the Attingham estate to collect paintings, sculpture, carpets and furnishing for the house. He and his wife, Teresa, the daughter of painter Thomas Hulton, are considered the saviors of Attingham Hall. When they came to Attingham, the house had been rented to tenants and most of the larger rooms were in a sorry state. They spent most of their married life restoring the house as best they could on limited means. Four thousand acres of the estate's original 8,000 acres were sold to make this possible.
There was a further 9th Lord Berwick after the house was given to the National Trust. He was a relative from an offshoot branch of the family descended from yet another son of the prolific 4th Lord – the "Parson". He died only a few years after inheriting the title and, in keeping with family tradition, was a childless bachelor. So in the brutal language of Debrett's Peerage, the family and title became extinct.
Attingham Rediscovered
In 1947, when Thomas died, he left the house to the National Trust. For a while, it was leased to a college but, in the 1990s, the Trust began to gradually bring Attingham Hall back to life through a process of careful and painstaking rediscovery. Cleaning, for example, on an upper stairway suggested a hidden decorative scheme. Restoration involved removing six layers of oil paint. Ultimately, an original 1807 design on sheets of handmade paper was revealed.
Since 2006, an award winning conservation project, Attingham Rediscovered, has been carrying out restoration and highly technical conservation work in plain sight of the visiting public. Visitors can watch the process of restoration as it happens, talk to well informed guides and experience Attingham as it must have looked to its first inhabitants. So if you are interested in "mixing rabbit skin glue, couching silk damask threads, taking crystal chandeliers apart piece by piece and cleaning decorative schemes over months with cotton wool buds", and more of the painstaking, time consuming tasks of bringing a historic house back to life, you'll love a visit to Attingham.
And What's Missing
Because of its history – and partly because of so many generations of neglect, Attingham Park is the most complete Georgian house and interior in the UK. But one thing visitors won't see any evidence of is a nursery. Since the first Lord Berwick and his wife Anne, no children have ever lived in Attingham Park.