by Ferne Arfin 18 June 2020
The Landmark Trust – Fantasy breaks in historic buildings
Imagine a stay in a landmark – a short, fantasy break in a historic landmark that's all yours for a few fantastic days. How will you live and who will you be?
When you stay in a landmark, you might spend a while living the life of a medieval gentleman knight – the steward for a local nobleman, perhaps – under a soaring beamed ceiling in your hall house. You could play elegant host to family and friends at your grand, Regency country house. Are those ghostly voices you're hearing while staying in one of the oldest houses in Suffolk? Maybe you just want to get away from it all in a solid, Napoleanic-era, brick-built fortress by the sea, while outside waves crash and seabirds call.
Staying in a landmark
Fifty-five years ago, The Landmark Trust gambled that a lot of people would like to get a little bit closer to their fantasy vision of historic Britain by staying in a lovingly restored and domestically scaled piece of it. Since the Trust's foundation as a charity, they've acquired and restored manor houses, castles, follies, towers, forts and cottages – hundreds of them in England, Scotland, Wales and the Channel Islands. They turn these properties, of historic or architectural interest, into self-catering vacation rentals for  short breaks.
With the COVID-19 lockdown beginning to loosen up, the Landmark Trust is hoping to open its properties in July and is inviting bookings now.
The Landmark Trust chooses buildings that, for one reason or another, are not suitable for management by one of the UK's major heritage organizations. Perhaps they are too small or fragile to cope with the visitor traffic that usually follows National Trust status. Perhaps, while being architecturally interesting enough for a Historic England listing, they're not sufficiently significant to attract government restoration funding.
The Trust considers smaller projects that nobody else wants to undertake. All that's required is that they have the potential to become commercially sustainable and self-financing as short break or vacation rentals. They have properties all over the UK. Not long ago, I toured several in East Anglia. Here's what I saw.
Stay in a landmark – A Martello Tower from the age of Napoleon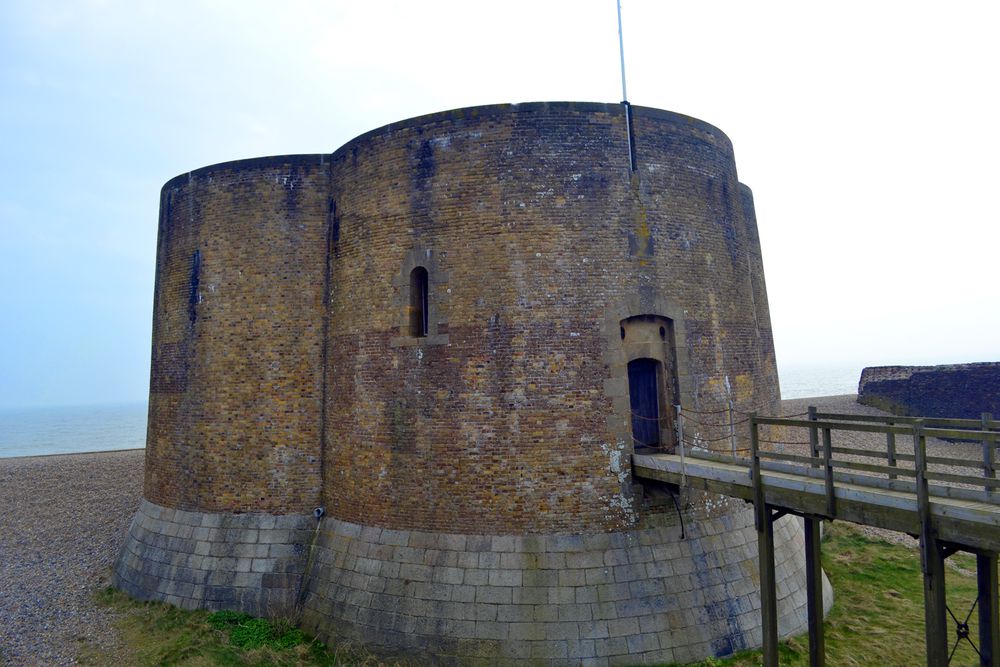 © Ferne Arfin
The Martello Tower  on the beach just beyond Aldeburgh was part of a series of fortifications built in the early 19th century to protect the British coast from invasion by Napoleon. A total of 103 were built and this one, on the Suffolk coast between the North Sea and the River Alde was the northernmost. It's also the most unusual in that it is quatrefoil in shape. Most Martello towers are single round towers with mountings for a cannon that can swivel through 360 degrees, on the roof. This one, built of about 1 million bricks, is composed of four, joined towers. The roof terrace, which you can use, has the mountings for four cannons – actually the barrels of older cannons put to reuse when technology changed.
Facilities of the Aldeburgh Martello Tower
The tower, entered via a bridge across a moat, can sleep four in two bedrooms, It has a large, central living area with an enormous dining table and an original teak floor. A smaller living area, opposite the entrance, has sofas and comfortable chairs. There are steep spiral stairs to the roof terrace and, if you are adventurous,you can explore the cellar, where the military cooking and storage facilities were once housed. But don't worry, all you need for a cosy stay is on the main level.
The tower has a small but fully equipped kitchen and a bathroom with a freestanding shower. There's oil-fired central heating and a solid fuel stove. That's where modern conveniences end. This is a landmark – so no television, telephone or wi-fi. And you will probably have to go outdoors to use your mobile phone.
What's special
Splendid isolation– The Martello Tower is about three quarters of a mile from the last buildings in Aldeburgh down a roughly weathered road full of potholes and hillocks. It sits at the top of the longest shingle spit in Europe. In fact, it was once part of another village, Slaughden, that was taken by the sea. At night, from one of the bedroom windows or the roof terrace, Aldeburgh is little more than a string of sparkling lights in the distance. And at some high tides you will be completely surrounded by water.
The views– You have to climb onto a platform to look out of the three windows (a central skylight lets in plenty of light), but it's worth tackling the small spiral flight to the roof terrace. Looking east, all you can see is the North Sea. To the west, The River Alde provides safe sailing and in good weather is usually bobbing with sailboats. Look north and Aldeburgh is visible in the distance. To the south is Orford Ness, once a secret military test area. Managed as a nature reserve by the National Trust, it's off limits except for special guided tours by boat from Orford because of potentially dangerous military ordnance scattered around.
The "sail" – This solid mini-fortress may have been strong enough to stand up to cannon fire (though it was never actually fired upon) but nothing can withstand the sea forever. Sooner or later, the waves that can batter the building in rough weather and sometimes fill the partially eroded moat cause leaks. To ensure that the tower remains a cosy, warm nest, it's lined with a tent-like, waterproof protector that feels a bit like a sail and adds to the marine atmosphere.
The acoustics – This is a solid and vaulted brick building. The walls that divide it into rooms and private areas do not extend all the way to the roof. And the round towers have a special way of conducting sound. Just be aware, if you are on vacation with friends, that echoing voices can carry around the place.
Stay in a landmark – Medieval Hall House at Purton Green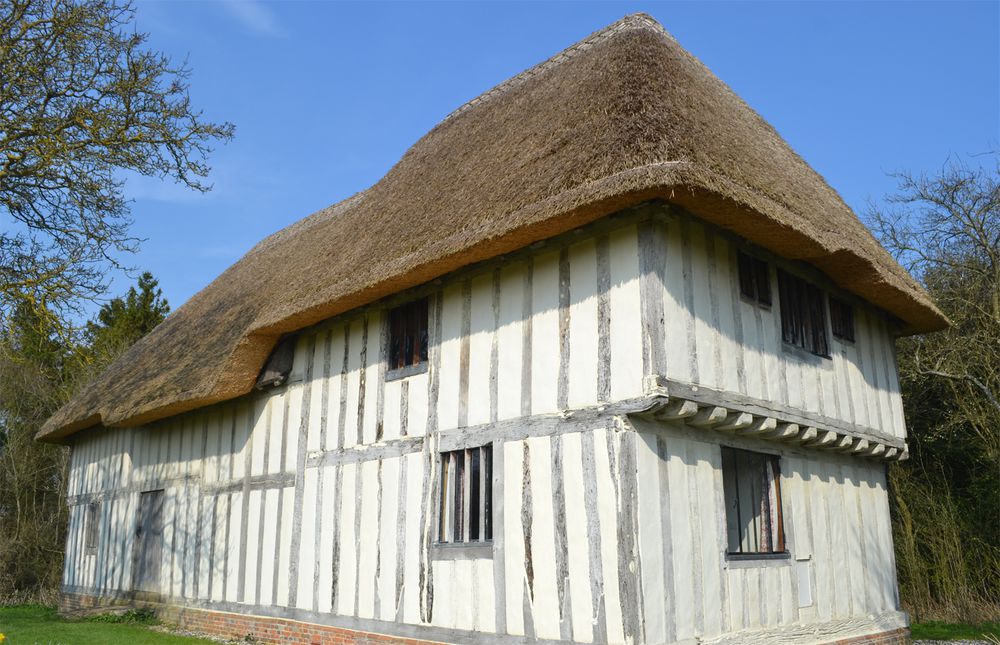 © Ferne Arfin
You don't have to dress up in medieval doublets and britches, bodices and mantles to stay at Purton Green, but it might add to the fun of a short break in this rare and remarkable landmark house.
First, of course, you have to find it. Purton Green doesn't exist anymore, you see. The house, built circa 1250, is all that remains of this lost Suffolk village near Stansfield. We followed the directions provided by the Landmark Trust and (on the second try) we ended up at a bend in a lane that led to a small, suburban development. Facing us, a cultivated field and a small wooden gate with two green wheelbarrows propped against it.
If you're staying here, those wheelbarrows are your "porter" – you pile your luggage in them and head out another 300 yards or so on a narrow path beside the field.
A Fairytale Arrival
The house and its small, manicured lawn is completely surrounded by seven-foot tall brambles (there must be a great blackberry crop in season). Except for a narrow path leading to it, it is completely invisible until you are upon it. Arriving is a bit like coming upon Sleeping Beauty's castle while everyone is still asleep.
In its day, this was a substantial house belonging to someone of importance – possibly the steward of the local Earl, the trust suggests. It is built in two sections. The smaller, which contains the hall itself, dates from 1250 while the larger end of the house was probably added in the 15th century and modified in the 16th. While obviously heavily restored, the basic structure and timbers of the house are still original.
Facilities
The house sleeps four in two bedrooms contained, as are all the main living facilities, in the newer, 15th-16th century side. It has a small, comfortable sitting room and a simple but relatively modern kitchen (it apparently dates from the late 20th century and was due for an upgrade when we visited). Upstairs there are two small but adequate bedrooms – full of character and visible half-timbering – and a modern bathroom with a bathtub. Heating is by electric storage heaters and a portable electric fire. (bring warm clothing for nights when the electric storage heaters will probably have given up all their energy and will be cold.) The older part of the house, the hall itself and the chambers at its end, are yours to explore and for rather grand dining. You may have to wear a coat though, as these rooms are unheated. As with all Landmark Trust houses, the mod cons do not include television or wi-fi and, being off the beaten path, mobile telephone reception may not be great.
What's Special
The age – Parts of the house you'll be staying in are more than 750 years old and have been restored to a condition as close as possible to their original state.
The hall – Hall houses predate the common use of chimneys. For heat and cooking, a fire would have been lit in a brick or tile lined pit. Smoke would then have risen high up into the rafters, creating a thick, insulating blanket under the roof, eventually dissipating through the thatch. Very few of these halls still exist (the Barley Hall in York is another) and this is a rare survival. If you look up into the unusual cross beams you will see that they are blackened with soot from the central hearth. The carved Elizabethan mantel on the (sealed) fireplace in the newer part of the house is a later addition.
The seclusion– This house is truly off the beaten path and its surrounding barrier of blackberry brambles and ancient hedges makes it a truly private hideaway.
Stay in a landmark – A Regency country house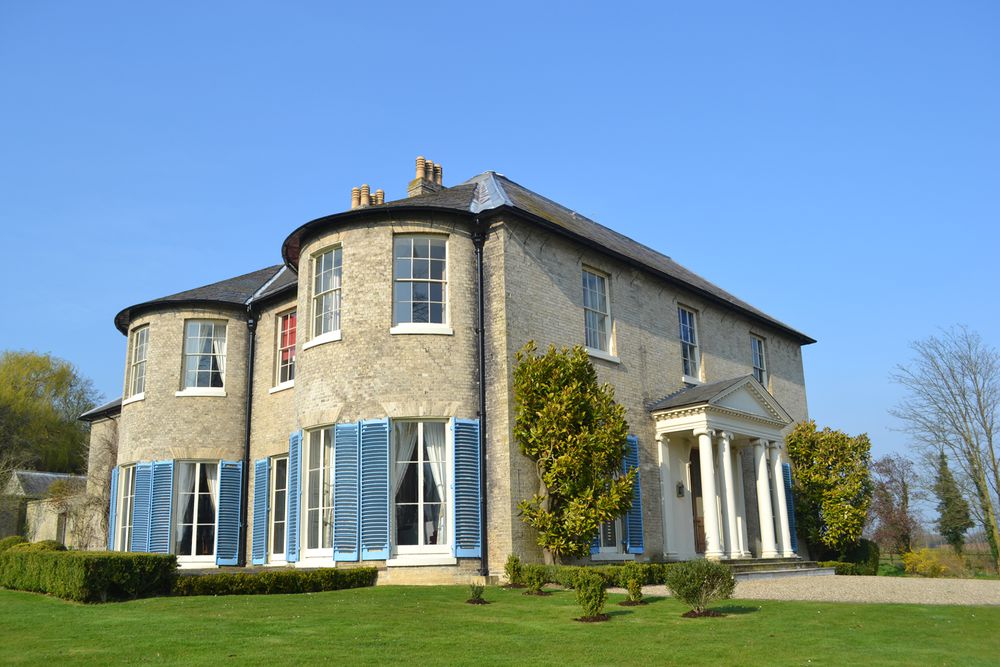 © Ferne Arfin
Cavendish Hall reveals itself dramatically. You approach it on a winding lane through its own woodland and suddenly it appears at the top of a hill. Jane Austen lived more modestly than the tenants of Cavendish Hall, but she no doubt attended parties and visited her wealthier relations in something along the lines of this Regency country house. Completed in the early 19th century, it's set in a 30 acre estate that remains complete, as it would have been when the house was built – with a lodge, coach house, walled garden, landscape park, woodland, garden and pleasure ground. The restored house is decorated with colors, papers and paints suitable for its period. With its high ceilings, decorative cornices, elegant fireplaces and large windows, it's a graceful, spacious house for a large family gathering or an important party.
Facilities
The house sleeps 12 in six bedrooms, three with double beds and three with twins on the first and second floors. A separate, accessible suite is available on the ground floor. It has an elegant formal dining room with a fabulous open fireplace and a more casual breakfast room. There are four bathrooms and an additional toilet. The kitchen, next to the breakfast room, is fully equipped and has a dishwasher, electric range (cooker), fridge and separate freezer, washing machine and microwave.
What's Special
The country views– Large sash windows overlook extensive views worthy of Constable. You might even see the local farmer's sheep and cows nibbling the grass in a field at the bottom of your lawn.
The period style– Oval bedrooms and sitting rooms loaded with ancestor portraits create an elegant, graceful ambience.
The glamorous details– A central staircase that sweeps up to an octagonal lobby, lit by an octagonal glass lantern-style skylight, beautiful marble fireplaces.
The nearby village – Cavendish, near Sudbury is a typical Suffolk village full of thatched cottages and independent shops.
Stay in a landmark – The most famous ancient house in Suffolk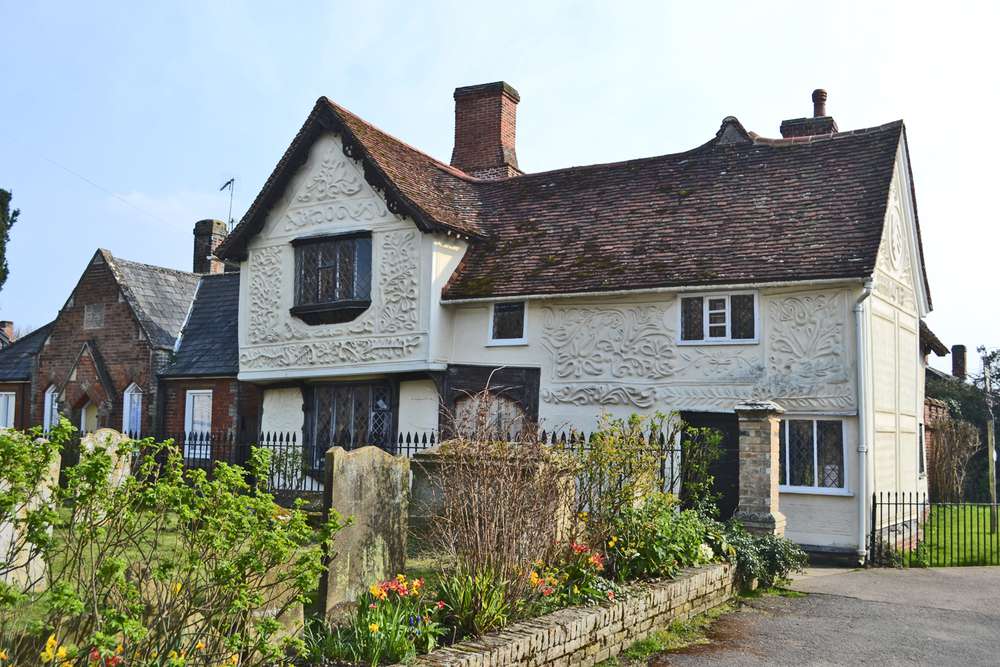 © Ferne Arfin
The Ancient House in the Suffolk Market town of Clare, is well known for its bold and elaborate pargetting, a form of bas relief, molded plaster decoration popular in East Anglia. It is claimed to be one of the best examples of the art in the country.
In fact, this small cottage is so picturesque that an American collector almost spirited it off to the states in 1930. Luckily for Clare, it was purchased by a local farmer and given to the parish council. Today it sits where it always has, within a small group of other ancient houses on the church green. Half of it is used as the village museum and, in fact, it was the Landmark Trust's involvement in converting half this house to a vacation rental that enabled the museum to continue.
Take no notice of the date 1473 in the plaster decoration on the gable end of the house. The house is actually thought to be about a hundred years older than that but various pargetting artists have added their own fanciful dates. About a hundred years ago the date on the house was two hundred years later.
Facilities
This tiny house makes a perfect place for a short, romantic getaway. It is essentially two rooms plus a tiny but usable kitchen and a bathroom with a bath. The sitting room and kitchen are at ground level, the bedroom and bath up a steep, narrow staircase. For heat, there's a woodburning stove in the sitting room and electric storage heaters.
What's Special
It's so pretty– There is simply no escaping how pictureque this place is. If you're on a short romantic escape, your snapshot memories will be sensational. The downside of course is that in vacation season people (like me) will be stopping by all day long to take pictures.
Character features– There's plenty of half-timbering and heavily beamed ceilings, crooked floors, an oriel window with interesting carvings and an inglenook-style fireplace.
Garden – Even in this setting, in the center of town, the house has a small, enclosed garden.
Visit the Landmark Trust website to see other properties all over the UK and to find out more about how to stay in them.