by Ferne Arfin 12 October 2020
The secret world of the Chelsea Physic Garden
Within five minutes of entering the Chelsea Physic Garden, I was amazed by the history and miraculous, secret powers of plants. An hour later, after a free guided tour, my head was exploding.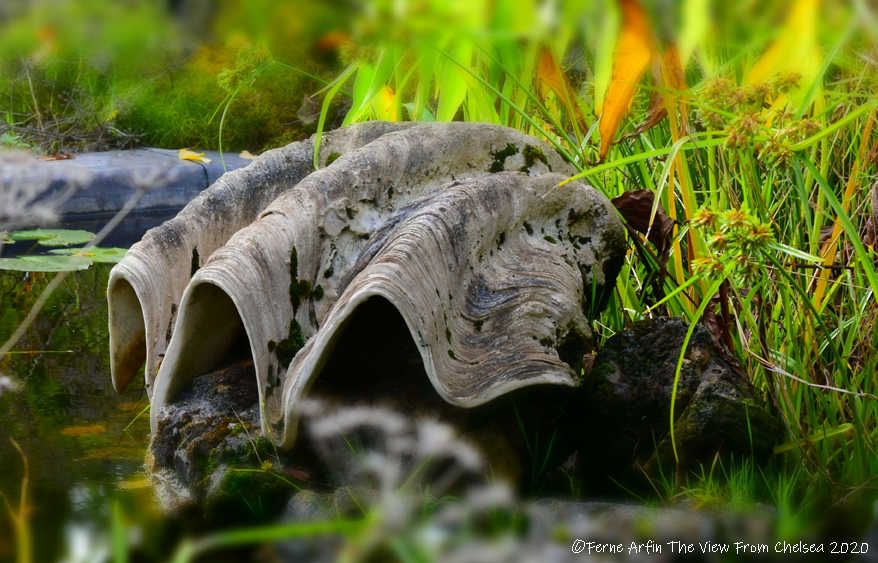 Did you know that if you rub banana skins on age spots and freckles you can make them almost vanish? Or that sunflowers pull radioactive strontium out of the soil and can harvest gold?Me neither. But I learned that and a lot more at the Chelsea Physic Garden, London's oldest botanic garden in an almost hidden corner of Chelsea.
Like a lot of Londoners, I'd heard about the Chelsea Physic Garden but never managed to visit it.  Until relatively recently, the garden founded by the Society of Apothecaries in 1673, was only open to the public for a few hours, twice a week. It never seemed to be open when I got the impulse to visit.
These days, between April 1 and October 30, it's open every day. And this year, it's even open to visitors right through London's lockdown, ending 2 December. Finding it, though, is no easy matter. You'd think four acres of gardens and open space would be hard to hide among the mansion blocks full of smart flats along the Chelsea Embankment. But, a high brick wall separates the Thames-side Chelsea Physic Garden from Royal Hospital Road, several hundred yards west of The Chelsea Royal Hospital (famous for the red uniforms of the military retirees, the Chelsea pensioners, who live there). That and the fact that the entrance is nowhere near the published address means the place is pretty well camouflaged.
The unexpected Chelsea Physic Garden
Nevertheless, 50,000 visitors manage to find their way to the unobtrusive entrance on Swan Walk every year. That may be small change compared to more than a million who visit the nearby Saatchi Gallery annually but clearly this garden is worth the search.  A stained glass window dedicated to one of the garden's luminaries that I saw on a visit to Benedict Arnold's grave inspired me to look for it. The window honours William Curtis, an 18th-century botanist whose book, Flora Londonensis, was the definitive guide of the day to all the known plants native to London. Curtis was Praefectus Horti (demonstrator of plants) at the Chelsea Physic Garden in the 1770s. Curious, I plugged in my SatNav, and set out to find it – only to discover it has been virtually under my nose for years.
London's oldest botanic garden maintains and cultivates a living collection of more than 5,000 edible, medicinal and useful plants. As 350-year-old walled gardens go, this one is not what you'd expect. There's no neat, formal knot garden with manicured beds of scented herbs, no espaliered fruit trees along the walls, no crowds of blowsy old roses. Instead, it's actually a bit of a mess. That's the charm of this wild-looking landscape with plants organized according to their geographic and cultural origins; their traditional roles in medicine, science and myth, and their uses, past, present and future.  The free guided tour of the garden and all its remarkable plants is a consciousness-expanding experience.
History of the Chelsea Physic Garden
The Worshipful Society of Apothecaries of London founded the garden in 1673 to grow medicinal plants and to train apprentices in their identification and use. The Society, which still exists, managed the garden until 1899. Today it is managed as a charity and still has a role in education and in maintaining a collection of rare medicinal plants for study, research and sharing with other institutions.
The garden's history is studded with colourful, noteworthy characters and important discoveries. It owes its very existence to Sir Hans Sloane, a true man of the Enlightenment who served as physician to two kings and a queen. He was president of The Royal Society, a philanthropist and an inveterate collector whose collections formed the foundation of the British Museum, the Natural Science Museum and parts of the British Library.
From humble beginnings to a chocolate fortune
As a young Irish student from Killyleagh, he apprenticed at the Chelsea Physic Garden. Years later, after he made his fortune with such remedies as chocolate milk (yes, read on) and quinine and after purchasing Lordship of the Manor of Chelsea, he agreed to lease the four acres of the garden in perpetuity to the apothecaries for a peppercorn rent of £5 a year. They were also required to provide 50 pressed specimens of newly discovered plants a year until the total reached 2,000. The total very soon exceeded that number. The charity that runs the garden still pays £5 a year to the Cadogan Estate, landlords descended from Sloane's married daughter.
Another benefactor was the 18th-century explorer and naturalist Joseph Banks. Banks accompanied Captain James Cook on the first voyage of the Endeavour and brought back thousands of plants from South America, Tahiti and New Zealand. As advisor to King George III, he turned Kew Gardens into the leading botanical garden in the world. Two giant clams, one pictured in the Rockery Pond at the top of this post, returned with Banks from Tahiti. He subsequently led the first British scientific voyage to Iceland, bringing back the black volcanic basalt that surrounds that same rockery pond as ballast.
The Rockery Pond, by the way, is thought to be the oldest rock garden in Europe and is a Grade II listed historic monument. If you examine it closely you'll find chunks of fused bricks from a Chelsea brick kiln and bits of carved masonry from the Tower of London included in its structure.
For Black History Month, a little-told but important story
In 1687, Sir Hans Sloane sailed to Jamaica as physician to the new governor, the Duke of Albemarle. It was a short posting, of only two years, because the duke was fond of high living, ignored his doctor's advice and died 15 months later. But during his time there, Sloane made numerous observations of plants and local remedies.
It's commonly reported that Sloane observed local women using a mixture of chocolate and milk to treat stomach ailments and fussy babies. He added sugar to make the remedy more palatable and later made part of his fortune selling the recipe to Cadbury Chocolate. He also collected and brought back quantities of cinchona bark, the source of quinine, used to prevent and treat malaria.
What is rarely mentioned is that Sloane's visit to Jamaica coincided with the beginnings of the slave trade there. And the "local people", both men and women, who showed Sloane how to use these materials, where to find them and how to grow them were almost certainly enslaved people. As October is Black History Month in the UK, it seems important to recognize this overdue historic debt.
And it's also important to recognize another source of Sloane's fortune. In 1695, back in London, Sloane married the widow of sugar plantation owner Fulke Rose. Rose was an early settler of Jamaica and one of its most important slave buyers. By marrying his widow Sloane was further enriched with a third of the slave-produced sugar income.
A British Museum special podcast tells the story. Listen to it here.
Find out more about The Secret Cures of Slaves: People, Plants and Medicine in the 18th-Century Atlantic World. 
What to see at the Chelsea Physic Garden
The best way to visit the garden is to take a free guided tour. The tours, led by knowledgeable volunteers, are offered several times a day. Among the areas that I found most interesting were:
The Garden of Medicinal Plants – Just left of the main entrance, this area is organized by geographic area as well as medical specialisation. There are traditional remedies – some effective, some not – and a range of pharmaceutical plants.  The bark of a yew tree in the oncology area was a source of taxol, an important chemotherapy drug used in breast, ovarian and lung cancer. The substance defied synthesizing and cropping the tree bark proved unsustainable. Almost 60 years later, a sustainable source was found when the same substance was discovered in the needles of another evergreen tree in another part of the world. Deadly nightshade, is a source of belladonna, still used in ophthalmology, and foxglove, the source of digitalis used for heart disease. A small section is devoted to medicines of the future where you will find hemp and plants currently being studied for all sorts of treatments.
The Garden of Edible Plants – Edible vegetables, herbs and spices, plants rich in key vitamins and plans used to produce alcohols and oils are organized in this garden. Some you'll easily recognise while others may not be familiar in their natural state. Apios americana, identified here as the American groundnut, is the peanut to you and me.
The Garden of Useful Plants includes plants grown for rope and fabric fibre, paper making, dyes, cosmetics, perfumery, scientific research, soil detoxification and even building materials. Helianthus annuus, the common sunflower, can be used to remove pollutants, including radioactive strontium, from soil. They can even gather gold particles from gold-rich soil in their leaves and stems, making sunflowers one of the cheapest ways of harvesting gold for electronics. Cannabis sativa (yes that one) is used for rope, Omega 3-rich edible oils, paper and even building render.
There are also historic gardens, a fernery, a woodland garden, the largest fruit producing olive tree in Britain and several historic greenhouses. And to top off your visit, a rather pleasant cafe serves hot and cold dishes, drinks and lovely cakes.
How to visit the Chelsea Physic Garden
First off, ignore the Royal Hospital Road address published on the website. That's the exit. The entrance to the garden is an opening in the wall around the corner. And these are the facts:
Season: April 1 to October 30. The garden is also open for a Christmas Fair at the end of November
Opening hours: Monday to Friday and Sunday, 11 a.m. to 5:30 p.m. Last entry 30 minutes before closing or dusk.
Tickets: Standard adult admission is £12 or £13.50 with a donation. Concessions for students and children aged 5 to 15 are available as are family tickets for two adults and up to three children. Children under 5 are admitted free.
Other facilities: Cafe, restrooms and a gift shop
During the COVID19 Crisis
Tickets must be booked for a 30-minute admission window and purchased in advance from the website. Tickets are free for Friends of the Physic Garden but must be booked in advance as well.
Visitors are asked to limit their visits to 90 minutes. Read visitor guidelines for more COVID19 information.
The 100-year old greenhouses are currently closed.
The shop is currently closed but a selection of books, gifts and other products is available from the online shop.
If plants grown from cuttings of the garden's plants are available, they are displayed on tables near the exit.
Like this post? Please pin to share