by Ferne Arfin 29 July 2020
Back to the pub after lockdown
Last Sunday I ventured out to a London pub with friends for the first time in nearly five months. So what was it like and will we go again?
For many of us in London, social life since the beginning of March has consisted mainly of Zoom sessions. Dining has been all about home cooking with the occasional takeaway and home baking…lots of home baking.
But the pubs have been open for a few weeks now so I decided, with a few friends, to pluck up the courage to try one for Sunday lunch. Having seen pictures of overflow crowds pouring out of bars and pubs in Soho, I can't say that we weren't a little nervous.  But, we needn't have been.
The pub
We chose the Red Lion in Barnes, a part of the West London borough of Richmond. It has been a favourite for a long time because of its overall ambience, excellent food, extensive beer garden with a heated deck, and friendly welcome. The usual patrons are a mix of families, local singles, groups of adult friends and members of several nearby sports clubs. It was unlikely that we would face a crush the likes of which have been seen elsewhere in London. It's also a dog-friendly pub which makes it convenient as my friends and I have Westies.
The pub's website FAQs explained the deep cleaning and social distancing policies, We were encouraged to make a reservation for Sunday lunch with sittings limited to two hours.
The pub experience
We joined a small, socially-distanced queue outside the pub and the doors opened promptly at noon. Inside. front of house manager Claire Morgan and another member of staff greeted customers. They explained that there would be no bar service and table service was the rule of the day. Instead of ordering and paying for our meals at the bar (the usual pub routine) a server would take our food and drink orders at the table.
We were given a disposable one-page menu printout, one per table and, before being shown to our  seats we were asked to use a contactless hand sanitiser that dispensed a measured blob of sanitizing foam.
The first thing we noticed on the way to our table was the extra space. Ten tables, which must have represented between 40 and 50 potential diners, had been removed.  Arrows on the floors indicated the one-way traffic system in operation. And we noticed several more hand sanitising stations outside the restrooms and near the door to the garden.
Other precautions at the pub
Other precautions were low key but never-the-less in evidence. Doors and windows were left open allowing for circulation and a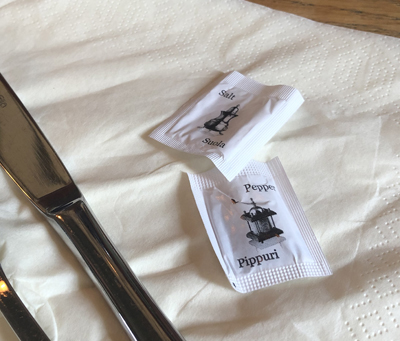 fresh, airy atmosphere. Salt and pepper was provided with our paper napkin-wrapped cutlery in individual paper packets. When our waitress brought water, she set a tray with glasses and a bottle on an unoccupied corner of the table and asked us to take our own glasses and pour our own water. Similarly, when she brought our orders, she placed the tray on the table and stepped back as we helped ourselves.
We did notice that the staff were not wearing masks, but there was plenty of room for everyone to keep their distance.
On the menu when we went back to the pub
We gave the menu a good workout, each of us sampling something different. Starters included a spicy houmus with charcoal grilled focaccia; a salad with mozzarella mousse, fresh peas and pea shoots, and a slice or two of potted ham hock. For mains we tried a crabmeat stuffed roll; a caesar salad with grilled haloumi, and a full monty Sunday roast beef with all the usual English trimmings. For dessert we shared a gorgeous berry pavlova.
(Enlarge photos below with arrows to see captions)