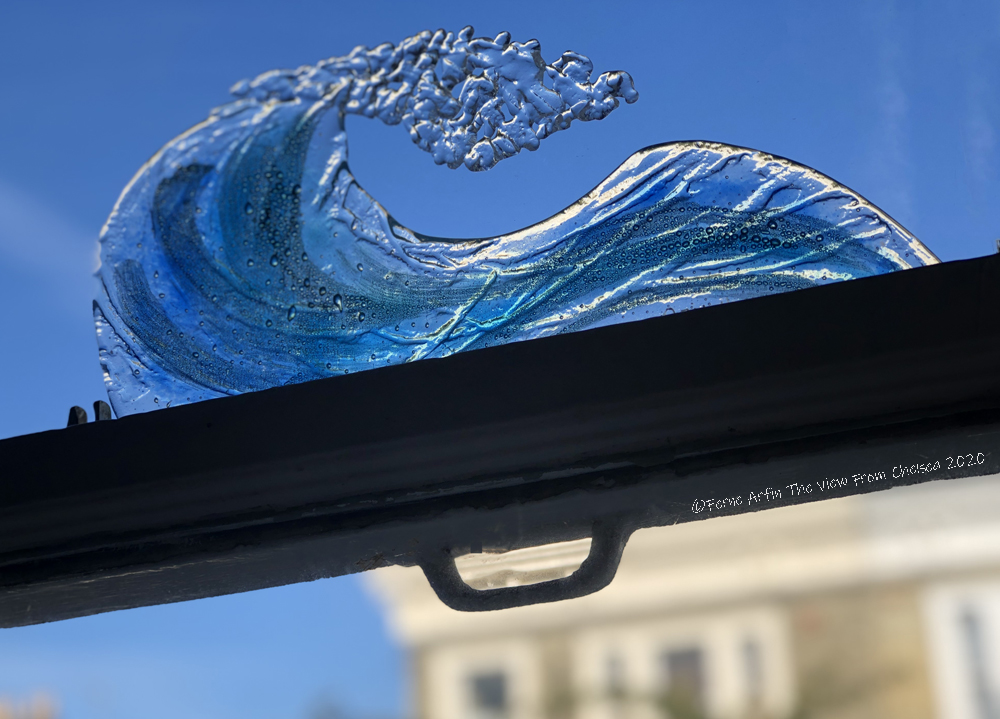 by Ferne Arfin 5 August 2020
The artists and makers of Scilly
It's not hard to understand why artists and craft makers are attracted to the Isles of Scilly. The radiant light and the colours and shapes of nature – cream sand, pale turquoise shallows, strange piles of granite boulders and bleached green drifts of seagrass – are irresistible.
On clear days, when the afternoon sun slides across my London kitchen window, the light breaks through a sparkling glass wave perched on the window frame, bathing the room with watery shades of blue and green. The wave, by glass artist Oriel Hicks, and its magical effect are daily reminders of my short visit to this tiny archipelago and the artists and makers of Scilly I met there.
About 35 artists live and work in the Isles of Scilly. Every one of the five inhabited islands – St Mary's, St Agnes, St Martin's, Tresco and Bryher – has at least one art gallery or artist's studio open to visitors. When you consider that the entire population of the archipelago, 30 miles off the West Coast of Cornwall, is less than 2,000, that makes for a vibrant art scene. This is a snapshot view.
Oriel Hicks: Stained and fused glass artist
My first encounter with glass artist Oriel Hicks was seeing her stained glass window of a pilot gig, (the rowing boat that teams of islanders race every summer) in tiny St Agnes Church. The window, on one of the Scilly "off islands", was made in honour of her late son.
Now, as we sit in the sunshine, outside her studio, in the middle of a small industrial estate on the edge of Hugh Town, the capital of St Mary's, she relates how she became one of the artists of Scilly after a childhood in the London suburb of Croyden.
She first encountered the islands as a seven-year-old, on holiday with her parents. She must have been a very determined teenager because, when she was 14 and her parents decided to vacation elsewhere, she made her own way to Scilly.
After studying architectural glassworks and design  – mostly leaded cold glass for stained glass windows – at Reigate Art School, part of East Surrey College, she returned to the islands every summer until she made it her permanent home. She made her first windows in Scilly and St Ives on Cornwall 28 years ago. Today, her stained glass can also be seen in churches on St Mary's and Bryher, two of the other Isles of Scilly, elsewhere in Cornwall and Britain. She also undertakes private commissions and leads occasional workshops.
The most beautiful place on earth
Much of her non-architectural work involves fusing coloured glass into bright, decorative forms – some of them three dimensional – as well as smaller gift objects for the tourist market. She also makes deceptively simple pebble coasters, dishes and trays that look like carefully collected finds tumbled to smoothness by the sea. They are actually all glass, each designed and created from powdered glass and cleverly fused together.
Hicks considers the Isles of Scilly, "the most beautiful place on earth,"  because of the colour and quality of the light. "The colour of the sea and the very bright light suits glass. It lends itself to inspiration, to fully-formed ideas. My task is to work out quicker, safer ways of turning ideas into glass.
Hicks's work can be seen by appointment at Phoenix Craft Studio on St Mary's , Tamarisk Gallery in Hugh Town, St Mary's, founded with her daughter in 2016, and Summerhouse Gallery, Marazion, in Cornwall.
More work by Oriel Hicks
Please click to see clear images and captions
Lou Simmonds: Potter, painter and basketmaker
Lou Simmonds works on St Agnes, the most southwesterly community in the UK.
Her compact, glass-walled studio is one of several in the architecturally impressive Island Hall, opened in 2014. It sits in a sheltered hollow below the St Agnes Lighthouse and within earshot of the sea.
She makes functional pottery from clay she gathers herself in St Agnes on Cornwall, as well as small amounts from a secret spot on St Agnes in the Isles of Scilly itself.
Her handmade glazes reflect the subtle colours of the islands – the sea, the sea-smoothed pebbles, the wildflowers and the wild Atlantic skies. She uses the local kelp to create shade of blues and pinks.
A Scilly artist and a creative polymath
When it comes to creativity, Simmonds is something of a polymath. She started early, as a child, making whole populated villages from cereal boxes, scraps of cloth and beach finds. "Hours were spent," she has recalled, "combing the endless beaches for treasure and everything that was found was transformed into something. I built, carved and whittled." (If you look closely at some of the pictures in the gallery below, you can see that she is still whittling some of her pottery tools.)
After studying at the Laban Center for Music and Dance,  (now Trinity Laban) in London, she trained as a teacher. She learned basket making from well-known Barnstaple basketmaker, the late Jack West, undertaking commissions from homeware designer David Mellor and Jasper Conran. Today she still makes baskets from willow, tamarisk and "ghost rope" salvaged from the beach. She paints, draws and makes prints as well.
A new toy
Simmonds is a self-taught potter but she honed her craft at the famous Leach Pottery in St Ives, founded by Bernard Leach in the 1920s and considered by many to be the birthplace of British studio pottery.
Today, when I visit her studio, she is excited to be experimenting with her newly acquired kick-wheel, an antique purchased from the Leach Pottery that Bernard Leach himself could have worked with.
A kick wheel is one of the oldest forms of potter's wheel. The potter keeps up a steady wheel speed by working a treadle with her foot. It's similar to using an old fashioned treadle sewing machine but requires considerably more skill, coordination and stamina. I've tried and failed to use one myself .  Now, as I watch Simmonds attacking the malleable clay with her elbow as well as her hands, the kick wheel treadle with her bare feet, and producing one big vessel after another,  I am in awe.
You can see and buy Simmonds work from her own website or on The Island Makers website, as well as from galleries around the Isles of Scilly.
More work by Lou Simmonds
Please click to see clear images and captions
Emma Eberlein: Eco-artist and gallerist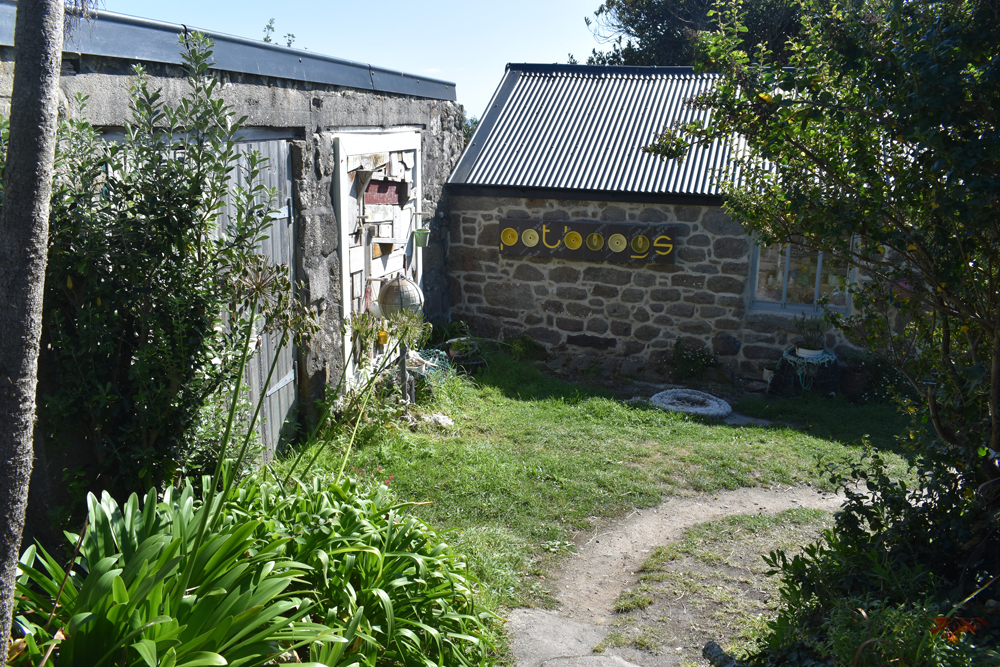 St Agnes Artist Emma Eberlein showcases her own work as well as other artists in her Pot Buoys gallery.
When you circumnavigate St Agnes, the most southwesterly of the Island of Scilly, one of the first attractions – after the wildflowers and the ripening blackberries – is Emma Eberlein's Pot Buoys Gallery. It's set in a ramshackle pair of fishermen's sheds, a few steps down from the paved path.
Eberlein showcases an eclectic assortment of work. Her own art, which she classifies as eco-art, consists of island motifs painted in acrylic on driftwood; jewelry and sculptural assemblages of sea-eroded plastics and 17th century beads shipwrecked on the island. She makes nested "Russian" dolls that are sailors, octopuses and fisherman instead of Russian babushkas and translates her illustrations of shells, wildflowers and crustaceans into children's colouring books and witty "treasure" boxes.
Pot Buoys also carries the work of other Scilly artists and markets work produced by children in St Agnes's primary school art workshops that Eberlein conducts. Add to that glassware, ceramics and stationery and you have a great little shop to find unusual gifts and souvenirs of the Isles of Scilly.
Emma Eberlein's Pot Buoys Gallery
Please click to see clear images and captions
Peter Macdonald Smith: Artist in oils and acrylics
Scilly artist and Leicestershire native Peter Macdonald Smith arrived, like many in Scilly's creative community, on a holiday; fell in love with the place and returned as soon as he could.
A camping trip with friends on St Agnes in 1964 turned Smith on to the special atmosphere of the islands. By 1965 he was back, working on a farm and painting his abstract expressionist work, in oil and oil pastels, every evening.
He'd left school with no qualifications but a crash course in academics earned him sufficient secondary school credentials to enter a four-year fine arts degree program at Falmouth Art School. After, his peripatetic career saw him working as a shoe designer, trying teacher training, joining the Newlyn Society of Artists alongside such leading British artists as Patrick Heron and Terry Frost, and eventually returning to the Isles of Scilly to live and paint.
A variety of styles
Today Smith works in his sunny garden on Rocky Hill, east of Hugh Town on St Mary's. He paints in oils, oil pastels and acrylics creating impressionistic seascapes and vibrant expressionist abstracts as well as sculptural collages. Most days, Smith is on hand and happy to talk about his work between noon and 5 p.m. at his  Porthloo Studio Gallery, a short walk along the coastal path above Porthloo Beach. Prints of his original paintings are available through his website.  Visit the website for a good overview of his abstract work as well.
Paintings by Peter Macdonald Smith
Steve Sherris: Scilly artist en plein air
If, while visiting one of quieter beaches in the Isles of Scilly, you happen upon a man in paint-spattered khaki trousers, standing in thigh-deep water while painting at an easel, you've probably come across Scilly artist Steve Sherris painting en plein air.  Sherris, a Scilly native and self-taught artist, has been painting in oils, outdoors and direct from nature for 15 years.
His output, some of which you can see on his Instagram page, @Scillyartist, is prodigious.
When he's not out capturing island views in his quick, expressive style, Sherris can be found in his Silver Street Gallery in Hugh Town, St Mary's, or upstairs in his canvas and board crammed studio, finishing large works. The gallery and shop are popular with visitors and Sherris is often happy to talk painting with customers.
During the winter months, Sherris travels to other locales to capture scenes from London to Venice and North America, for sale to the well-travelled visitors. Original paintings and giclée prints of his work are also available from his website.
More about Steve Sherris
Find out more about the artists of Scilly
When it comes to the variety of artists and makers, during my short visit I barely scratched the surface of the artwork available to see and buy in the Isles of Scilly. To find out more, pick up a copy of the Isles of Scilly Arts Guide at the tourist office on St Mary's or check it out online
Like this post? Please Pin to share or read later