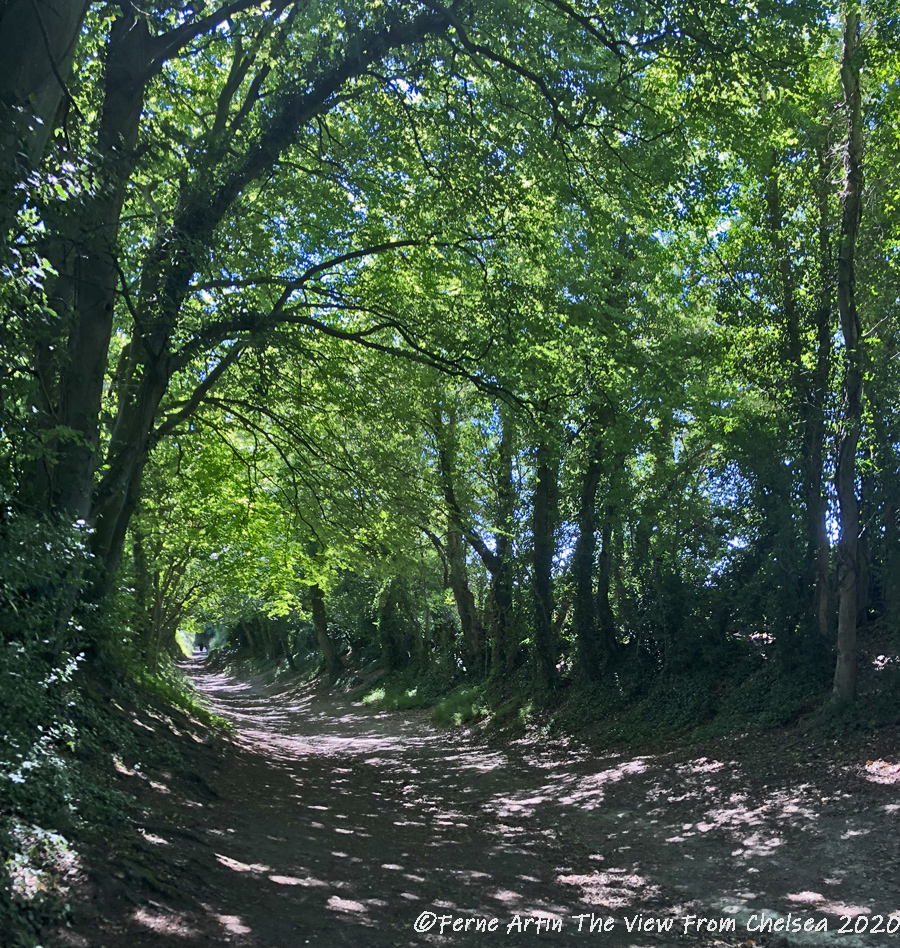 By Ferne Arfin 22 August 2020
West Sussex walk with a difference
A July walk in the lush West Sussex countryside was a lovely escape – as expected – and a lot more besides.
When I joined West Sussex guide Kathryn Burrington for a walk on the edge of England's South Downs National Park, near Chichester and the Goodwood Estate, I was anticipating a gentle ramble through fields of grain, past charming flint cottages and, with luck, some long views across the Downs to the English Channel.
It was also going to be a chance to enjoy socially-distanced company and wide-open spaces after nearly five months in lockdown. It was all of that. What I didn't expect was that I would be crossing country where some of our distant – very, very, very distant – ancestors hunted rhinoceros, hippos, extinct aurochs and Megaloceros giganteus (giant Irish elk). Or that I would be sheltering from the hot August sun in an ancient tree tunnel worthy of Game of Thrones and worn down into the floor of a primaeval forest by the feet of hundreds of generations before me.
More than West Sussex scenery
Besides being a walking guide, Kat is a professional travel writer and photographer. She's also a West Sussex native and it
shows in her passion for the area and the research she has put into her three to five-mile walks.
I joined her for her Halnaker Tree Tunnel and Windmill Walk, one of two experiences she offers through AirBnB. The four-mile (optionally three-mile) circular walk starts and ends at a pub in Halnaker, a village on the northern edge of the historic city of Chichester. After passing through the vineyards of the Tinwood Estate and crossing golden fields of ripening barley, it enters a quiet lane that's actually an ancient Roman road. There we were enveloped by a magical tree tunnel or "hollow way" (a bit of insider knowledge shared by our guide ) and passed a picturesque flint cottage or two before gently climbing onto the downs to a restored windmill.
Walking with ancients
Along the way, we learned that the oldest human remains ever discovered in Britain, the bones of our extinct predecessor, homo heidelbergensis, stalked fierce, giant mammals here 500,000 years ago. His six-foot-tall remains were discovered nearby in the mid-1990s  – along with hundreds of finely worked hand axes as well as the remains of his prey.
The tree-tunnel, it turns out, is a combined natural and man-made phenomenon. The Romans built their roads on deep foundations of chalk and stone. Over time, the footsteps of tens of thousands of humans, along with their carts and animals, wore the road deeper and deeper into the chalk. Meanwhile, the trees growing on either side held the banks and eventually formed an arch over the path – the hollow way.
It's this kind of informed local knowledge – including some naturalist tidbits about geology, birds, small mammals and plants – that makes the walk a good deal more than a simple country hike. And, of course, it wouldn't be an English woodland walk without some folklore about local magic and the witches, fairies and spirits who inhabit these ancient places.
Please click arrows, lower right corner of images below for caption information