by Ferne Arfin updated 4 August 2020
Where to stay and dine in Scilly
When the sun goes down on the Isles of Scilly, thoughts turn to where to stay and dine in the islands – food, wine and a comfy bed. Better plan well ahead though because, on these tiny islands, everything books up early.
The choice of where to stay in the Isles of Scilly includes every style of accommodation – from luxury glamping and a secluded spa hotel to a historic fortress, granite quayside buildings, lively pubs and stylish self-catering. But with only a handful of examples in each category and many visitors returning every year, it's a good idea to pin down your booking as early as possible.
The same is true of dining options. The choices are limited to a handful (or less) of restaurants, cafes and bars on each of the five inhabited islands. But once you've landed your table, expect wonderful locally caught, bred and grown ingredients: fresh fish, shellfish, lobster and crab pulled from the sea hours before they are served; vegetables from farms on Bryher, St Martins and St Mary's; meats and dairy from St Agnes, wine from vineyards on St Mary, even gin from a local distiller.
My stay in the Isles of Scilly was a short one so I was only able to sample a small selection of establishments. Use the links throughout this post to find out about more places to stay and dine in Scilly.
Main above photo courtesy of The Beach BBQ Restaurant
Staying on St Mary's
It's a bright sunny September morning when we lift off from Penzance Airport for the flight to Scilly. Our fixed wing, BN2 Islander Skybus, operated by Isles of Scilly Travel, is the smallest aircraft I've ever flown in — eight passengers and a crew of two.* I imagine I can reach across and touch everyone in the plane.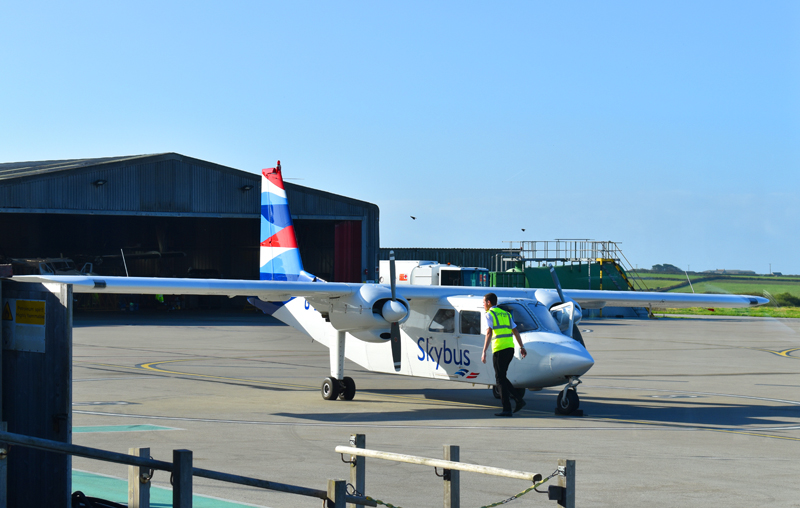 * The Skybus BN2 Islander at Penzance Airport (above). It's now been replaced by larger DHC6 Twin Otter aircraft that seat 19. Too bad because flying in this little plane was part of the travel adventure. Below,  the islands begin to come into view surrounded by a surprisingly tropical looking sea.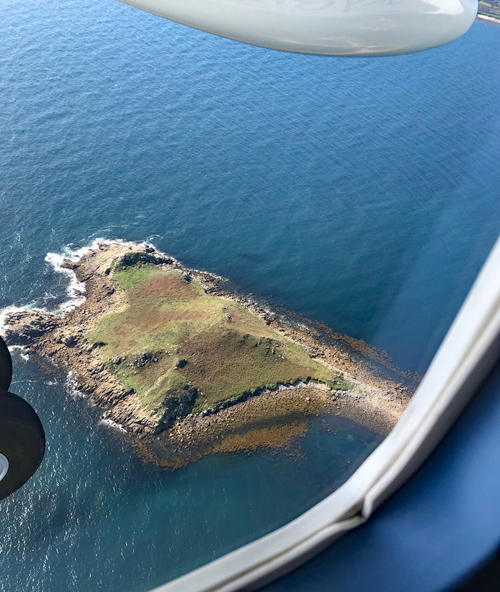 Beneath us, the Atlantic sparkles, a deep, autumnal blue. About 15 minutes into the flight, the ocean begins to take on a Caribbean hue. A scattering of apparently uninhabited islets appear and then we are there, gliding into St Mary's Airport in the capital of the Isles of Scilly. And without even the usual landing bump.
In the time it takes me to cross about 50 feet of tarmac, my bag is waiting and so is the driver from The Star Castle Hotel where I'll be staying for the next two nights. It's a genuine 16th-century fortress and one of the landmarks of the Scillies.
Star Castle – Stay and dine in Scilly with history
The Star Castle was built in 1593, during the reign of Queen Elizabeth I, to protect the islands from expected Spanish and French invasions that never materialized. It's an eight-pointed star-shaped stone structure surrounded by garrison walls and atop a steep hill overlooking Hugh Town, the harbour and the sea.
This is a castle in the original sense – a military fortress rather than a noble dwelling. It was converted to a hotel in the 1930s and acquired by the current family owners, who run it as a 4-star hotel, in 2003. The hotel has the sort of features you'd expect of a 16th-century fortress – which can either be quirkily, quaintly charming or claustrophobic, depending upon your taste.
Fortunately, guests who aren't taken with the character rooms can opt for airy, spacious garden rooms while enjoying some of the castle's historic public spaces. These include the dining room, an original 16th-century officers' mess with beamed ceiling and exposed stone walls, and the below ground level bar, once a dungeon. I sample both a garden room and a top floor castle room and to be honest, I find the castle room chilly, dark and in need of some refurbishment. Later, I'm unable to find a photo on the hotel's website that looks anything like the castle room I'm staying in.
I gather, from reading what other guests have written, that some of the castle rooms are wonderful and others not so much. My advice, unless you have previous knowledge of the castle rooms and know which one you want, choose a garden room. Several of those have private garden areas and sea views.
Travel tip: The road up to the castle from the Hugh Town quay is not very long but extremely steep in places. The first part of this lane is so steep, in fact, that there is a handrail to hang on to for hauling yourself up.  What no one bothered to point out was that just to the left of this very steep route, there is another lane that zigzags up to the castle gate at a much shallower angle. The hotel has a van for collecting guests at the quay or the airport but if you like to be able to pop in and out of your room through the day it's good to know about this easier way up.
Dining at the Star Castle
Guests have a choice of two restaurants, the officers' mess in the Castle, mentioned above, or the Conservatory, a summer greenhouse with white wicker furniture and glass-topped tables. Breakfast is served to hotel guests in both areas. In good weather, tables on the roof of the castle can be reserved for lunch.
I sampled generous breakfasts in both dining rooms, a full English in the castle and, next day, a more restrained yogurt with fruit in the sunny Conservatory. Dinner in the Conservatory, billed as specializing in seafood, was competent but underwhelming and the lobster I'd specially ordered in advance was fussily prepared and disappointing.
It's a prix fixe menu that changes regularly and is fairly priced for two, three or four courses. When I visited, the selection of mains included three fish dishes a vegetarian option and a meat option.
Overall, I was somewhat disappointed by the Star Castle. It's an interesting and historic place to stay but I didn't find it lived up to some of the glowing reviews I'd read. Of course, others may disagree. TripAdvisor has awarded the Star Castle a Certificate of Excellence based on traveller reviews. Check out what other guests think of this hotel and book it through TripAdvisor. 
To discover more places to stay around the Isles of Scilly, visit the Isles of Scilly website.  The site also has up-to-date information about COVID-19 and when the islands will open to visitors again.
More places to eat in on St Mary's
My visit to the Scillies was a short one so I didn't have time to sample more than a handful of restaurants and cafes. I did, however, discover a few surprises. One afternoon, while strolling back toward Hugh Town, after visiting artist Peter Macdonald Smith and climbing up to see Harry's Walls , I came upon a sandwich board propped at the end of a path beside the road. It promised drinks and food. An arrow on a timber wall pointed the way and I could smell something nice on a grill. I followed my nose to The Beach BBQ Restaurant (pictured above at the top of this post).
Casual and modern, The Beach occupies a converted boat shed with a comfortable deck overlooking Porthmellon Beach and St Mary's harbour. The focus is on seafood and slow reared rare breed meats from the owner's own Gloucestershire farm, with a menu that is at once familiar (burgers, tacos, grilled
lobsters and steaks) and sophisticated. My light, late lunch of the house "Super salad" (roasted sweet potato and butternut squash, broccoli, quinoa, toasted pine nuts, local egg, pomegranate and avocado) was accompanied by halloumi "fries" – the most meltingly delicious things made of cheese that I have ever eaten.  I need to go back just to have them again.
Elsewhere on St Mary's
While on St Mary's I had time to sample two more restaurants.
Dibble & Grub bills itself as a tapas bar but would probably be better defined as a "small plate" bistro. A large, somewhat confusing menu included foods from around the Mediterranean rim with more selections from Greece and the Middle East than from Spain. The dishes I sampled were acceptable if, occasionally, a bit worthy. I don't feel able to fairly review the restaurant as I was on my own and clearly this is a place to go to with a group so you can sample a lot of different things. A few quiet couples at tables near me looked equally at sea. This is the
kind of a lively, noisy place that you definitely want to visit with lots of company. The restaurant sits right on Porthcressa beach, west of Hugh Town with a small number of tables on an outdoor terrace and most indoors. Service is casual but fast.
Juliet's Garden is perched above St Mary's harbour in Porthlow commanding views of the entire port and most of Hugh Town. I'm told that Juliet's Garden, which has been around more than 30 years, is something of an island icon. I'm afraid I'm unable to fairly assess if that is true. The restaurant was the very last stop on my Scilly adventure and I was in a going home, trip over sort of mood. I was also short of time as I waited for the airport shuttle bus to collect me so I was only able to sample a quick to prepare meal – the chicken sandwich pictured right, sitting indoors because of a chilly drizzle. What can I say? The chips were delicious. Go when the weather is clear and sunny to take advantage of the restaurant's stunning position.
But before taking my leave of the Isles of Scilly, I'm off to Tresco to sample the resort-style hospitality there.
Stay and dine in Scilly on Tresco
The boat from St Mary's deposits us on Tresco's tiny New Grimsby Quay, me and a local woman carrying her household shopping.  "The New Inn is right next to the quay – 5-minute walk, no more. You can't miss it," I'd been told. But all I see is a short, deserted beach backed by a narrow, paved road and a row of stone cottages. The woman heads off with her shopping leaving me alone on the quay wondering what to do next. I'd stupidly packed a suitcase with a shoulder strap but no wheels and now I really don't want to drag it around looking for the inn.
The dull green golf cart parked at the top of the quay barely registers until a man hops off it and approaches me. "New Inn?" he asks and takes my bag. There are no cars on Tresco and the golf cart, one of the electric utility vehicles in Tresco Estate livery that trundle around the island, is my taxi. About two minutes later we pull up outside the New Inn, a stone-built, traditional pub and country inn, that will be my home tonight. It really is only a five-minute walk.
Welcome to Tresco, a resort that's an entirely, privately-owned island in the Scillies. (Privately owned on a very long lease from the Duchy of Cornwall actually) Of all the islands, it is the neatest and most manicured but it also has some of the most beautiful, wild Atlantic beaches and is home to Tresco Abbey Garden, one of those "worth a side trip" attractions you find noted in guide books.
If you have deep pockets or a large family group, the island has stylish apartments and cottages with designer kitchens and decks to take in the sea breezes. Staying in these self-catering accommodations includes access to the island tennis courts and spa with its indoor pool, plus admission to Tresco Abbey Garden. Fill your larder with ready to cook takeaway dishes and wines from Tresco Stores & Deli, an upmarket grocer that would not be out of place in Knightsbridge and, as the English say, Bob's your uncle. 
The New Inn
The New Inn is ideal for a short, more budget-minded stay. It's also handy if you've island-hopped over from another of the Scillies to visit the garden and don't want to be pressed by time and tide tables to catch the boat back on the same day.  The inn is mostly hidden from street view by hedges and walls so its size (16 rooms, a friendly pub and an attached dining pavilion) comes as a surprise.
Rooms have a contemporary country cottage style. Mine is pale yellow with blue and grey accents and a window that looks out over a quiet lane beside a grassy hill hemmed with trees. They've managed to fit in a tiny bathroom behind a sliding pocket door. It has everything I need – just – but might be a bit of a squeeze if a couple books the room. The inn also has a comfortably casual lounge area with a fireplace and jewel coloured, overstuffed sofas.
Drinking and dining at the New Inn
I find a book about the history of Tresco and the other Isles of Scilly waiting for me in my room. And, after a day walking all over the island and the garden, my plan is to take the book down to the pub and read up on the Scillies before dinner. But, as they say, the best laid plans….. The pub is bustling with guests of the inn, residents of the self-catering cottages and a good number of locals. I'm soon joined by some of the locals who tell me about what life is like for year-round residents of the far-flung islands. The book is soon forgotten as I engage in friendly conversation and down a half of Ales of Scilly Challenger. The pub serves a changing selection of at least three beers with Cornish brewer St Austell and the local craft brewery, Ales of Scilly, usually represented.
Later, in the pavilion dining room, I dine on heritage tomato salad and a meltingly good slab of pork belly with creamy mash. The menu tilts toward pub classics – fish and chips, several different burgers, roast chicken, crab mac and cheese. If you're a vegetarian, the regular menu is limited, but there is usually another choice or two for veggies on the specials board. The inn serves ice creams from Troytown Farm on St Agnes but, to be honest, I found the ice cream far too dense and rich to eat after a big meal. Save it for a daytime treat in the fresh air.
The inn also serves breakfast for staying guests. Next morning, the typical English breakfast menu of cooked dishes, fruits and cereals is the best I've been offered in the Scillies. No surprise as the inn holds a Visit England Breakfast Award. Someone in the kitchen has been to North America because there's even maple syrup for my bacon.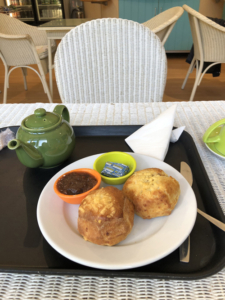 Another surprise is the Tresco Abbey Garden Cafe. I stop there after touring the garden to snack on homemade cheese scones and a cup of tea. The cafe, at one end of the garden gift shop, is airy and comfortable with well-spaced wicker furniture and friendly service. It has a seasonal menu with much of the produce sourced from the Abbey Garden itself. The cafe is just outside the garden entrance so you don't have to buy a ticket to enjoy a drink or a snack while hiking down to the beach or around the island.
The New Inn holds a Four Star Silver Award rating from Visit England. Check out what other travellers think and book the New Inn on TripAdvisor.
And find more places to stay on Tresco by visiting the island's official website where all accommodations are listed.
The Isles of Scilly are open to visitors
The COVID19 crisis hit these islands hard. At least 85 per cent of islanders' annual income comes from tourism. You can read more about the situation that unfolded as covered by the BBC and Cornwall Live.  
But, thankfully, the Isles of Scilly are open for business again. They are ideal for romantic getaways, family holidays, active vacations or solitary escapes. And now that you can visit once again, consider Scilly for a very special staycation if you are UK based or a unique island break if you can travel from further afield. 
See out what's open, hours and services from the Isles of Scilly What's Open Guide. The document is updated regularly so check back now and then.
Full Disclosure Statement
My visit to the Isles of Scilly was hosted by the Island's Partnership. I was the guest of  Star Castle and the New Inn, with meals provided by the hotels as well as Dibble & Grub and Juliet's Garden. Transportation to and from Scilly was provided by Isles of Scilly Travel. As always, my opinions are independent of these considerations.
Like this post? Please share on Pinterest to read later