Ferne Arfin 17 June 2020
The indescribable Snape Maltings – Another good reason to visit Suffolk
How can I begin to describe Snape Maltings? From its strange sounding name to its creative miscellany of art, music, retail and the great outdoors, it defies categorization. You simply have to go to Snape Maltings to experience this destination for yourself.
First some history
Snape, a Suffolk village of about 600 with a small port on the meandering River Alde, has existed since Roman times. In the 1800s, Victorian entrepreneur Newson Garrett built the maltings (a place where barley is malted as part of the beer making process) to take advantage of the small port in the middle of rich agricultural land, midway between the brewing centers of Norwich and London. (Garrett also built the house that ultimately became the Brudenell Hotel in Aldeburgh, and served as mayor of that town. Check out a review of the Brudenell, a handy place to stay if you,are visiting Snape Maltings.). In 1854, Garrett began malting barley at the site, eventually building up one of the largest malthouse operations in the country and certainly the largest in East Anglia.
The maltings finally ceased operation in the 1960s, leaving about seven acres of solidly brick-built industrial buildings looking for a new use. The local family who took up the challenge of finding new uses for the buildings developed a retail complex with a variety of holiday and vacation accommodations.
The musical connection
At the same time, composer Sir Benjamin Britten and his partner, tenor Sir Peter Pears were looking for bigger premises for the Aldeburgh Festival , a music festival they founded in 1948, based in the seaside town of Aldeburgh, about five miles away.  They leased the site's biggest building, the malt house itself, and developed it into an 810 seat concert venue. More recently, the music, retail, accommodation and arts aspects of the site have merged. The maltings, best known as the site of the Aldeburgh Music Festival, is a hugh creative campus where established musical artists and emerging talents from around the world meet, perform, learn and create. Workshops, studios, rehearsal and education spaces have all been added to the original malt house concert hall.
Snape Maltings COVID-19 update
A look at the Snape Maltings calendar of events in 2020, in this age of COVID-19, is heartbreaking.  A list of tempting musical events, all part of the annual Aldeburgh Festival usually held in June, are all shown as cancelled. But music lovers can relive some of the highlights of past festivals with online and broadcast events in coordination with the BBC (BBC Radio 3, BBC 4 and BBC iPlayer). Check out the schedule of special events, from now through June 28 here.
Elsewhere in the Snape Maltings, shops, cafes and gallery events are expected to start opening slowly in July. And of course, the wonderful paths through the Snape marshes are magical places to enjoy the open air away from the madding crowds right now.
The full Snape Maltings experience
Today, besides being a concert hall and music venue that will forever be associated with Britten and Pears, the Snape Maltings campus is:
an arts complex with galleries, studios and workshops for musicians, visual artists and other performers.
a foodie destination with several cafes and a pub, an artisan bakery, a gourmet shop.
a monthly farmers market on the first Saturday morning of most months as well as special Christmas and Easter markets.
 an award winning, independent department store selling fashions, childrens toys and clothes, antiques and collectibles, book and cards and house&garden decor.
an outdoor sculpture park with works by Barbara Hepworth, Henry Moore and Alison Wilding on permanent loan, as well as changing exhibitions. Below, figures from Barbara Hepworth's Family of Man and Sarah Lucas's Perceval, a giant shire horse and cart in bronze, polished brass, concrete, featured in a temporary exhibition.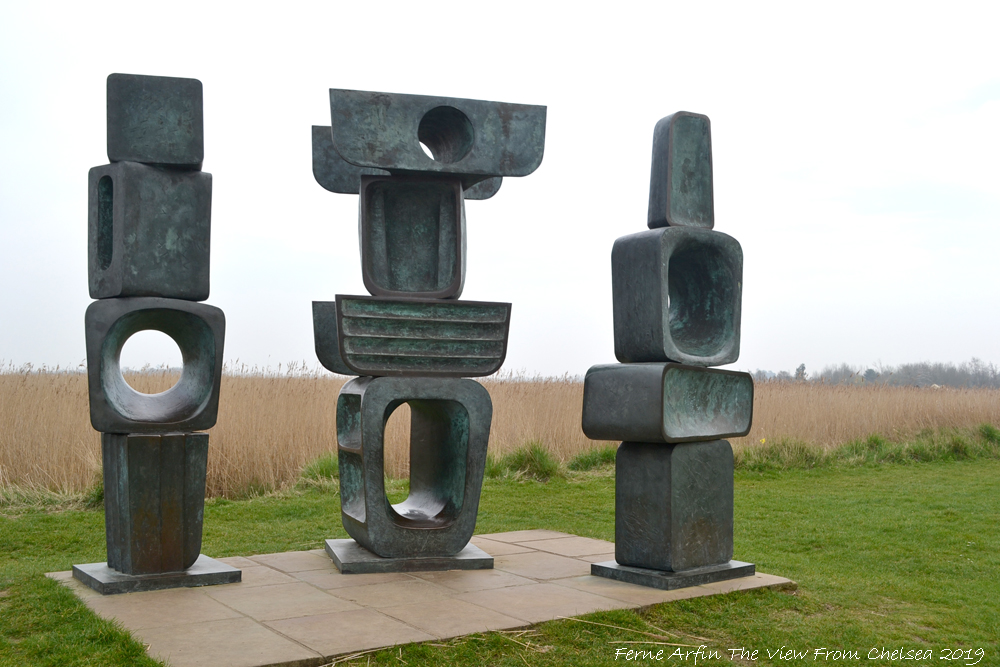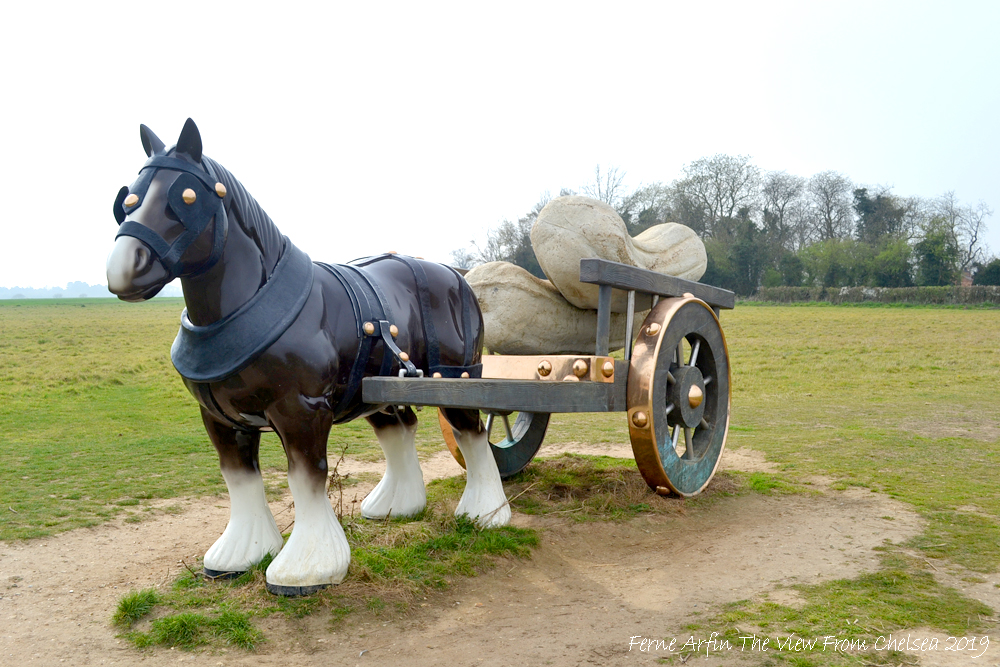 It's also a place to live or to rent a vacation apartment; a nature reserve; the starting point for several marsh walks and, in summer, the launch point for river trips. It's a very good day out and only a couple of hours by train from London.
Snape Maltings essentials
Where: Snape Maltings, Bridge Road, Snape, Saxmundham, Suffolk IP17 1SR
Getting there: Snape is on the B1069, about halfway between Aldeburgh and Saxmundham near the Suffolk Coast. There is frequent rail service to Saxmundham on the Norwich line from Liverpool Street Station in London. The journey takes just under two hours.