by Ferne Arfin, updated 30 March 2020
Saratoga Springs – Weekend escape to the Queen of Spas
The bathwater smelled like rust. It looked like it too. Alone in my private room at the Roosevelt Bathhouse in Saratoga Spa State Park, I hesitated, my naked toes suspended over lightly bubbling, blood-warm mineral soup. Then, like thousands before me, I took the plunge. My Saratoga Springs weekend escape was complete.
Most people visit Saratoga Springs, New York, during the thoroughbred racing season. In July to September, when "they're running at Saratoga", the New York City Ballet and the Philadelphia Orchestra take up residence at the Saratoga Performing Arts Center (SPAC)  and the population swells from 26,000 to more than 100,000.
But I harbored childhood memories of tender, green spring woodlands along the magnificent Hudson Valley. I went during the off season to see what else this sophisticated little city has to offer. So much, it turns out, that I hardly knew where to begin.
In the end, I decided to follow the springs.
Following the springs
That's how I came to be soaking away the aches and pains of the day in naturally fizzy water at the glorious Georgian-revival Roosevelt baths. Built in 1935, the baths had a post-millennial, $4 million facelift. Their naturally carbonated water comes from the original source, Lincoln Spring, one of 20 different springs that bubble and shoot out of the ground all over town.
Underground pockets of water, folded into strata of shale and limestone, riddle Saratoga. Each pocket is the source of a different spring that surrounding geology gives its own look, smell, taste and reputed health-giving qualities. Some are rich in minerals, some are bubbly, some pure and mineral free. The State Seal Spring is fresh, sweet and non-carbonated; Polaris, which is delicious, is naturally radioactive. Island Spouter, in the middle of Geyser Creek (a Class A trout stream) in the state park, is so rich in gas and minerals that it shoots fifteen feet into the air from the center of a gigantic tufa —  a sort of mineral cushion of accumulated calcium carbonates.
The springs made Saratoga Springs a resort in the first place. People have been "taking the cure" here for hundreds of years. Iroquois hunters, first discovered the springs and celebrated their healing properties in the 14th century. Fountains and bathhouses were established by the late 17th century.  In 1805, Gideon Putnam, founder of the town, laid out wide avenues around the springs so that the public would always have free access. When Saratoga Racecourse, America's oldest, was built in 1864, this upstate New York town was already a popular summer health resort.
Exploring the fashionable Victorian watering hole
In its heyday, it was the Queen of Spas, the world's most fashionable watering hole. Much of that past, preserved in remarkable architecture, gives Saratoga Springs its special character. A parade of immaculate, late Victorian shop fronts and cafes marches down Broadway, the main commercial street. Winner of "Great American Place" and "Great American Main Street" awards, it looks like a Disney fantasy of the perfect Main Street. It is, however, the real McCoy and the businesses that line both sides are as popular with locals as they are with visitors.
Broadway's centerpiece, the extravagant Adelphi Hotel (c. 1877), harkens back to Saratoga Springs' glory days. When I first visited, the hotel was brown and cream with three story tall columns on its covered porch. New owners have changed that to cream and I'm afraid something has been lost in the translation. See for yourself.
The Adelphi Hotel, in all its Victorian glory, before its recent "restoration."
And the Adelphi Hotel as it is today. Photo by Keith Ewing
Broadway is one of Saratoga's six historic districts. Before I headed out to explore a few more of them, the smell of bread drew me to Mrs. London's Bakery, a Saratoga Springs institution that Food&Wine Magazine called "…possibly the country's most fabulous bakeshop."  One of the bakers was just adding fresh macaroons to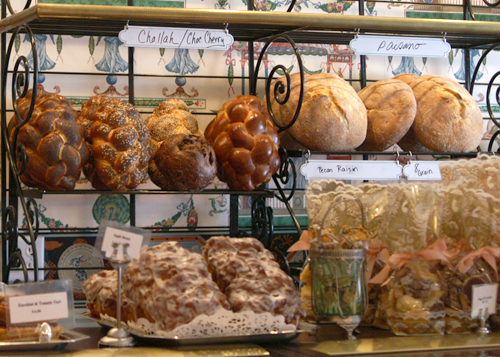 glass cases already groaning with irresistible patisserie when I entered. By the time I left, I was fortified with a kouing-aman , a sweet Breton yeast cake crackling with toffee. I set out armed with a walking map from the Saratoga Springs Preservation Foundation.
A feast of period architectural styles
The Franklin Square District, dating from the 1820s onward, is an eccentric jumble of architectural  styles. Greek, Colonial and Gothic Revival, Second Empire and High Victorian Gothic, all crowd sociably together around a village square. Equally exuberant, but more private, the homes along North Broadway, most built in the 1870s, are set behind vast, manicured lawns. At least one is decorated with Tiffany glass windows. Lucy Skidmore Scribner, heiress to a publishing fortune and founder of Skidmore College (just down the road) lived here.
In Congress Park, a pleasure garden and quiet downtown oasis, I rode the historic Marcus Illions carousel (the only one of its kind in the world) and tasted the water of Congress spring (steely) and Columbia spring (pungent).
The Victorian Jewels of Saratoga Springs
Please click on thumbnails for full and accurate image.
Nearly ruined by a racy past
 Canfield Casino, now the town's history museum a sober-looking, elegant brick building beside the park, was anything but sober in its heyday. The Casino exemplified the free and easy attitude toward illegal gambling that was nearly the town's downfall.
It began  as a private club where illegal gambling by visitors was tolerated though Saratogians themselves were banned. At first the club welcomed a gentlemanly elite. Later, it attracted a new class of summer visitors — Prohibition gangsters.
Discouraged by the flashy new crowd, polite society stayed away. Out at Saratoga Lake nightclubs, cabarets and "private" gaming establishments aimed at the new clientele, flourished .
Then, in 1951, after Sen. Estes Kefauver's televised hearings on organised crime pinpointed gambling as the main source of mob income, the authorities cracked down. The clubs around the lake shut down, their clientele disappeared and Saratoga slid into urban decline. The wreckers had already begun to move in when a series of local initiatives saved what was left.
History to the rescue
That urban decline actually saved the town. If funds are too short to tear down and replace old buildings sometimes they stay standing long enough to to attract restorers and become living history. That's what happened here.
Today, hundreds of properties are listed on the National Register of Historic Places. Strict planning requirements for new buildings ensure  that the ambiance of the downtown historic districts are maintained. Even post millennial hotels chains give their local branches a Saratoga look. The Marriott Courtyard, with its airy, cast iron entrance and two-toned brickwork, look more like a turn of the century apartment building than a member of a hotel group.
The Casino, where Gilded Age celebrities like Diamond Jim Brady and John Philip Sousa played roulette and blackjack, now houses the Historical Society Museum. There, among the exhibits I found the story of George Crum, a Native American/African American chef who, in 1853, invented the potato chip at Moon's Lake House near Saratoga Lake. Crum never made a fortune from his creation, but he and his sister did open a restaurant of their own.
With restaurants on my mind, I collected recommendations at the Visitor's Center, near Congress Park, and opted for light snacks with with live music, downtown  at The Cellar on Caroline Street, followed by more live music at the intimate, historic Caffè Lena on Phila Street. It opened in 1960. Now a non-profit venue, it's the oldest continuously operating coffee house in America. Bob Dylan performed here on his first tour; it's where Don McLean introduced American Pie, and it has been the launching pad for dozens of folk and acoustic musicians. For a reasonably priced entrance fee, I spent the rest of the evening listening to acoustic folk/jazz fusion from Sloan Wainwright (sister of Loudon and aunt of Rufus).  Later, walking back to my hotel, mid-week in the so called "off season", I could hear live music pouring out of at least half a dozen wine bars and restaurants.
The people's spa
Next morning, I left the world of Victorian high society for Saratoga Spa State Park and the "peoples' spa".
At the turn of the 20th century, soda makers endangered the springs by extracting gas from them and discarding the water. Even the U.S. Navy got in on the act, collecting the gas to propel torpedoes.
To prevent the springs from disappearing altogether, the state government bought and capped about 100 of them, restored and maintained the rest. With the support of Franklin Delano Roosevelt, first as New York Governor and then as President, a publicly owned health spa along European lines was built. Opening In 1935, the ten-building, $3.2 million spa was the first major program finished under the New Deal.
Some of the original buildings are now gone but those that remain, including the Roosevelt Baths, the Gideon Putnam Hotel and the Hall of Springs, give a sense of the ambitious project. The Civilian Conservation Corps, sometimes called "Roosevelt's Tree Army", surrounded the complex with thousands of white pines. Now a forest of these mast-straight trees, mingled with red pines and 200-year-old hemlocks, rises 80 to 100 feet tall and positively sings with warblers.
Pictures of the Spa State Park
A taste and a dip
By now, my feet were beginning to complain. Saratoga may be compact and walkable, but there's a lot to see. After three days of pounding the pavements, I'd still missed the National Museum of Racing and Hall of Fame, the National Museum of Dance, the National Bottle Museum, The Tang Art Museum at Skidmore and the Saratoga National Historical Park.
I couldn't leave, though, without sampling a few more springs. Ducking in and out of forest paths and armed with an essential Saratoga Springs accessory – an eco-friendly reusable cup – I made the rounds of the park's seven springs:
State Seal, fresh and clean tasting
Polaris, pleasant tasting and slightly radioactive from radon gas
Geyser Spring, cathartic water and the strongest tasting water in the park
Orenda Spring, iron rich
Then it was on to my appointment at the Roosevelt Baths and Spa. My selection from the treatment menu – a 20 minute soak in mineral water, followed by 20 minutes wrapped in hot towels and warm sheets. Despite my initial misgivings about drinking some of this water, I have to admit that soaking in it is sublime.
Getting there
Saratoga Springs is in New York State's Capital region, about half an hour's drive from Albany, three and a half hours from Manhattan, on Interstate 87. AMTRAK runs two direct trains a day from Manhattan (Penn Station) to Saratoga Springs. The Trip takes about three hours and 40 minutes.
Find out more
Saratoga Springs Preservation Foundation
Saratoga Springs Heritage Area Visitors Center